Kaw Lake is an artificial lake completed in 1976 in the northern reaches of the U.S. state of Oklahoma, near Kaw City.
Kaw Dam is 9,466 feet long and 121 feet above the stream bed. the dam lies 654 miles above the mouth of the Arkansas River. The top of the flood control pool is 1,044.5 feet, while the normal operating level is 1,010 feet.
The Reservoir covers approximately 17,000 acres (69 km²). It lies mostly in Kay County and partially in Osage County but extends into Cowley County, Kansas.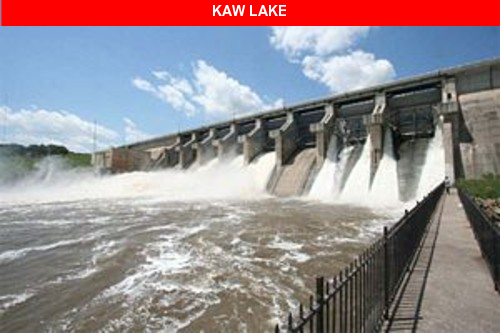 Kaw Dam was authorized by Congress in the Flood Control Act of 1962. Ground was broken for the dam on May 21, 1966. The original town of Kaw City was covered by the waters of Kaw Lake in 1975. The dam was completed by the Corps of Engineers in May 1976. The cost of the dam and the lake was $111 million.
The Oklahoma Municipal Power Authority (OMPA), a state governmental agency created in 1981 to provide wholesale electricity to cities and towns in Oklahoma, purchased the substructure of the dam in July 1987 at a cost of $3.8 million and constructed a hydroelectric plant that was completed in September 1989 at a cost of $25 million. Kaw Hydroelectric generates approximately 104 gigawatt hours of energy annually. The generator is nominally rated at 25.6 megawatts at 76 feet of gross head with a maximum rating of 36.7 MVA. The plant at Kaw Dam provides power for 35 municipal electrical systems in Oklahoma.
The Corps of Engineers offers camping and people can rent cabins and camp at Camp McFadden which is on the west shore of Ponca Cove at Kaw Lake.
The southern tip of Kaw Lake is 8 miles east of Ponca City.
Camp McFadden is an outdoor recreational area on over 250 acres overlooking the west side of Kaw Lake near Ponca City, Oklahoma. Camp McFadden was created in 1927 as a children's camp by Bill McFadden on the Kygar ranch. The camp includes high and low ropes courses, cabins, a lodge with full kitchen, outdoor activities, and RV and tent camping and is used for team building, reunions, youth and church camps, weddings, and getaways. Future plans include a volleyball court, disc golf, softball field, soccer field and archery range. Camp McFadden is a non-profit
Courtesy of Wikipedia http://en.wikipedia.org/wiki/Kaw_Lake