There's even more of it in the media these days, the gloom and doom of Las Vegas. Any cancelled or delayed Las Vegas Strip project making big headlines. I even had a post comment the other day referring to the awful mess of the Echelon project being put on hold, and while not on the Strip, Lake Las Vegas operating in Chapter 11. Without a doubt these aren't the best of times and a recovery from the financial meltdown still needed. But is this really disaster, or looking at Las Vegas only with a 'glass half-full' perspective guided by these negative news stories?

Bankruptcies, delays, and project cancellations are nothing new. They've happened when the economy is churning along at a good clip. Just a few years ago during the boom years, Las Vegas major construction projects were announced by the dozens and dozens. Some never made it further than the announcement, others were cancelled after sales began, but then it hardly spelled disaster.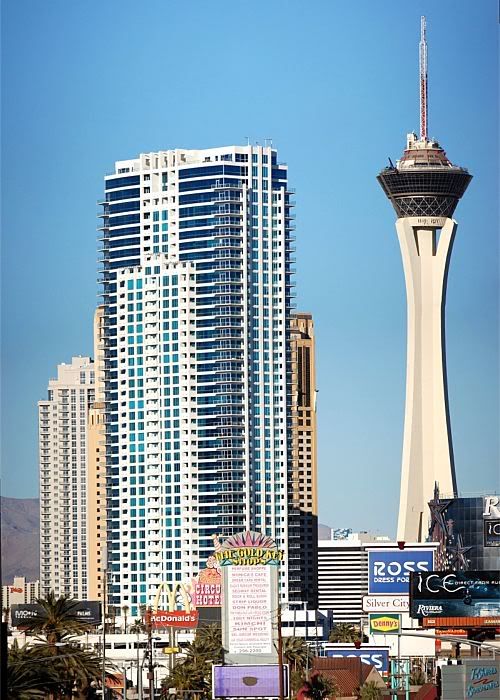 Beginning in 1990 the Stratosphere Tower construction was on-again, off-again, taking it nearly 5 years and requiring an equity partner to come on board along the way to finish it. I see the completed product as a definitive landmark spotted from throughout the valley. A year after opening it also fell into bankruptcy in the middle of the 90's economic tech boom, and was sold. Last year it was sold again along with some other smaller properties for a profitable $1.3 billion. The doors are still open, and several more buildings have been built just in that area since the tower was finished. It's troubles never stopped it or the future development.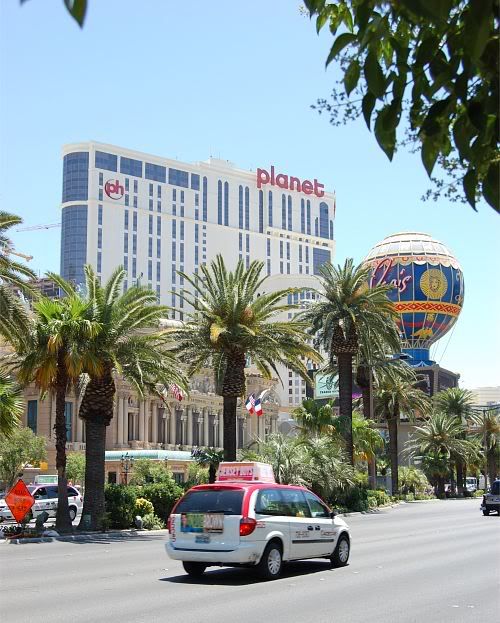 The Aladdin Casino also ended up in default within a year of opening in 2000. It got off to a poor start in spite of the praise it often garnered prior to completion. It then fell into the recession declared by March 2001 and the added disaster of 9-11 that became the last straw. It had since been sold, and now fully remodeled as Planet Hollywood. Estimates of at least $1 billion have been invested in the makeover of the now 8 year old property and the Planet Hollywood Towers that are well under construction, topping off this past summer.

That's why I find something interesting in a story found in the Las Vegas Business Press about UNLV's Construction Management Program. Sure, it was good news that the program has ironed out it's initial difficulties. Even better was that there is a strong local demand for their graduates, for contractors and subcontractors alike. Yet there was more hidden away in the story that goes against the grain of the majority of news today. It began by saying Las Vegas is still a hotbed of construction, and the Las Vegas Convention and Visitors Authority is reporting $28 billion in hotel, casino and convention construction continuing through 2010. Maybe it's me, but that sure doesn't sound as bad as the depressing stories that make the headlines.

There are many other positive bits of Las Vegas real estate news that continue to get buried. The Las Vegas Review Journal recently had a brief mention of Applied Analysis reporting that as of September 22, there were 3079 pending home sales awaiting closing, with another 4368 contingent, for a total of 7447 properties under contract. John Burns Real Estate Consulting also got a quick mention where he states there are home builders, some that declared bankruptcy, that are "licking their chops" and gathering equity partners to prepare to buy up foreclosed residential lots in what "they anticipate as the land-buying opportunity of this generation." Another story skipped by the large outlets, the $1 billion M Resort opening next March has purchased an additional 11.5 acres and received approval for them to be added to their future mixed use project. That currently includes plans for a 1 million square foot mall, and now the development totaling approximately 93 acres. Those are just a few of the many 'glass half-full' news items that never make it to the front page, or the nightly news.

So while these are some challenging economic times nationally and locally, they aren't necessarily as bad as they're more prominently portrayed. It appears there are many here preparing for a future recovery... adapting Las Vegas Real Estate to the Warren Buffet investment strategy of "be fearful when others are greedy, and greedy when others are fearful."
If you are interested in relocating to Las Vegas or would like information on Las Vegas real estate, please email me, Roberta LaRocca, at roberta@search4lasvegashomes.com, or call me at 702-354-8988. I look forward to hearing from you!