Active Rain It Is All In Your Name
Active Rain - It's All In Your Name!


Your Active Rain Profile First and Last name are the most important names and words on your profile page and on your Active Rain Blog.

You want to make sure you choose your first and last name correctly on your profile page for 2 reasons.


1. When you comment on other members' blogs you want people to know who they are answering back to, who they are talking to. Just as you would not go to a cocktail party and start talking to people without introducing yourself by name you should not do that in social web 2.0 marketing either.

2. Google juice! Your first and last name create the link back to your Active Rain Profile page from each comment you make on Active Rain blogs. One more reason to be making comments! So you absolutely want these words to be your major keywords you are using to rank on SERPS.


I can not stress enough like in this post that I wrote about keyword research; you need to do your research to know which words people are searching for on the search engines. Do NOT assume that people are searching for 'your town, USA'.

Go to your home page and click on my profile and then edit on the left side of the page. The settings link on the left is to add your scripts and widget codes.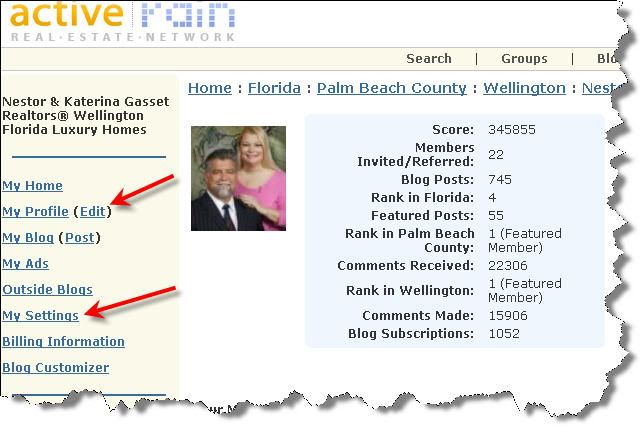 In order to get the most out of your first and last name on your profile page, you can use more than one word for each your first and last names. You do not need to put your company name within your first and last name because you have a separate field for your company name and that will automatically be a part of your link when you comment on other posts.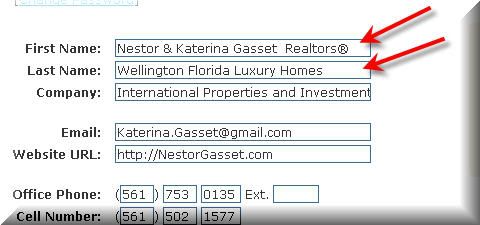 We chose to use our real first and last names with the notice that we are Realtors; Nestor and Katerina Gasset Realtors®.
All those words were put in our first name field.

In our last name field we put our main key words: Wellington Florida Luxury Homes.
So now our name reads: Nestor and Katerina Gasset Realtors® Wellington Florida Luxury Homes.





Make sure that you are not putting commas in between your keywords, you can use hyphens.

You can go back and change your first and last name fields easily so if they are not the way you want them. Follow this tutorial to make them more compelling and keyword rich!





Katerina Gasset, CIPS, Realtor ®, Business and Life Coach, Speaker and Author. Reach Katerina at: 561-753-0135

Disclaimer:The information provided herein is supplied by several sources and is subject to change without notice. Wellington Homes Blog does not guarantee or is any way responsible for its accuracy, and provides said information without warranties of any kind, either express or implied. Entries on Wellington Homes Blog represent the opinions and ideas of the author(s). Wellington Homes Blog does not express the views of International Properties and Investments, Inc or those of the broker.

Copyright © 2008 By Katerina Gasset, All Rights Reserved.*Active Rain- It's All In Your Name!* Contact Katerina Gasset for Customized Business and Personal Coaching