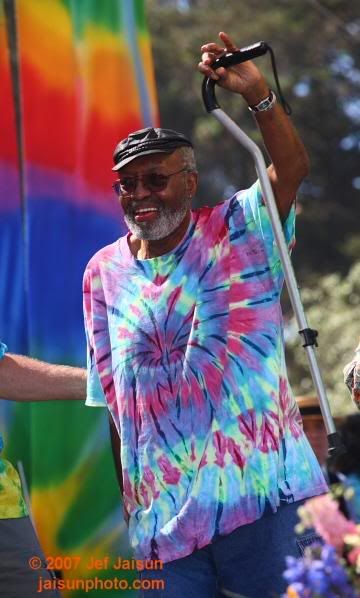 My AR friend and fellow Deadhead Craig Rutman sent me a message this morning letting me know that keyboardist Merl Saunders had passed away last Friday. Headlines on Saunder's passing were as varied as the man himself. One headline announced

'Sinatras Keyboardist dies at 74'

. Another claimed that death of the

'Famed New Age Keyboardist'

while many simply pointed out that longtime Garcia associate and Dead keyboardist was, finally, dead. From Sinatra to the Grateful Dead to New Age legend - that's a pretty broad stroke to cut through the music world.
Merl Saunders is probably best known for his collaboration with the Grateful Dead, having joined them numerous times over the years, sitting in when other keyboardists weren't around. (Keyboards have been the only notable changes in the Dead line-up over the years). But far from pigeonholing himself, Saunders worked with many Bay Area groups, finally achieving his own renown as a session man and collaborator extraordinaire. His contributions to artists include time spent with Harry Belafonte, Frank Sinatra, Lionel Hampton, Miles Davis, B.B. King. Bonnie Raitt and Paul Butterfield.
But it was his ongoing work with Garcia that brought the most musical success. I've got my original 'Live at the Keystone' & 'Best of' with my other albums in the garage - I'm gonna dig it out tonight and enjoy a little classic Merl & Jerry including my favorite from that album the rocking, bluesy funky 'The Harder They Fall.' They used to play down in Boulder during the early 70's and I had the pleasure of hearing Merl & Jerry several times at Ebbet's Field.

In 1990 Saunders & Garcia recorded the album (vinyl, LP, you remember those) 'Blues from the Rainforest'. That album shot up to #5 on the Billboard New Age charts and opened a whole new audience to Saunders work. He continued working with Garcia up until Jerry's death in 1995 and continued performing at live venues until a stroke robbed him of his right side movement in 2002. Complications from that stroke are what eventually did him in.

For a family tribute and/or to leave a note of your own, visit
www.merlsaunders.com/
endit