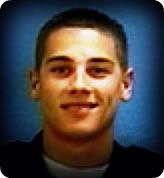 Maybe you know families like this.
It's a family of teachers, soldiers or firefighters. There's something in their blood that answers the call to serve the public.
With several relatives on the force, it probably came to little surprise that Shane would become a policeman.
***
A few days ago my wife and I were watching the news. The report was breaking, so there wasn't a whole lot to glean from the report.
Apparently a policeman had lost his life... Officer Figueroa of Maricopa.
Maricopa has become large and Figueroa is not an uncommon name.
One never wishes anyone to die but, in an odd bargain with fate, your inner self hopes it's not someone with whom you have a personal connection. We know a few Figureroa's... we were aware that a few were in law enforcement. We hoped this great family was not dealing with impending grief.
***
The reports are more complete now. Shane Figueroa, age 25, happily married and the father of a three month old daughter is another sad statistic... a police officer felled in the line of duty. In this case,
killed by a drunk driver
who has been unsuccessfully deported on several occasions.
His memorial service
will be held tomorrow
- in a facility large enough to hold the many mourners who knew and loved him.
10 a.m. Saturday at Red Mountain Institute
7126 E. McKellips Road, Mesa.
Interment will follow at:
Mesa Cemetery, 1212 N. Center St.
His family has asked that in lieu of flowers, instead- contributions be made to
the 100 Club of Arizona
.
I urge you to click on the link to know more... there is a special account for those who befall tragedy. There is a video at the site that explains the origin and meaning of  the "100 club" ... it's well worth a visit.
***
One final thing. There's a
guest book site for Shane
. People who knew him have written loving tributes. It spans twenty-five pages so far. With the loss of a loved one we want to say so many things. We often lack the words. It's comforting to see that we are not alone in our feelings. Shane was loved. He will be remembered. In our mourning for him we can't help but grieve for the families of all those who put their lives on the line in protecting us.