Stauffer's Mansion was built in 1870 by John Frederick Sener, grandfather to Elizabeth Ludgate who in July 1975 willed her 16-acre estate to be deemed a public community park. Her will also asked for the formation of a 3-member trust that would help control financing and development of the park. This led to what all of us know now to be Stauffer park complete with a softball field, tennis and basketball courts, formal gardens, a children's play area, and parking for visitors when the Mansion became home to the Recreation and Parks department in January of 1976.
The Mansion itself features high vaulted ceilings, large rooms perfect for meetings, an oak paneled den(now used as an office) and beautiful stained glass windows. After the board moved into the property, alterations took place including the walls and steps from the basement level up to the 2nd floor. These alterations coupled with those made on the Carriage House, (former horse stable) ran up to 133,000$. Despite those excesses, monies collected over the years from Elizabeth Ludgate's will have helped maintain other public parks in Manheim Township.
This is a truly beautiful property that we were honored to have been allowed to walk through and recommend to others that they come down and take a look at this mansion themselves. While there, spend some time with the kids at the children's park or walk through the old park itself. This is a great hidden gem that's just waiting to be discovered.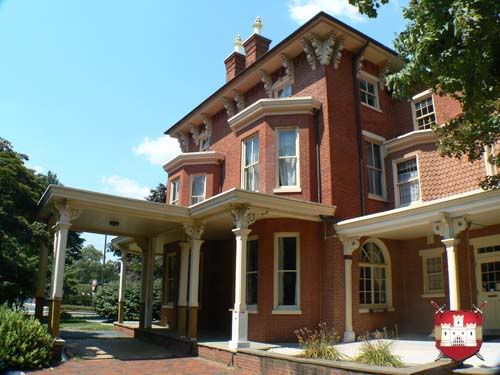 Situated right off of Lititz Pike, this House is slightly visible off the road and leaves you interested to learn more about it. This is a great opportunity to view a lancaster historic home. While there pick up some information about the Parks and Recreation program which features all kinds of opportunities for individuals looking to take part in events around Lancaster County.

Stauffer Mansion is located at 1241 Lititz Pike, Lancaster PA 17601-7180

Administrative Office: (717)290-7180

Fax: (717)393-4221

Website: manheimtownship.org

Office Hours: Monday through Friday, 8 A.M to 5 P.M

Based in Lancaster, PA. Selling Worldwide! - Contact Us: (866)980-8700
All photography is © VkDesigns LLC. 2005-2008