Las Vegas has been the fastest growing 'new' city in the US, and celebrated it's 100 year birthday in 2005. Four years after Las Vegas was born, Clark Co., NV was formed by splitting Lincoln Co. and naming Las Vegas as the county seat. Beginning in February 2009 Clark County will be celebrating it's centennial with events throughout the year.

In such a short time Las Vegas has grown to one of the most well known cities in the world. It's become a place to call home for so many, with the estimated valley population topping 2 million by last year. A huge jump from 1950, when Clark Co. had a population of just over 48,000. Current projections have the Las Vegas population doubling again withing then next few decades.

With it's short life there hasn't been as much history to record as older cities, and Las Vegas is known for imploding some of it's past. Why? Land is at a premium since it's limited, so supply and demand comes into play. While you may see those wide open spaces beyond the surrounding mountains, the valley is bounded by federal lands. From the Nellis AFB range to national recreation and conservation areas and wildlife refuges, there's a limit to what land is available.
In spite of this demand for land taking priority over history, fortunately there are those that have been preserving Las Vegas' past. Former Lt. Gov. Dr. Lonnie Hammargren has been saving Las Vegas one piece at a time, scavenging parts of casinos and other memorabilia before it disappears. The Neon Museum has been saving and restoring the city's light art and also the unique and historic La Concha Motel lobby that was designed by the first prominent African - American architect, Paul Revere Williams. The group Classic Las Vegas has been active to preserve history, by attempting to save historic buildings and homes, and keeping the valley's story alive in writing and on video.

There's one more that tells the tale of Las Vegas that you can actually experience, and that's the Clark County Museum on Boulder Highway. There you will find those homes that are NOT for sale, along Heritage Street. There are 5 period houses that have been moved to the site that date back to the early 1900's. Each is decorated with items from their decade, along with news and other artifacts of the period. After Thanksgiving the homes will be decorated for the holidays, with trim, ornaments, and lights from each point in time, and in the past they also given holiday recipes of the day.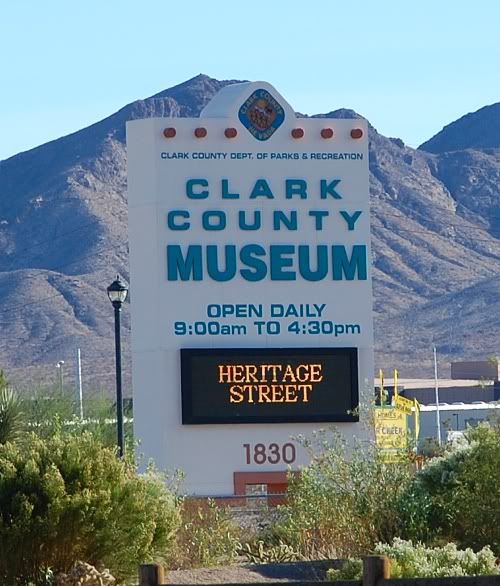 In addition to the homes there is a print shop, barn, and the rail station from Boulder City that's complete with Union Pacific rail cars and a caboose. There are other buildings on site that are being restored for the collection. A railroad cottage and an early air tour office are two of the projects. Another is a building Las Vegas is famous for....a Wedding Chapel. It was saved from the construction of the Fountainebleau Resort being built on the Strip and now both are scheduled to open in fall 2009. The Candlelight Wedding Chapel had been the location for many celebrity weddings including Bette Midler, Tony Curtis, Whoopi Goldberg, Mickey Rooney, Michael Caine, Patti Duke, Barry White and Clayton Moore.

Beyond Heritage Street there is also a Performance Area and a Nature Trail. You'll then find a 'Ghost Town Trail' with a variety of equipment, vehicles, and tools that you might see abandoned in a western town after the silver, gold, copper, or just that the jobs have run out. There are even a few buildings that were salvaged from real ghost towns that were once on display in the Western Town of the former Frontier Hotel and Casino on the Strip. A Jail, General Store, and a Blacksmith Shop restored as an Eagle Scout project are some of what you can see on the short walk. There's a map of the museum grounds found here.

Inside the museum building there is also a small display area. It takes the valley back to it's beginnings as it evolved from an ancient ocean to a desert. Then on to it's Native American settlers, and it's early days in mining. From there to the great depression when many traveled to Las Vegas looking for work, and those that didn't get jobs at Hoover Dam lived in 'Tent Cities', like Pittman, NV. Eventually the residents that stayed and settled there, became part of the city of Henderson 1953.

It goes on to show how the city continued to develop with shopping and the casinos, making it the global destination city it is today. A key to that has been the city's airport. McCarran International is celebrating it's 60th year, and there's a display with images and items from the airport, and recordings of the celebrities of old that have welcomed visitors to Las Vegas, the same that happens today on video screens, playing in the background. Of course there's a gift shop with local interest, southwestern, and Native American items availble for purchase.
The above Life Magazine is found in the Goumond House. You'll notice it asks the question "Las Vegas- Is it Overextended?" That's one of many similar stories that have appeared over the years. Yes, that's what you'll find at Heritage Street, Las Vegas has gone through many boom & bust cycles over it's relatively brief existence. Mining, railroad town, the Great Depression, WWII, and many recessions along the way, and yet Las Vegas had the spirit to rebound and grow, coming out bigger and better each time as history repeats itself. It's something to think about in our current national situation.

I guess I should add that if you prefer your museums state of the art, shiny and new, you might find the $250 million Springs Preserve more to your taste. But, if you're looking for a taste of real life Las Vegas Americana that shows how our lifestyle, technology, and quality of life has evolved at light speed of the last 100 years, and just in the last 50, you might enjoy a visit to the Clark County Museum and Heritage Street. As you'll see from the photos even the admission prices are also somewhat 'historical'.

Now on with your tour of Las Vegas past. To view the pictures full screen, simply click the HD / Full Screen button on the bottom of the player below, and when finished click it again or use the ESC key to return.
Can't see the XML Flash player embedded in the current posting? To view this and all my other Las Vegas slideshows, including some of the interesting neighborhoods and events found in and around the Las Vegas Valley, CLICK HERE.
If you are interested in relocating to Las Vegas or would like information on Las Vegas real estate, please email me, Roberta LaRocca, at roberta@search4lasvegashomes.com, or call me at 702-354-8988. I look forward to hearing from you!