Today's website plays a vital role in any REALTORS online marketing arsenal. That being said it is vital that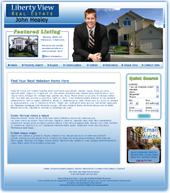 your website stands out. When someone visits your website you have about 10 seconds to establish a relationship. In those 10 seconds your visitor will decide if your website meets his/her criteria. The first thing he/she decides even before they read a single word is what visual impression they get in those first few seconds.
When was the last time you got an outsiders opinion of your website? You are probably the best person who should critique your own website. After all you have seen it a hundred times and you might be a bit biased. When you have a chance try asking someone else these questions.
What first caught your eye?
Does my message come thru clear?
Did anything give you a negative feeling?
Was my website easy to navigate?
Getting some feedback will help you fine tune your website. Remember your website is about Real Estate. Stay on topic and provide the content a home buyer/seller would want.