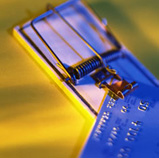 Identity theft is now passing drug trafficking as the number one crime in the nation-with more than 15 million victims every year. Rather than lie awake at night worrying and wondering if your identity has been stolen, you can actually take a simple step to protect yourself...it's called a credit freeze (or, sometimes, a security freeze).

Here's How It Works. When someone tries to open an account in your name, they'll be stopped in their tracks. That's because one of the first things a creditor will do before opening the account is pull a credit report. By having a credit freeze in place, creditors aren't able to pull your credit report. And, since very few lenders will issue credit without first seeing a credit report, identity thieves can't open fraudulent accounts using your name. However, when you want to apply for credit, you can temporarily lift the freeze using a PIN... thus, allowing your legitimate application to be processed.

The Flip Side. It's important to remember that when the freeze is active, you'll have to lift the credit freeze before you can purchase a car, get a new credit card, or refinance a mortgage. For most major purchases, this won't be much of an issue. However, a credit freeze can be problematic if you want to open an instant credit card with a store.

To learn more about these issues and to find out if your state allows credit freezes, visit
www.ConsumersUnion.org/finance/creditfreezeinfo.htm.
Mortgage Interest Rates*
Rates as of Friday, 14th November, 2008:
Conforming

APR

Payment per
$1,000

Jumbo

APR

Payment per
$1,000

30-Yr. fixed

6.125%

6.265%

$6.08

6.500%

6.596%

$6.32

15-Yr. fixed

5.875%

6.107%

$8.37

5.875%

6.030%

$8.37

7-Yr. fixed ARM

6.250%

6.391%

$6.16

5.875%

5.967%

$5.92

5-Yr. fixed ARM

5.500%

5.635%

$5.68

5.625%

5.716%

$5.76

3-Yr. fixed ARM

5.500%

5.635%

$5.68

5.500%

5.590%

$5.68

5-Yr. Interest Only

5.625%

5.761%

$4.69

5.875%

5.967%

$4.90
*Rates are subject to change due to market fluctuations and borrower's eligibility.
| | |
| --- | --- |
| Licensed Mortgage Banker, NJ Department of Banking and Insurance. Corporation also services CO, CT, DE, FL, GA, IN, MA, MD, MN, MI, NC, NH, NY, PA, SC, TN, VA, & RI. | |