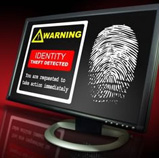 Identity theft is now passing drug trafficking as the number one crime in the nation-with more than 15 million victims every year. Rather than lie awake at night worrying and wondering if your identity has been stolen, you can actually take a simple step to protect yourself...it's called a credit freeze (or, sometimes, a security freeze) which I discussed last week.

According to the U.S. Department of Justice, about 1.6 million households have experienced some form of theft when it comes to their financial accounts. Here are some important tips for keeping your information safe and sound:

Just the Facts. Don't give unnecessary information like your date of birth and income level when you're filling out things like warranty cards or supermarket club cards. Share only what's really necessary in every situation.
Navigating the Net. Never post your address or your full date of birth on any social networking sites because both are pieces of information needed to steal your identity.
Searching for a Job? Never give a potential employer your Social Security number on an Internet job site. Also, thoroughly read the privacy policies of any online job boards to make sure they won't sell your information.
Safe Keeping. Never keep your Social Security number in your wallet, glove compartment, or any other easy-to-access place. Also, never have it printed on your checks or use it as your password.
Shred 'Em. Remember, when you're ready to get rid of old documents that contain important information, shred them with a cross cut shredder.
Protect Your Mail. If you have to mail something that contains sensitive information, use a secure mailbox (not the one at the end of your driveway).

The bottom line is this: When it comes to your personal information, share it on a need-to-know basis only!
Mortgage Interest Rates*
Rates as of Friday, 21st November, 2008:
Conforming

APR

Payment per
$1,000

Jumbo

APR

Payment per
$1,000

30-Yr. fixed

6.000%

6.139%

$6.00

6.250%

6.344%

$6.16

15-Yr. fixed

5.750%

5.982%

$8.30

5.875%

6.030%

$8.37

7-Yr. fixed ARM

6.000%

6.139%

$6.00

5.750%

5.842%

$5.84

5-Yr. fixed ARM

5.375%

5.509%

$5.60

5.625%

5.716%

$5.76

3-Yr. fixed ARM

5.375%

5.509%

$5.60

5.500%

5.590%

$5.68

5-Yr. Interest Only

5.500%

5.635%

$4.58

5.875%

5.967%

$4.90
*Rates are subject to change due to market fluctuations and borrower's eligibility.
| | |
| --- | --- |
| Licensed Mortgage Banker, NJ Department of Banking and Insurance. Corporation also services CO, CT, DE, FL, GA, IN, MA, MD, MN, MI, NC, NH, NY, PA, SC, TN, VA, & RI. | |