I've been Meme'd by Midori Miller AND Teresa Berry
The rules are:

1. Grab the nearest book you lay your hands on*

2. Don't dig for your favorite book, the cool book or the intellectual one; just pick the closest!

3. Open the book to page 56

4. Find the fifth sentence

5. Post the text of the next four to five sentences

6. Tag up to 5 people to do the same
Normally I resist the Meme thing with the same fervor as I do door to door MLM salesmen.
How can I resist two sweet angels like this and simple rules like these? So for this one, I'll play along.
---
The Book
Happens to be Managing Online Forums by Patrick O'Keefe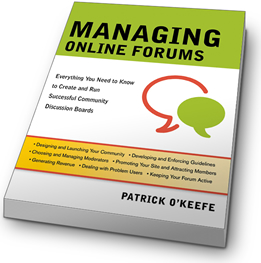 . We met at BlogWorld in Vegas this year. On twitter he is @iFroggy
Page 56, Fifth Sentence
Be sure you have some sort of backup system.
The more comprehensive it is the better off you'll be.
This goes for all you site's files – not just your database files
(I mention those first because they change more often, usually).
Unfortunately, that sounds a little dry and boring. The truth is – the book is absolutely not.
Now who to punish next?
How about someone local out of my Feed Reader?
Are you following me on Twitter?