We spent Wednesday night with a long time Las Vegas headliner, Master Magician Lance Burton at Monte Carlo on the Vegas Strip. Even with our front row seats, Lance continues to prove why he is a true master of his craft, with a performance of illusion after illusion that leaves you with that... 'How'd he do that?" From the simplest slight of hand, to his many birds and ducks that appear out of nowhere, to his more elaborate illusions with his dancers or vanishing and floating corvette and the $10 million in gold he uses to turn an assistant into a gold statue, his show continues to entertain.

Lance's show offers up the intimate style of magician interacting with the audience. His one-on-one with the audience is a contrast to the many large production shows, and that allows his warmth and humor to shine through. Audience volunteers also include children, something that Lance experienced himself as an audience volunteer at age 5. He was mystified by Master Magician Harry Collins and began studying magic and performing for children in his neighborhood. By his teens, Collins had noticed Lance's deep interest and became his mentor, later passing the magic wand off to his understudy.

In addition to Lance's own subtle comedy, you'll find the antics of his special guest performer even more laughable. Comic Juggler Michael Goudeau's outrageous segment continues to have the audience roaring. Of course he gets some of those laughs at the slapstick expense of 'stage hand' Tom, who is the brunt of a few of his 'accidents'. He also returns in other segments of the show.

Over the years, it's not unusual for celebrities to turn up in Lance's audience. There's a long list that I can recall since I've been here, and last night Lance made more magically appear and introduced them at the end of the show. A few rows behind us was Criss Angel of TV's Mindfreak and his new Cirque show 'Believe' that recently opened at Luxor. With him was his current date, Playboy Playmate Holly Madison, Hef's former girl that also appeared on Girls Next Door.

Lance is also one of the entertainers that is offering Las Vegas Locals Appreciation Specials, with his through December 13th. I've mentioned before that one of the benefits of living in Las Vegas is to be surrounded by so many entertainment options. Besides having the year round opportunities to catch resident and touring shows, these special locals prices are an added perk of living in the Las Vegas Valley.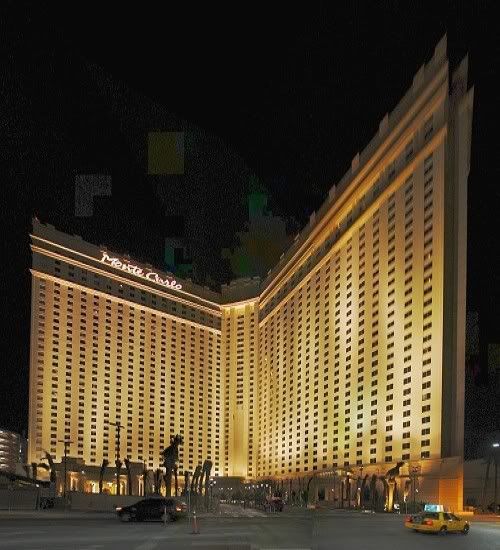 I also wanted to mention the Monte Carlo since it has it's share of construction going on. Originally built in 1996 by Victoria Partners that was a joint venture of Mirage with then CEO Steve Wynn at the helm, and Circus Circus Enterprises, that later became known as Mandalay Bay Enterprises. Both those companies were rolled into the more recent merger of MGM Mirage.

Even with the above night shot, those familiar with it may notice that the entrance to the resort is undergoing a makeover. The drive has been redesigned and fresh landscaping is underway as you can see from the still tied palms. New restaurants have opened with the Light Group's Brand Steakhouse and Diablo's Cantina that is restaurant and nightclub with it's addition extending the front of the property closer to Las Vegas Blvd. The 21,000 square foot pool area is undergoing renovations and is slated to reopen in June 2009. Room remodeling originally slated to begin in 2009 got an early start due to an accidental roof fire that occurred earlier this year.
As you can see, Monte Carlo sits in the shadows of the most expensive private construction project in the US, said to be estimated at $9.2 billion excluding the value of the land. MGM's massive City Center will not only adjoin the Monte Carlo, it will integrate into it. The Monte Carlo parking garage was torn down and is being rebuilt to handle the larger capacity needed for the project. It along with City Center will open in stages throughout 2009 and shows the continued commitment to the future of Las Vegas.
If you are interested in relocating to Las Vegas or would like information on Las Vegas real estate, please email me, Roberta LaRocca, at roberta@search4lasvegashomes.com, or call me at 702-354-8988. I look forward to hearing from you!