Good news is she is alive and well and back home. Read her version of the exciting event!
Things I am Thankful for:
1 : daughters with a sense of humor.
2 : tall trees in the front yard so I don't really have to 'see' everything going on outside.
3: 911 and all the professional responders.
4: cell phones so I could be 'there' when I can't 'be there'.
5: a belief system that provides comfort in time of distress.
6: family and friends to share the tale with.
Have a Merry Christmas!
Here's her "story"
So today was probably not the best day ever.

I went to my family doctor this morning because I have had a UTI for the past four days (TMI? sorry), then swung by the pharmacy, picked up my prescription, and headed home.

We have had some snow and ice this week -- today was the third day in a row school was canceled for the kids -- so the roads were not great. They weren't too bad in town, but we live out in the country at the top of a hill that ices over pretty badly. So. Yeah.

I was almost home, literally within a few car-lengths of my driveway, when the driver in front of me (his name is Francisco, although I did not know that at the time) slid on the ice. Francisco was driving a pick-up truck and towing another truck (without a trailer), and he jackknifed and ended up blocking the whole road. I was able to stop safely behind him, so there was no collision.

For the sake of clarity (and because I am a massive child), here are some visual aids.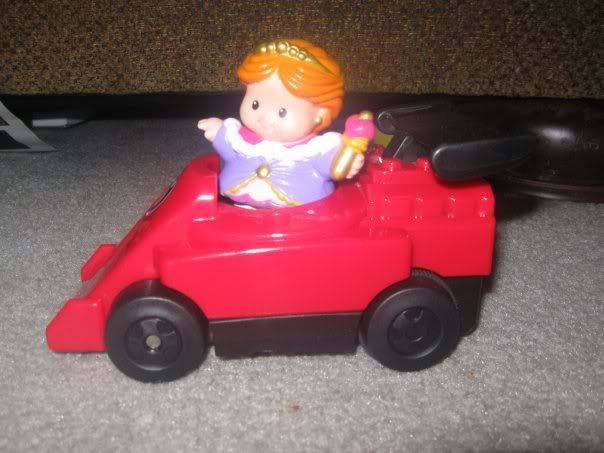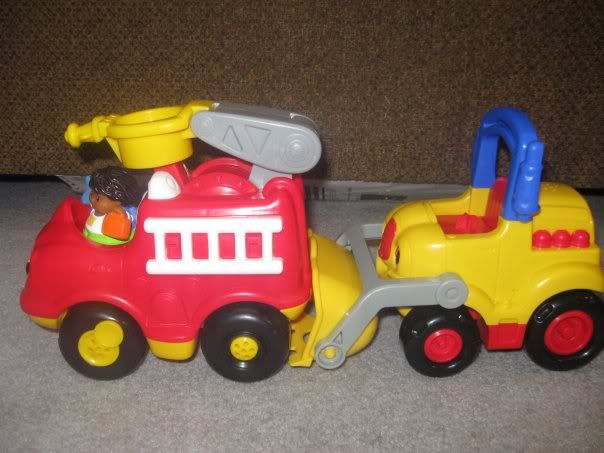 This is Francisco using his truck to tow another truck.



So first we were driving like this:





And then Francisco took up the whole stinking road like this: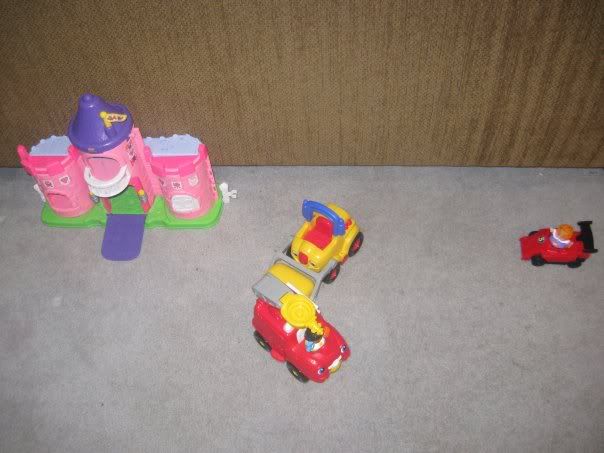 So I was practically in front of my house, but I couldn't drive around the trucks and get home, so I was basically just stuck waiting while Francisco figured out how to get out of my way. There wasn't really any way for him to maneuver out of that position, especially since the road was so slick, so he got out of his truck and started unhooking the other truck, I guess so that he could pull his truck around and hook things back up. I don't really know exactly what his master plan was.

I rather stupidly figured that if I offered to help him, he could possibly get on his way more quickly and I could get home to my babies. So I got out and walked over to ask him if I could help. He said no, he could handle it, and sent me back to my car. The road was slippery enough that I walked over toward the ditch so I could walk in the grass instead of walking on the road, and I started back toward my car. So then we were like this: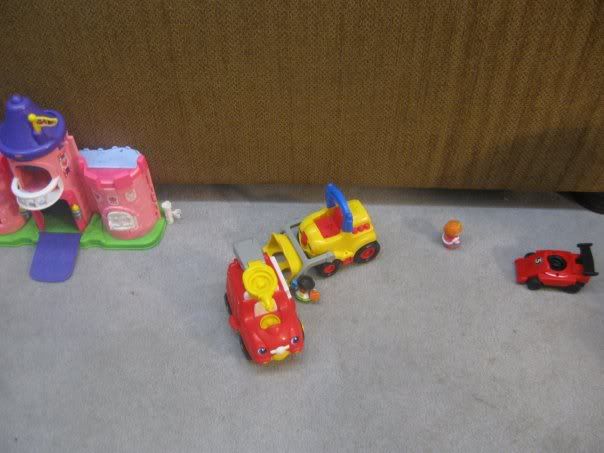 Suddenly I heard Francisco yelling for me to get out of the way, and before I could even react, the truck he had been towing hit me. The road was so slick that I guess as soon as he got the thing unhooked the truck just started sliding.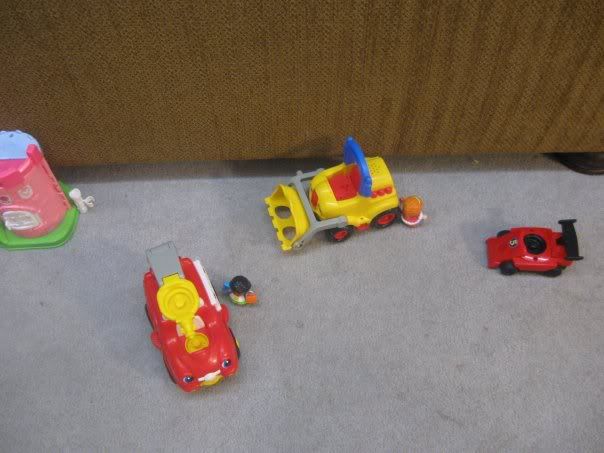 So the truck hit me, and it wasn't moving all that fast but there was enough momentum to knock me down. The rear left tire came up over my shoulder and pinned me down in the ditch. And just by the way, if you have never been pinned down under a pick-up truck in a ditch, I don't really recommend it. It sucks. Just trust me on this one. And I'll spare you the graphic depictions here because frankly I couldn't get the truck to balance on the little princess chick.

So I was lying there in the freaking ditch with a truck on top of my shoulder. And mentally, I just kind of took inventory of all my body parts and made sure I could feel everything. I felt very calm although I was definitely a little scared. My mouth kind of took over on its own and I screamed and screamed for help without even meaning to. Francisco came running (or sliding?) over and tried to help me, but there was too much weight on my shoulder and arm, and he couldn't pull me out on his own. At this point my mom called my cell phone, and I asked Francisco to get my phone out of my coat pocket so I could tell my mother I was trapped under a truck in front of the house so she wouldn't wonder why I was taking so long to get home. She and the kids were actually already watching from the window to see if this Francisco fellow would be able to move his trucks, but there is this huge tree that was blocking the view of my car, so she had no idea I was out there. She was calling to warn me that the road was blocked and recommend that I come home from the other direction, and she was little surprised to hear that I was in fact trapped under the truck she had just watched slide across the ice.

Then, great timing, another truck full of strapping young men pulled up behind my car, and those guys got out to help. Francisco found his tire jack and jacked up the truck a little, and two of the other guys lifted the bumper and helped pull me out. My arm was still attached to me and nothing really hurt very much, so I figured I was probably fine. In reality I was probably in shock. But aside from being really cold and a bit sore in the shoulder, I thought I was ok, so I carefully walked back to my car so I could warm up and go home. Francisco came over and apologized to me about six hundred times and said an ambulance was on the way. I told him I wasn't sure I needed it, I felt sore but not too bad, and I really couldn't pay for the ambulance so I was probably just going to go home and take a nap. He called me crazy and said he had full coverage on his truck so I should not worry about the bills and go to the ER. So I said ok.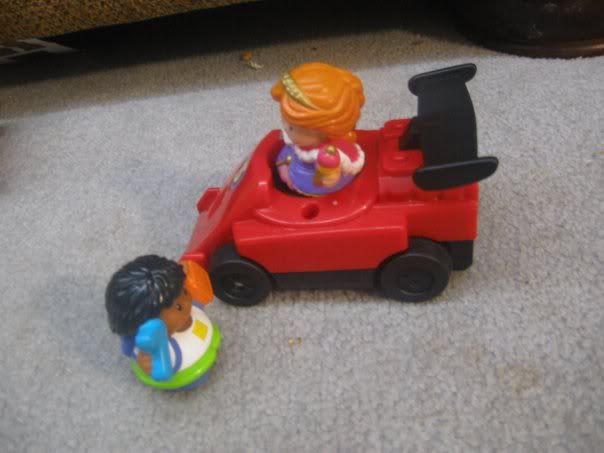 So by the time the EMTs got there (which was really incredibly fast), the shock was starting to wear off, I was in a world of pain, and I was definitely glad I hadn't decided to just go home. They got me loaded into the ambulance and asked me five hundred questions and put an IV in me (which was possibly the worst part of the whole ordeal because needles make me cry). Oh and the guy who stuck the IV in me freaking dropped the needle and had to get out a new one. I mentioned that I didn't feel fantastic about having him stick me with a needle if his hands were so unsteady. He laughed and apologized and said his hands were a little cold. I told him to warm them the hell up before he came near my arm. He laughed some more.

In the ambulance there were, I think, three EMTs checking my vitals and doing who knows what to me, and one of them was like, "When's the last time you had this many guys paying so much attention to you?" I said, "Happens all the time." Laughs were had by all.

So we got to the ER and I signed a bunch of papers (totally easy to do when you are strapped to a board with your neck immobilized, let me tell you) and then the doctor released me from bondage and rubbed my neck a little to make sure it was ok (I told him he could do that as long as he wanted but he just laughed at me and stopped) (what a shame, too, because 1. it felt really good and 2. he was really hot). And then I sat and waited for the x-ray guy. I basically always have a book in my purse, and I was very happy to have Jon Stewart's Naked Pictures of Famous People to keep me company while I waited. See, you never know when you might get run over by a truck and have some time to kill in the hospital, so you should always keep a book with you. I'm just saying.

They took x-rays of my chest, my shoulder, and my hip. But first I had to use the bathroom, so the x-ray guy showed me where to go, and told me to take off my bra while I was in there so that it wouldn't interfere with the x-rays. I actually had to ask him to help me get it off all the way because I had the IV in my arm and I am just not that talented. Not exactly the circumstances under which I want some guy helping me remove my bra. I'm just saying.

So we took some pretty pictures, then I sat and waited some more, and my mom eventually showed up to keep me company (she had to find someone to keep the kids so she couldn't get there right away). My aunt and uncle and cousin also stopped by so we had quite the party up in there. Good times.

Anyway, the hot doctor came back with my x-ray results and said nothing was broken, even though I swear it feels like I have a cracked rib or three, and then we were out of there. Mom took me by the pharmacy on the way home and the pharmacist was like, "You're back already?" I said, "Yeah... I kind of got hit by a car on the way home last time." And he was like, "Well goodness, if you didn't have bad luck, you wouldn't have any luck at all, would you?" And I was like, "Haha, you're freaking hilarious, give me my pain pills please."

Andrew was very excited to have me home, and explained to me all about how Mommy got hurt and sat in the fire truck. Because ambulances = fire trucks. :) I showed him all my bruises and he was pretty impressed. Speaking of which: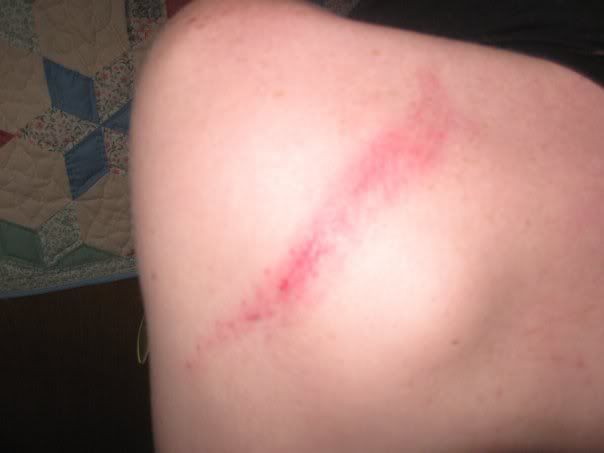 My shoulder/upper back.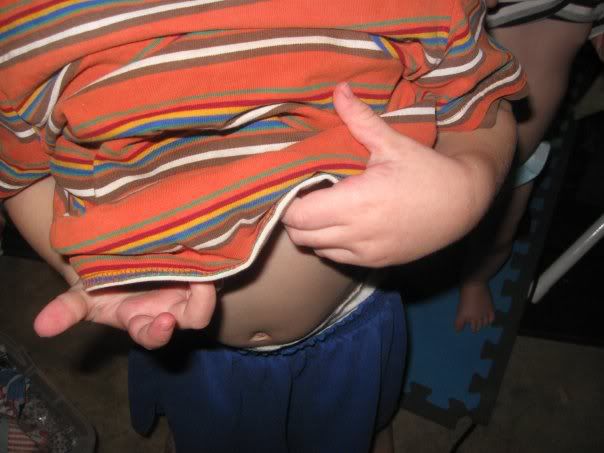 Andrew's belly, because Mommy can't get all of the attention.


These turned out pretty crappy. I promise the pictures do not do justice to the truly amazing quantities of pain I am experiencing. I'm sore all over and it hurts like a mother when I breathe deeply. And a little while ago I reached down to pick up Ben and my ribcage promptly reminded me what a bad idea that was. Oops.

Last picture, I promise. This is me in the coat I was wearing today: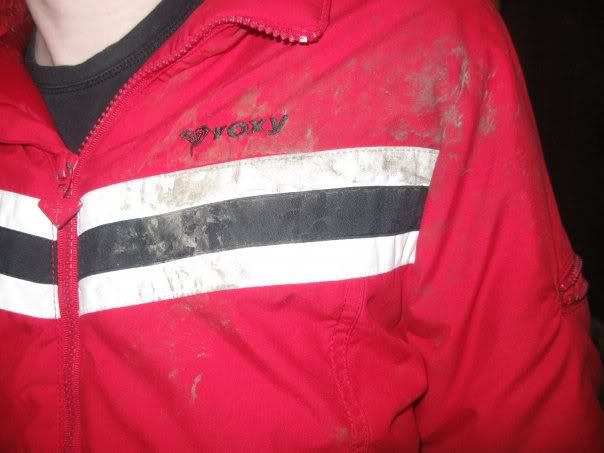 Note the tire tracks. I also had mud from the tire on the side of my face, but no bruising or anything there. Thank FSM the truck stopped when it did and not a few inches later.

I don't want to be totally emo so here are a few positives from the day:
1. I have some incredible family members who love me and were happy to hang out at the stinky old hospital with me.
2. This was definitely more excitement than I have had in a while, and now I know I won't be complaining of boredom any time soon.
3. When I went to my family doctor this morning, I got weighed and measured and found out that I am actually an inch taller than I thought, which means my BMI is lower than I thought, which makes me feel thinner.
4. When we stopped at the pharmacy for my pain pills, my mom bought me Skittles. Which made me cry a little.
5. Did I mention the doctor was hot? Because rawr!

How was YOUR day?