A limited number of residences are available now at Pre-Construction prices.  Bowser Construction has earned its reputation  by providing "quality workmanship, on schedule, at a reasonable price." Bowser's team listens first, builds second. One, two and three story luxury condominiums start at 250,000$ High Pointe is Hershey's most appealing address for discerning homeowners who care about the environment but want the best. As part of a special incentive plan for the holidays,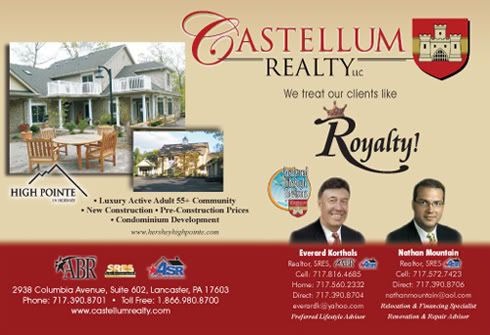 Bowser Construction and Castellum Realty llc offer a 25,000$ reduction for those willing to purchase a home in Phase 2 at the already low pre-construction price. This offer will only last until January 2nd, 2009. Contact us immediately if interested!
High Pointe in Hershey has been created with the discriminating active adult in mind. This beautiful Active Adult Community will offer all the conveniences one might desire while reducing the responsibilities of homeownership to the absolute minimum. This community of luxury condominiums is located on a wooded hill in the town of Hershey, Pennsylvania.  This unique 55+ condominium development stands out from all others because these condos will be Custom Built to give every buyer exactly what they want.
_____________________________________________________
If you're looking to buy a home in Hershey PA then Contact Us
Looking to visit High Pointe in Hershey? Then check out these Hotel recommendations.
Want school, crime, and other data from Hershey? Get that info Here.
For more information go to the Official High Pointe in Hershey Site
_________________________________________________
__________________________________________

Based in Lancaster, PA. Selling Worldwide! - Contact Us Toll Free: (866)980-8700
( Active Castellum Castellum Realty llc - Lancaster PA Real Estate - Hershey PA Real Estate )
Let us help you buy or sell your homes for sale in Dauphin County, PA
YOUR PREFERRED LIFESTYLE ADVISORS
Content & All photography is VkDesigns LLC - Castellum Realty LLC. 2005-2009