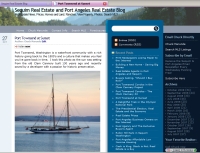 Print newspapers are losing readers to the Internet, and there is a ongoing debate about how many years newspapers can last. The Internet is taking over their business in news and advertising.
"After a century of continuous publication, The Christian Science Monitor will abandon its weekday print edition and appear online only, its publisher announced Tuesday. The cost-cutting measure makes The Monitor the first national newspaper to largely give up on print. . . . John Yemma, The Monitor's editor, said that moving to a Web focus will mean it can keep its eight foreign bureaus open. We have the luxury — the opportunity — of making a leap that most newspapers will have to make in the next five years," Mr. Yemma said. [Source: Paper to End Daily Edition]
Web 2.0 is a popular term used to describe the new ways people interact on the Internet. New technology is finding new applications as the costs and methods of selling intersects with consumer demands. This sea change is accelerating a decade old trend. Consumers are losing interest in paying for newspapers, and they're moving to the Internet.
Newspapers exist to make a profit, the goal of all profit corporations. Subscription fees and advertising are their primary sources of income. The overwhelming problem newspaper publishers face is that subscriptions are dropping as people can easily get their news free on the Internet 24/7, and businesses are cutting expensive advertising from their budgets because they cannot afford it, and because it is no longer producing results.
Many newspapers have created an Internet version of their papers, but for most that has been a disaster. For traditional print media there has been a huge disconnect between the printing presses that operate with gears and ink and the Internet that cannot be mapped on Google. Many publishers and editors have attempted to use blunt tools to traverse the chasm between printing presses and the virtual world of the Internet. Many are failing, and the current recession is the catalyst of their doom.
Even Microsoft, which moves very slowly, and only takes on new markets when others have already mapped the way, has been forced to reconsider its strategies involving the Internet. Remember it was Microsoft that refused to admit that Internet browsers were the way of the future, and after Netscape mapped out a large virtual presence, Internet Explorer was born of necessity and became a major MS priority. And after years of refusing to admit that the world will move away from expensive PC software, Microsoft finally capitulated and with some fanfare recently announced their grand plans to pursue cloud computing with Azure. Can there be any doubt the Internet is capturing vast territories?
". . . with the rapid movement of dollars to the online space, [Paul] Martino [CEO of Aggregate Knowledge] believes it's just a matter of time before online advertising dollars will overtake traditional media." View article about online advertising.
"The latest Pew survey reinforces some of the key media chattering-class talking points for the past couple of years: Newspaper readership is declining, young people prefer their news from the Internet, . . . It's definitely cutting into the time of print newspapers, which continue to hemorrhage readers to the advantage of online news" View article from Technews World. Another Pew study during the presidential election concluded:
Many more Americans are turning to the internet for campaign news this year as the web becomes a key source of election news. Television remains the dominant source, but the percent who say they get most of their campaign news from the internet has tripled since October 2004 (from 10% then to 33% now).
While use of the web has seen considerable growth, the percentage of Americans relying on TV and newspapers for campaign news has remained relatively flat since 2004. The internet now rivals newspapers as a main source for campaign news. And with so much interest in the election next week, the public's use of the internet as a campaign news source is up even since the primaries earlier this year. In March, 26% cited the internet as a main source for election news, while the percentages citing television and newspapers remain largely unchanged. [Read Article]
I'm reminded of how Kodak had to shift its decades-long focus on film about five years ago. They actually closed their Rochester manufacturing plant to focus on a whole new line of digital products. Corporations and big shots don't determine what products are produced--consumers do.
"Time Inc., publisher of Fortune, plans to slash 600 jobs, according to a report in The New York Times. Gannett Co., publisher of USA Today, plans 3,000 job cuts, according to Reuters, and the Tribune Co.'s Los Angeles Times plans to cut 10% of its workforce." View article entitled Print Media Companies Slash Jobs as Economy Sputters. The Washington Post reported print advertising dropped 14 percent for the quarter, and was down 16 percent for the first nine months of 2008. View article Washington Post Co. Profit Plummets in Third Quarter.
Why do so many people love their Internet news? Is it because it's free? Or is it because it is easily accessible 24/7, has unlimited search and result possibilities, includes opportunities to interact and participate, or is it because Internet news has both audio and videos? Maybe it's all of the above.
Watch in the months and years ahead as traditional media moguls are humbled by the ending of an era. Who doesn't read most of their news and information on the Internet? After all, you are reading this article.