This was a difficult transaction that after many delays was finally given the clear to close. Because of the delays we had no say in the time or location of the closing. So it was scheduled at an attorneys office and was being fit into his tight schedule to accommodate us. This office was huge, brand new with big shiny furniture and impressive law books lining the walls.
When I arrived with my customers we were put in a big conference room. I took a seat near one end of the huge table and put my pocket book and brief case on the floor.
We made small talk while waiting for the sellers to arrive. It was a beautiful sunny day in New Hampshire and the sun streamed through the huge windows of the conference room bathing everything in a warm glow. It was so comfortable and relaxing that I could have fallen asleep.
When the sellers and listing agent arrived, about 10 minutes late, they joined us in the conference room.
I placed my file on the table and the other agent did the same with hers.
We all sat across the table from each other making awkward small talk while awaiting the arrival of the closing attorney. He was running late we were told...finally he arrived a bit harried and pressed for time.
Of course, it was our fault, he was now very behind schedule...all the delays and then this last minute scheduling. While I was grateful I was annoyed by his cavalier attitude.

I ignored the minor attitude and he started the closing. Soon after I noticed a funny smell. Not sure what it was I kept my mouth shut, a bit unusual for me for sure.
No one else seemed to notice but the smell seemed to get stronger as the attorney moved his huge pile of closing Documents around. Good grief it smelled bad I thought to myself but no one else acted like they smelled anything at all.
I know everyone was nervous but did nerves affect the sense of smell? I didn't think so. It started to get real bad...I had to say something.

"Whats that smell?" I blurted out.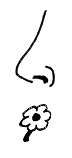 "New office smell?" The Co-broke suggested.
"Hmmm" the attorney mumbled as he looked up above his glasses at me. As if I was a nut case.
"Gross"... the buyer said.
Mr. Seller stood up and said "something is burning." With that said we all got up, stood and looked at each other not knowing what to do. But we could all smell something. Finally, I walked over to the book shelves and did a sniff test and the attorney went to get a staff member to help. Now he was really running late and very irritated.
Maybe something died somewhere in here? But it really smelled like something was burning. We were all milling about the room, so nice and new and shiny and expensive...smelling fire but seeing nothing. No smoke...nothing but the smell. As we picked up our stuff, gathered our paperwork and files...the smell started to overwhelm us...it was so strong.
The decision was made to evacuate the building as the smell was just horrible. No matter where we went I could smell it. We went out the front waiting area...the smell was there too! Now we're all starting to panic.
Everyone was told to leave the building and we all proceeded to walk out the door clutching our important files.
While waiting the arrival of the fire department, we stood and talked about trying to do the closing outside.
Suddenly the wind shifted and we could smell that burning smell outside with us!!!! We walked around in circles the 7 of us trying to figure where the fire was and how come it came outside with us. The attorney was clearly upset.
For some reason the smell was worse near me...a real strong burning smell. Everyone started to look at me and then my buyer shouted "Monika your pocket book is smoking!!" I thought she was kidding...the attorney looked at me over his glasses again...oh that look! The Co-broker screamed "your bag is on fire"... I dropped my nice new leather bag that I was clutching under my arm to the ground...it opened and I could see it was smoldering inside!!!All my papers where burned to a crisp, my make-up fried! OMG!!!
Talk about uncomfortable closings...I could not look anyone in eye after that. So far I've never had another closing with that attorney!
My pocket book pretty much ruined in the inside...my pride totally destroyed.
Pocket book...$125.00
Make up...$250.00
Memories of this closing...Priceless
Jay and Monika McGillicuddy
Prudential Verani Realty
Hampstead NH
603-548-7728