Ara Macao Resort and Marina will feature 2 series of pools at the Marina Waterfront Island which will help accomodate all kinds of water activities for both young and old. Labeled as the South Beach Condos, #21, on the Masterplan, this area will undoubtledly see the most activity as it's just within reach of the Marina, Casino and reception center to name a few.

The Active pools are dedicated in closer relation to the fitness area & tennis courts. The Active pools are formed by a moving lazy river that surrounds the kiddie pool and ends at the opening of the pool bar area and the adjacent Lounge Area, both of which will be shallow enough to stand in. There will be a number of bridges that connect the kiddie pool area to the sidewalks so getting around will be a breeze. The pool bar area will be staffed and located next to a patio perfect for eating a snack by the waterside. The bar Area in general will be covered by thatch umbrellas and restrooms are conveniently located nearby.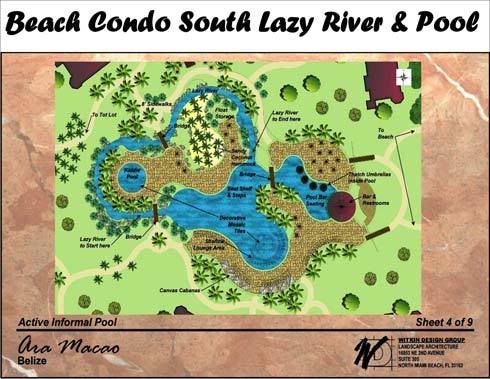 Active Pools Overview
The Passive Pools will be situated by a series of residential condos. These buildings are as follows:  Spanish Colonial #14, British Colonial buildings 2 & 15 and French Colonial building 1. The pools will be just a short distance from the Sandy Beach on the north side of the marina. 

There will be raised lounging areas that allow for shade and the Canvas cabanas are there for refreshments. The mayan themed pool area will have a large water feature running in the middle perfect for kids to run through and play. The large circular spa will be canopied by some large fan palms. The pool itself will allow for both diving in the deep end and sitting in the shallow area. Walkways will connect the active and passive pool areas.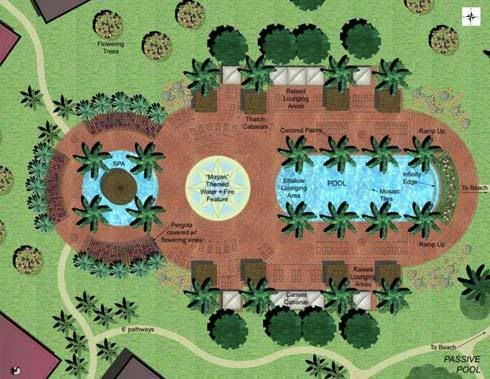 Passive Pools Overview
The Waterfront Marina residences #70,71,72,73 and 74 are located just east of both pool areas and just yards away from 2 tennis court locations. For a closer look at the locations of both of these pools and the residences reference to the Masterplan.
More information about Ara Macao can be found in these Articles

:
_________________________________________________________
If interested, contact Everard at 717-390-8704 and we'll make your dreams come true
___________________________________________
___________________________________________________________________
Based in Lancaster, PA. Selling Worldwide! - Contact Us: (866)980-8700
Belize Real Estate - Placencia Resorts - Ara Macao Condos for sale
Let us help you relocate, buy or sell your condos for sale in Placencia, Belize

Content & All photography is © VkDesigns LLC - Castellum Realty LLC. 2005-2009