Bent Creek Country Club was established in 1993 with 6 business partners. Their expertise in real estate development led them to explore their "Ultimate Career Challenge" in developing a first-class golf course community in Lancaster. The project started in 1987 with a plan to develop an 18-hole course surrounded by 400 live-in units. With a requirement of 300 acres, 3 seperate purchases had to be made before well known golf architect, Jay Morish could design Bent creek to become one of the best courses in the Northeast.  Bent Creek. Bent Creek's Founding Members' vision is to provide members with excellent competitive sports facilities, programs on golf, tennis and swimming coupled with fun family focused social activities and fine dining. 
Robert A. Wolf, Robert A. Wolf II, Barry D. Hogan, Dennis D. Herr, W. Hevener and Josie E. Buckwalter
Golf Clubhouse and Members Entrance to dining faciilties
For those interested in a social membership at Bent Creek, special incentives are currently available through March 31st, 2009. This preview period will allow for the exclusion of the Initiation Fee and No Dues payable. Preview members can also conveniently order take-out service and invite family and friends to 10 scheduled holiday social events, accompany them to fine dining or reserve a room for a private party. More information can be attained from Jon Porreca, the Marketing Director or conversely asking Everard, your preferred Bent Creek Realtor of Choice.
Bent Creek's own Swimming Pool and Facilities
Bent Creek also has it's own public swimming pool which is located nearby the Clubhouse towards the front entrance.  the SBent Creek's swimming team, the Barracuda's usually swim for a month in the summer with winners announced at a wrap-up Banquet. This is a great way to get your kids into some extracurricular activities and for them to fine tune their advanced swimming techniques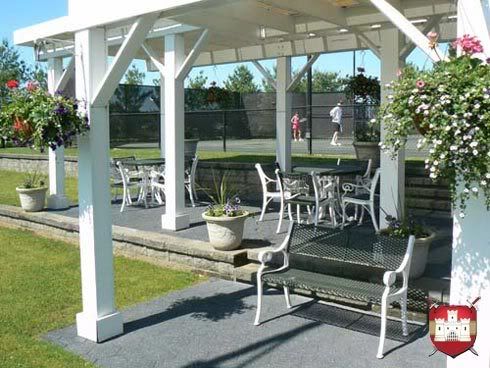 Outdoor shaded lounge at the Tennis Club
If you get tired of Golf, you can always take a swing at Tennis. Six Har-Tru Clay (slow) courts allow both recreational players and professionals alike to play nearly year round.  The naturally crushed green stone allow for quick drying time after rainfall and slow play for seniors concerned for knee problems.  The courts are resurfaced yearly in spring and maintained weekly. Players can sweep the courts with brooms to re-expose the lines and to keep the true bounce of the court. Private lessons are available by George Zinc, the #1 National Tennis Pro in the 30's Division, and by other staff members on call.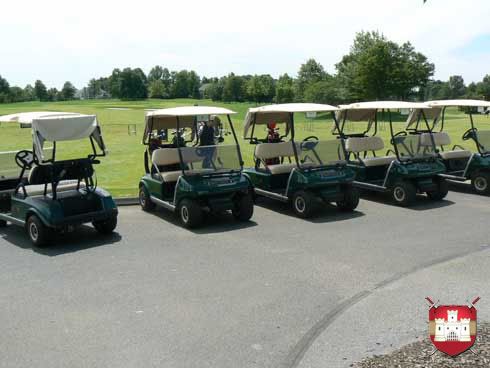 Golf carts are available upon request from a Caddy.
Members can accompany guests to tee it up on one of the most beautiful courses in all of Lancaster County. People interested to improve their game can enroll in the Academy of Golf at Bent Creek where they will receive focused player development training from Terry Hertzog and Jim Haus; The leading professionals at the club. The Academy offers individual private lessons, playing lessons and family clinics for both young and old. Jim Furyk, a Lititz Native may also show up to play from time to time. Social play normally starts in April with the F&M Tournament and ends in October with the Flynn Moorish Cup.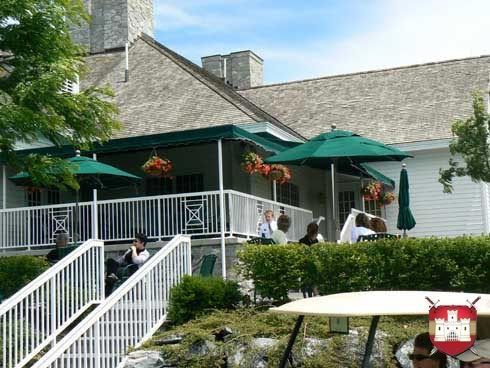 Outdoor Lounge overlooking the Putting green and 10th hole.
Come out for a Sunday Brunch Buffet and enjoy the relaxing atmosphere with friends while overlooking play on nearby greens.. Food is served from 10 to 2 and prices range from $12 for adults to $6 for children ages 4-12. We highly recommend the Made-to-Order Waffles and Omelletes which are absolutely fantastic. Weekday express lunches are served tuesday through friday and offer a quick snack in between play on the course. A full menu is available to members only by request.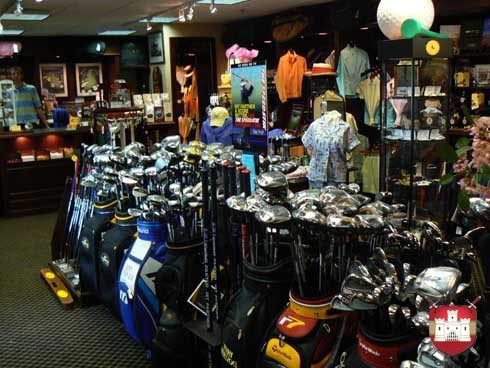 Professional Golf Shop available to members and guests
Golf Course attire is required and if necessary one can purchase clothing at Bent Creek's own Golf shop. Collared shirts or mock turtleneck shirts for men, and collarless shirts with sleeves are required to play on the course coupled with bermuda length shorts for both men and women with belt loops. These regulations are necessary for both guests and members alike for those ages 6 and over. Employment opportunities exist for any of Bent Creek's service stations, especially positions as a caddy in the summer time. For more information about this, contact the Caddy Master; Andy Haldy.(caddyshack@bentcreekcc.com)
24 Hour Security entrance point of 2.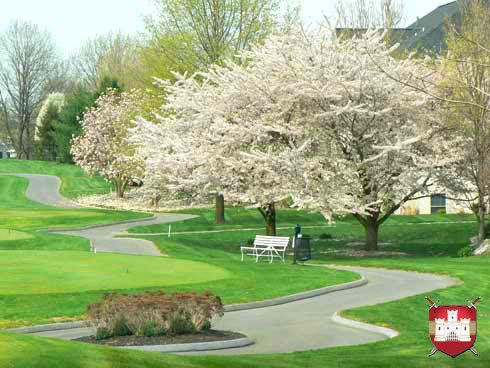 Willow trees line the golf cart path on the 12th green. (Everard's backyard)
_________________________________

CONTACT INFORMATION

Marketing Director

:   John Porecca  |  Phone: 560-7700  |  Email: jporecca@bentcreekcc.com


Tennis Professional

:  George Zinc  |  Phone: 581-1001  |  Email: gzinc@mac.com

Golf Professional

:      Terry Hertzog  |  Phone: 560-9461  |  Email: therzog@bentcreekcc.com

Event Coordinator

:    Cindy Mccomsey | Phone: 560-7700  |  Email: cmccomsey@bentcreekcc.co

ADDITIONAL CONTACT INFO:

Clubhouse

: 560-7700


Tennis Shop

: 581-1001


Grounds Maintenance

: 569-1540


Cart Barn

: 560-9620


Golf Shop

: 560-9461


Pool

: 560-pool


Gate House

: 569-9600


DIRECTIONS: Coming Soon!

Note: Current construction of a 3 story Tennis facility. We will have lots of pictures and an update to the progress with an estimated finish time in short order.
__________________________________________

Based in Lancaster, PA. Selling Worldwide! - Contact Us Toll Free: (866)980-8700
( Active Castellum Castellum Realty llc - Lancaster PA Real Estate - Hershey PA Real Estate )
Let us help you buy or sell your homes for sale in Lancaster County, PA
YOUR PREFERRED LIFESTYLE ADVISORS
Content & All photography is VkDesigns LLC - Castellum Realty LLC. 2005-2009