If you have a Point2 account (www.Point2Agent.com) chances are you've received the following email from them:
"On February 3, 2009 we sent an email to all Point2 Agent Standard members to let you know that effective March 9, 2009, Point2 will no longer be hosting any free Standard accounts. Our records indicate that you currently have a free Point2 Agent Standard account.
We believe the overall response we have received from our members reinforces the fact that Point2 Agent provides our members with value. We look forward to continuing to offer all our members with this value well into the future.
As a friendly reminder, in order to continue the level of service, support, and success this site has provided you with until now, you will need to click on the upgrade link at the top left of your screen (beside the Point2 Agent logo) and enter your payment information. The price of the Standard membership is $9.95 per month, and we are more than confident in our ability to deliver many times that amount in value to you each and every month.
This year, Point2 Agent will focus on dramatic speed and stability improvements, the release of new features to bring you more clients, and on improving existing features to help you outperform your competition.
After March 9th, your account will be credited with 4 Point2 Homes spotlight ads ($100 Value) as a token of our appreciation for your longtime support and loyalty.
For more information, please consult the FAQ.
We appreciate your understanding and look forward to serving you through 2009 and beyond.
Most Sincerely,
Saul Klein
CEO, Point2 Technologies"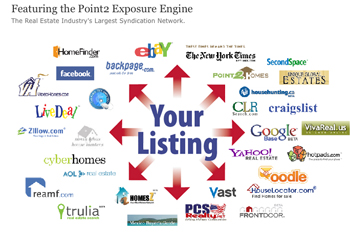 As a Real Estate Virtual Assistant Team, we use Point2 DAILY for our clients. The automated syndication (feeding your listings through AUTOMATICALLY to other websites) that Point2 provides is invaluable. Plus, $9.99 is a very nominal monthly fee compared to other's we've seen! Don't cancel your account - invest the $9.99/month - your sellers will appreciate your investment in their listing's online exposure!
If you have a Point2 website, you'll be excited to learn that by charging this nominal monthly fee, Point2 will now be able to remove all advertising from your website, rendering your website even more professional and more effective for you. Hopefully you've had your Virtual Assistant customize your Point2 website to match your branding. In case you weren't aware, Point2 websites ARE template websites, BUT they are VERY customizable. Take a look at this Point2 website we customized for one of our clients. Set yourself aside from the competition - customize your website and keep your branding consistent! Aside from having a custom website designed, which may not be in everyone's budget, a customizable template website is key!
All advertising will immediately be removed from your Point2 website. Formerly, free Standard accounts displayed third-party advertising. Additionally, your account will be credited with four free Point2 Homes spotlight ads!! These ads have a total value of $100, equivalent to a full year of Point2 Agent Standard at the annual rate ($99.95/yr). Have your Virtual Assistant setup your Home spotlight ads! Have an upcoming listing appointment? You can promise the sellers that you will be featuring their property on Point2 as a spotlight ad. Tell them this is a service that you've invested in to provide maximum online exposure for their home!
Bottom line... Don't think twice about keeping your Point2 account. It's definitely worth the $9.99/month investment.
Still have questions? Just ask me. Or you can visit this Q & A page posted by Saul Klien, CEO @ Point2.
Happy Sunday to all!
Warmest regards,