You walk into a home that you are interested in purchasing and what do you find?
It hasn't been painted!
It hasn't been cleaned!
The yard is a mess and completely overgrown!
The list goes on with cracked windows, dirty carpets and more. What do you do? The house is in obvious need of work. What is wrong with the home that the naked eye does not see? Do you write up an offer "as-is" or do you do more research. Bank owned homes these days are being sold "as-is". The bank representatives have no prior knowledge of the condition of the home or any defects it may have. In these situations the motto is "Buyer Beware"!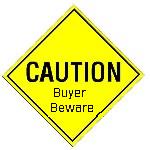 Do your research! You would hate to discover after escrow closes that the home has structural defects or needs all new plumbing.
What if you are a home seller and want to sell your home "as-is"? Maybe you can't afford to paint the home or just want to sell an investment property that a tenant destroyed. Just because you decide to sell the property "as-is" it still means you must disclose any defects that you are aware of. You know that there is asbestos in the ceiling, but decide not to disclose this to the buyer. Does it become the buyer's responsibility to do asbestos testing if it is "as-is" or is it the seller's responsibility to inform the buyer? It is the seller's job to disclose these material facts and if the seller chooses not to tell the buyer and the buyer finds out after the deal has closed, there could be possible legal recourse. Seller must disclose known material facts.
So, is buying "as-is" an advantage or a risk?
Well if get the home properly inspected and sometimes a better price then it can be an advantage. If you a buy a home and find out after escrow closes that the home needs a new roof that you were not planning on fixing, then it is a risk. Do your homework and buy homes "as-is" as an advantage for you!