HERSHEY PA DOWNSIZING SERVICES
Castellum Realty LLC offers a new service.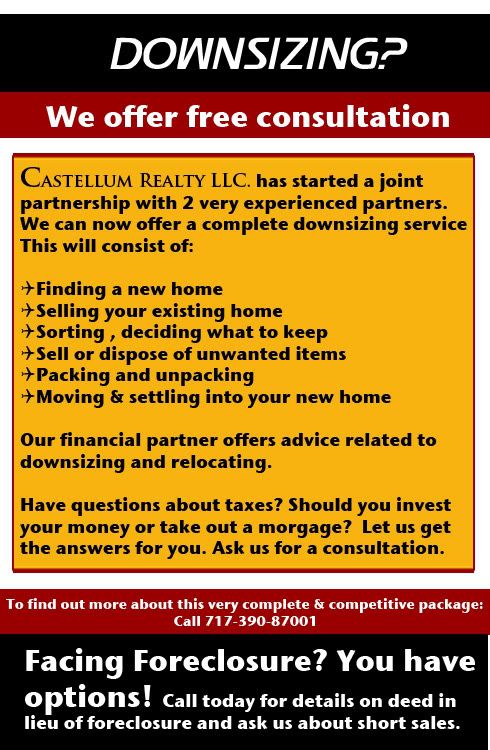 In addition: Our relocating partners will arrange the entire move whether that's regarding making arrangements with recommended experienced movers or by contacting their own. During preparation of your move, they will also do all the packing & unpacking for those that require special handling and protection. Any items that are designated for storage or shipment to friends , charities, auctioneers or relatives will be carefully identified and brokered by them. When unpacking, all kitchen items, accessories and personal items will be in their proper place. This includes the making of your bed if necessary. This service is especially enjoyed by our Senior clients looking to move to an Active Adult Community.
We look forward to hearing from clients and potential customers about this service.
We will treat you like Royalty!
__________________________________________

Based in Hershey, PA. Selling Worldwide! - Contact Us Toll Free: (866)980-8700
( Active Castellum Castellum Realty llc - Lancaster PA Real Estate - Hershey PA Real Estate )
Let us help you buy or sell your homes for sale in Dauphin County, PA
YOUR PREFERRED LIFESTYLE ADVISORS
Content & All photography is VkDesigns LLC - Castellum Realty LLC. 2005-2009