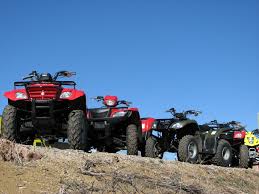 Per an article in this weeks Gladwin County Record (dated 3/11/09) Gladwin County has adopted an ordinance to allow ORV traffic on the roads. The unanimous vote came after several months of debate about the intent of H.B. 4323 passed into public law on 7/17/08, the potential for increase in economic activity and safety considerations.
For a link to the complete article featured on the front page of the Gladwin County Record click here.
Gladwin County has 880.56 miles of county certified roads (351 miles of which are paved). The Gladwin CountyRoad Commission can close up to 30% of the roads to ORV traffic. In addition each Township may close roads to ORV traffic as well. To date there is a list of roads closed to ORV traffic but that can be altered by the Gladwin County Road Commission (up to 30% of the certified roads) and by the Townships at a later date. The Townships can close roads after 7/17/09. At this time 18.8% of the total mileage of roads are closed. ORV traffic is not allowed on state highways (M18, M61, M30).
Currently the streets of Gladwin city are closed to ORV use but the streets are Beaverton are open to ORV use!
There is still more to be done such as signage to be put in place for the closed roads. Currently the state has no funding for signage. The act passed does provide some funding for signs through fines collected.
The passage of this ordinance should make many sportsmen and outdoor enthusiasts alike very happy. Itprovides for many areas of the county to be accessible by ORV and joins thousands of acres of state and together. Gladwin County has always been a great place to live, visit and play, but with the passage of this ordinance it became even better!
If you need a map of the closed roads emailed to you contact me, and I would be happy to share it!
If you are looking for a great up north getaway where you can use your ORV in Gladwin County I can be reached by email at sonya@sonyaloose.com, by phone at 988-429-2600, or by website at www.thegladwinrealestate.com.