ActiveRain Library Station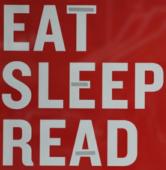 This group is to encourage people to get back to reading, a powerful way to use your imagination and creativity. You don't have to write a book review unless you want to. You can even just list those books that are still in your library because you enjoyed reading them years ago. Business books, religious books, travel books, fiction, non-fiction, scarey, horror, whatever. All books are welcome. One strict rule that we will enforce is that posts must be about books. This Group is not a repository for your posts just because you're a member. Books, books, books!
New members check in here
Russel Ray, San Diego Business & Marketing Consultant & Photographer
I am grateful that despite the Los Angeles traffic the shopping is done...
Endre Barath, Jr.
Endre Barath "I am so thankful for being a Realtor in Beverly Hills"
Endre Barath, Jr.
Buyers ask : How much will the Seller take? Why are the selling?...
Endre Barath, Jr.
Do you know which is the largest Public Library in the United States?
Endre Barath, Jr.
Bird, Lime, Lyft, Jump and the list is growing day by day...
Endre Barath, Jr.
Holiday Marketing by a Beverly Hills Realtor: Endre Barath, Jr.
Endre Barath, Jr.
Speechless Sundays: A Motivational Moment
Endre Barath, Jr.
Angel's Flight: Downtown Los Angeles aka DTLA
Endre Barath, Jr.
I just received another "Thank You Card" in the mail...
Endre Barath, Jr.
Great News: Angel City Chorale is in the final eight on America's...
Endre Barath, Jr.
Did you know Westchester, CA has two Farmers Markets every week?...
Endre Barath, Jr.
Pick a Niche, that will make you Rich! What comes to your mind...
Endre Barath, Jr.
A footnote in West Point History...
Endre Barath, Jr.
How will the decreased value of Facebook effect your Real Estate Marketing?
Endre Barath, Jr.
The Marina Del Rey, CA Demographic Statistics are published...
Endre Barath, Jr.