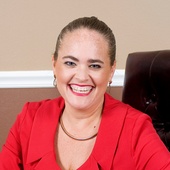 Real Estate Agent
Amy Dinovo
Saint Petersburg, FL

—

ALVA International, Inc.
Strategic Execution Officer for the Simms Team at ALVA International in St. Petersburg, Florida and Webmistress for Business and Professional Women of St. Petersburg - Pinellas
Get to know Amy Dinovo
From my bio on our website
Amy is the Team's Strategic Execution Officer. Dynamic, energetic and resourceful, Amy is our one-woman Research & Development Team, relentlessly pursuing any information needed to ensure a smooth transaction. Focusing on that crucial period between contract and closing, she keeps everything on track. Additionally, Amy manages the Team's web presence, systems integration, and is also a licensed Florida real estate salesperson. A St. Petersburg native and Eckerd College graduate, Amy has a background in web design, customer service, tourism and business development training.
I am perhaps the only person that I've ever known of (there are probably others) that has the phrase "relentlessly pusuing any information needed" in their job description. I've actually put on my resume "wellspring of trivial knowledge" because growing up my parents played the "did you know" game. It's the one where you are sitting there watching TV or eating dinner or taking out the trash and Mom says "did you know there are 4 states who's captial city begins with the same letter as the state they are in?" My friends refuse to play trivial pursuit with me and when my parents got me the Jeopardy! home version one year for Christmas, I only got to play with my friends once before they decided that I had to be ALEX if they'd ever play with me again. I can't say that I've ever used the little bits of info for financial gain but I suppose it's come in handy at various points when dealing with clients and vendors.
I don't like titles because they often invite people to oversimplify or make assumptions. I prefer to have a title that requires further explanation so that Bottom line is - I make sure we collect checks. Whether it's about compliance, deadlines, documentation, or just following up, I'm going to make sure that we collect a check if at all possible and as important as everyone on the team is, I know that if I'm not doing my job, no one else can do theirs.
Certifications
Since I manage our team's technology and maintain our internet presence, I have a good amount of technical ability. This comes in handy to both our clients, colleagues, vendors and team. Since "The Great Dell Meltdown of 2005" I'm also knowledgeable when it comes to disaster recovery and what's really necessary to get my team back up an running in the event of an equipment failure or other event that might prevent us from accessing our equipment normally. I'm also our team's expert in documentation and procedure. I make sure that everyone has all the forms they need for a listing or a contract, that they are properly filled out, signed and that we are in a position at any time to receive a visit from the "documentation police." For our clients all this amounts to is that I am a resource before, during, and after the transaction for a number of issues that you wouldn't necessarily go to your real estate professional for. Our clients know that I maintain a database of vendors of all types and with our teams civic and social involvement, there's really no issue that's not related to real estate. If our clients have questions or problems, our team knows someone who we can call. Perhaps one of my most important (to the team) skills is what we call "the gatekeeper." Because most of my work occurs behind the desk, I'm here at the office and for most people the first member of the team that they will encounter. My experience mananging and training call center staff comes in handy in pleasantly handling all calls that come into our office. But for those sales professionals that must speak to the decision maker, unless we have specifically reached out to you, I'll aslo be the last member of the team that you'll speak to. It's about efficiency and it's my job to make sure that our team runs efficiently, meets their deadlines, and spends as much time with our clients and potential clients as is needed.
Introducing a fresh new look for your Profile.
Click the 'Edit Profile' button below to enter 'Edit Mode' and continue the tour.