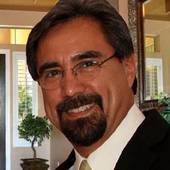 SA116184000
Real Estate Agent
Joseph Quiroz
Glendale, AZ

—

Realty One Group
Residential real estate specialist with 16 years of expertise in listing and SELLING homes in the Northwest Valley communities of Arrowhead, Westbrook Village, Vistancia, Westwing, & others.
Get to know Joseph Quiroz
Our homes are lifetime investments coupled with strong personal ties. Buying or  Selling a home ranks among one of my clients' most important experiences and I approach my task with sensitivity, concern and professional competence.
Over and over, I find that our policy of conducting a diligently prepared market analysis of the property and reviewing it in detail with the owner reduces the time spent on trial and error and leads to a faster sale, at a better price and with less inconvenience to our sellers. Thank you for this opportunity. My presentation is a measure of the quality of service which you can expect from us until your home is sold. 
WHY ON EARTH SHOULD YOU WORK WITH AN AGENT?
Consider these points when deciding whether or not to work with a listing agent to sell your home.
If You Work with an Agent -
Selling:
You sign a listing contract, which is a legally binding agreement that typically gives the agent the exclusive right to sell  your property within a certain period of time (usually 90 to 180 days). The agent researches the market in order to determine your home's market value and reach a sales price in consultation with you. The agent prepares a written marketing plan that includes a schedule for listing, showing, and advertising your property. The agent advises you on how best to prepare your home for sale and helps arrange for pre-sale tasks such as a home inspection. The agent transmits any offers to you, negotiates the purchase based on your recommendations, and moves all the paperwork through the transaction. You pay for the listing agent's services, either as a percentage commission (usually 4 to 6 percent) or a flat fee, as specified in your listing contract. The buyer's agent is paid out of that fee.
If you're buying a home, think about working with a buyer's agent.
Buying:
Like the listing, Your agent asks you to sign a buyer's broker agreement, which is a legally binding agreement that typically gives the agent the exclusive right to locate suitable properties within a certain period of time. The agent researches the market in order to determine the potential purchase home's market value and reach a price that is agreeable to you and one that will most likely result in a sale. The agent prepares an offer and the necessary paperwork including the disclosures necessary to protect you legally throughout the transaction The agent represents you in negotiating the price and terms of the sale as well as overseeing the inspection process and negotiating the repairs if needed. The agent keeps you informed throughout the entire process and empowering you to make the best decisions based on clear and understandable communication. The agent manages the entire transaction and documents required through close of escrow with the title company until you receive the keys.
If You Work Alone -
To Sell, You are in charge of the transaction, including marketing your property, negotiating the purchase, and handling the paperwork. Educate yourself on relevant federal laws and state regulations governing real estate sales. Before purchasing, you must arrange for your financing on your own, shopping for the best rates and terms. You do your own market research (including possibly hiring an appraiser) to determine your home's value or that of the one you wish to purchase. In Marketing your home - You create your own marketing plan and decide how you will handle inquiries from prospective buyers or their agents. When buying, you must prepare your own offer to purchase and research all the ways to protect yourself legally in the sale. In Selling, You decide how to prepare your home for sale, including arranging for pre-sale repairs, inspections, or other necessary services. In Buying, you must handle all the inspections, negotiations of such as well as the document process while the sale is in escrow. While Selling, You field all buyer inquiries, show the house yourself, handle all negotiations, and move the paperwork through the transaction. When Selling, You pay for the buyer's agent's services, unless the buyer is also working alone or has hired the agent for a set fee. You may also pay for services you require during the transaction, such as legal advice or help negotiating the contract. Discount brokers offer individual services for flat rates.
CONSIDERATIONS BEFORE BUYING A HOME:
Buying a house covers a lot of ground including legal, financial and emotional considerations. To not educate yourself and learn from the mistakes of others only sets you up to be at best disappointed and at worst finding yourself living in the wrong house. We have listed some of the most prevalent and potentially dangerous and expensive mistakes made by first time home buyers.
Running Before Walking This is easy to do once the decision to buy a home has been made. It means rushing off looking at homes, surfing the web or calling on advertisements before doing some up-front preparation. Not spending time doing this preparation, though, can be a disaster. We get a number of emails from buyers who have contracted to purchase a home and want to know the easiest way of getting out of the purchase. Let it be known loud and clear: If you contract to purchase a home and "change your mind," the chances of getting released from the contract are almost non-existent. Still we hear "We found another home!" Sorry, too late. Maybe next time. "We are buying too much house!" Okay, maybe you will be able to rent out a room or two. "It's not what we want!" Maybe you can paint the house, or add on to it or replace the carpeting, but you will almost certainly be living in it!
Over-Buying the First Time Being "house poor" is a very uncomfortable existence. A large and beautiful home with little or no furniture tends to be empty and cold. A life where almost every dime of your earnings goes to the support of your house wears thin very quickly and is a frequent cause of family stress. Pushing yourself right up to--or beyond--your limits leaves you highly exposed when the inevitable changes to the national or your personal economy occur. Leave yourself some breathing room!
Finding Out Too Late That You Have NO Representation This can be a real nasty surprise when you assume that the Agent with whom you are working represents you when they actually represent--and owe complete allegiance to--the seller. How does this happen? By not taking the time to investigate and familiarize yourself with the laws regarding Agency. Or, by rushing out to look at homes, whether in person or on the Internet, and contacting the Agent who has the house advertised (who will be the listing Agent and will absolutely represent the seller). Another pitfall occurs when you try to represent yourself in the purchase of a home, thinking that you will save money. This may be the case, but it is just as--or more--likely that you will run into a savvy seller who is looking to keep the commission savings in their pocket rather than give it to you. In addition, without representation and the use of a Comparative Market Analysis, how do you determine a realistic selling price for a property?
Not Getting Mortgage Pre-approval In the past it may have been different, but in the year 2003, prequalification and pre-approvals are a necessary part of the home buying process. Not only will it give you an exact price range for your purchase, pre-approval will add a great deal of strength to your offer. See the pages devoted to the subjects of prequalification and pre-approval.
Waiting for the "Perfect" Home Many first time buyers make the mistake that they will, if they look around long enough, find a home that has a full 100% of their needs and wants. With the thousands of variables available in housing, including location, style, size, amenities and condition, this is almost always an unrealistic goal. There are two potential problems with this strategy: First, these buyers pass by homes that meet 90% or more of their requirements only to eventually give up (often purchasing homes with less of their requirements because they are worn out!) and second, while they are waiting for the "perfect" home, housing market prices (and often mortgage rates) continue to rise, adding expense to their purchase. Instead, it makes sense to determine the most important of your needs and the most desired of your wants and selecting a home that meets the majority of them. Shortcutting the inspection process. This can involve skipping a whole house inspection completely in order to save the relatively small amount of money involved or it may involve using a friend or relative with limited experience to conduct the inspection. In either case you run the risk of not exposing potentially expensive--or even hazardous--defects in the property. Protect yourself and invest the $200 to $500 for a professional inspection.
SERVICES PROVIDED TO THE SELLER:
Assist you in determining Fair Market Value by reviewing market demand, seasonality of sales, location and many other variables which often alter your home's value. Suggest ways to improve salability based on Fair Market Value. Locate qualified buyers through the local and national multiple listing service, group prospecting, local and national referral relocation service, direct mail and phone contacts and most important - other REALTORS® - those people who have access to the major share of qualified buyers interested in your home. Keep you informed on a weekly basis or for any particular situation that arises regarding the sale of your home.
I GUARANTEE IT!
Highlight showings by illustrating the BEST features of your home. Qualify and counsel serious buyers toward a decision. Buyers need answers to countless questions, not only on your property, but on technical matters-financing, payments, insurance and title clearance. As your Realtor, I will have the answers, make detailed arrangements for financing and serve the buyer in dozens of ways to make it easy for him/her to complete the sale on your home. Keep up to date with the best financing available. Synchronize all buyer/seller transactions. Assist you with all the steps involved with the closing. Handle any and all complications that occur through this process, from before the contract to after the settlement. • Arrange to relocate sellers when applicable and take advantage of the Marketing Services division, including such programs as nationwide referral, moving dicounts, etc. to accomplish this goal. Work full-time - for the you, the seller.
Sound too good to be true? Give me a call.

 
Joseph Quiroz's Blog Posts
Certifications
Over the last decade I have helped sellers market and sell their homes in challenging markets as well as when the markets reached a fever pitch and it was hard to decide which offer to entertain. Sellers need someone to rely on to inform them about the process and keep them constantly up-to-date on the sale of their home all the way to close of escrow. Regardless of the market, buyers and sellers need a clear direction and expert knowledge from a competent agent they can trust. I have been called upon many times to assist a seller when they had difficulty with their previous agent and I've always brought their sale to a successful close.
Although I assist all types of Buyers, I am especially fond of first-time buyers and folks who haven't bought a home for some time. Its a gratifying experience to enlighten home buyers in this ever-changing and challenging market. I want my buyers to have the latest inside knbowledge and tips for getting THE BEST DEAL in this or any market. I consistently save my clients hours of time and headaches searching for their next or first home and stay with them through the entire process until I hand them the keys to their new home!
I work with only the BEST in real estate related services so that I can offer you the finest in service from mortgage services, inspections, insurance all the way to title!
 I am proud to support Amy Swaney - Senior Loan Officer at Citywide Home Loans who is exceptional not only in her field but in the industry as a whole. Amy serves the real estate community by educating real estate agents and clients alike and keeps them in the loop with the ever-changing nature of lending practices and law. Amy also appeals to our lawmakers on our behalf to protect your rights as a consumer. If you have any questions or simply want to get pre-qualified, please give Amy a call at 480-529-3008 or direct 602-714-9719. You can also reach her by e-mail at: amy@amyswaney.com. If you would like more information regarding loans or get pre-qualified through their website, visit: www.citywidehomeloans.net
For your inspection service, I fully recommend a gentleman that I have been using for years. He is extremely thourough and can answer all your questions regarding the condition of your new home. He is reasonable, on time and produces an excellent report the day of the inspection so you'll be prepared to have me negotiate any repairs that may be needed before you take title to your new home. His name is Brian Stuart of QualCheck Home inspections and his number is 480-203-7266. He can also be reached at 602-214-6726. His website is www.qualcheckinspect.com.
On a personal note, I enjoy flying, skiing, JetSkiing and traveling in Arizona - It's such a beautiful state. So I have helped many buyers from other states by offering my website www.DiscoveringArizona.com.
This website offers visitors a chance to experience Arizona from afar and really get to know what our beautiful state has to offer. For visitors, this site is a valuable resource to book flights, research lodging of all types, and learn about all the things to see and do in Arizona. Check It Out Here!
Introducing a fresh new look for your Profile.
Click the 'Edit Profile' button below to enter 'Edit Mode' and continue the tour.