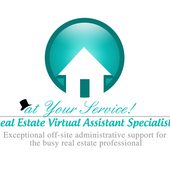 Services for Real Estate Pros
Skye Hawk
NAR Cert. REPA "Rockstar REVA"
Fountain Hills, AZ

—

At Your Service! Virtual Assistant Specialists
At Your Service! REVA has been in business for 11 years! We are at the forefront of our industry and provide "Rockstar" support to our clients. We have a wide range of services to meet your needs!!
Get to know Skye Hawk
At Your Service! Virtual Assistant Specialists is based out of Fountain Hills, AZ and has been supporting small business owners since 2003. In this busy day and age it is not unusual to be wearing many hats. Do you ever feel like your career is running you? What if I told you there is a better way, and not only is there a better way but you have the potential to make more money and save time doing it. Real Estate Agents are trying to do it all and really what is the purpose in doing that? Why not concentrate on meeting your clients and let us, At Your Service! Virtual Assistant Specialists, take on the email organizing, updating your calendar, respond to inquires and put them into lead management for you, send out closing gifts to clients and even remember that important birthday or anniversary. Or possibly you need assistance with your marketing campaigns or handling the transactions from sign to close. Or even putting together a listing presentation to land that special client. Whatever it may be big or small we can do it all. We love being able to assist you and make your life just a little bit easier. We work hard and put alot of time and dedication into what we do, no need to worry about sacraficing quality by having someone else other than you do it. We have the same passion as you do for the industry we just chose to work in the industry just a little bit differently. We look forward to working with a diverse group of Realtors and we pledge to give each and everyone of you 110%. At Your Service! Virtual Assistant Specialists are in the business in helping the Real Estate Agent build their business, help you attain repeat clients and prove that even in this day and age there is still a thing called good customer service. At Your Service! Virtual Assistant Specialists can work on the details and relieve some of the headache that goes along with them while you, the Real Estate Agent, work on the BIG PICTURE. If you are a Real Estate Agent and want to increase your client base, profit and time to do what ever you want.......YOU need a Real Estate Virtual Assistant. Working with a Virtual Assistant (VA) is like having an administrative assistant on-call when you need an extra hand. You get the office support you need without the expense of an employee. Whatever your needs may be we can fill them virtually. Whether you are in need of someone on an on-call basis for project work or overflow assistance or if you need someone on a regular basis we are here to help. At Your Service! Virtual Assistant Specialists is here to help you every step of the way, we work in partnership with you to assist you in your dream of making your business grow. We work hard to meet the level of excellence that our clients have come to know and trust. At Your Service! Virtual Assistant Specialists is your one stop shop for all of your virtual needs.
Certifications
Real Estate Services Offered Online Transaction Coordination: We manage all aspects of your pending transactions. From open to close we are there for you to facilitate all the details involved in successfully closing your deals. You and all other interested parties are kept in the loop and up to date on the status of every transaction through a web based transaction management platform that is available 24/7. Listing Coordination: Once you have signed the listing contract with your new client, I make sure all the details are handled. I will take the listing and inputting into the MLS, add the listing on to your web site, we will then discuss marketing material and then I will create the material needed for this listing. Your clients will be so impressed by how timely you are and see that you are really on top of things. Listing Presentations: We can assist you in creating a top-notch listing presentation to get you the "yes" that you are looking for. We can work with you in using your winning strategies already perfected or we can create something that will fit your style to project you as a professional. Farming Campaigns: We can assist you in getting the exposure you want to your farming areas. We can assist you with mailings for these areas and make sure you stay in front of the potential clients that you are trying to reach. Expired Listing Campaigns: We can assist you in running expired listing campaigns to ensure that you are on top of your game. FSBO Campaigns: We can utilize your current system for FSBO's or we can create something that will work to make sure you can capture this market. Let's show them what great service they can only get with you. Virtual Tours: By allowing me to create your virtual tours you are offering your clients the quality of service that they will come to expect from you. Using the most up-to-date technology and marketing capabilities that are out there in the industry today. You not only will gain the first time clients, but will have repeat customers for life. Flyers/Postcards/Brochures: Allowing us to utilize our talents in creating you eye catching material you will not only save yourself time of doing this task but you we also be impressed with the quality and uniqueness that goes into each and every piece. Contact/ Database Management: Do you need someone to maintain your database for you. We can assist you in keeping your database up to do so that you don't miss important dates or loose any pertinent information. We have been trained on several different programs to be able to assist you in keeping you on track on time. Newsletters: Do you have a newsletter that you send out? Do you need assistance with this as well? We can assist you in the creation of your monthly/weekly newsletters. Lead Management: Do you need help managing all of your leads? We can assist you in keeping them organized and helping you turn them into signed contracts. Client Relations/ Gift Purchasing: Do you have gifts that your purchase for your new home buyers? Let us assist you in coordination of those gifts, or if you have an idea for a basket or gift we can create it for you. Maybe you want to send cards to your clients on the anniversary of the purchase of their new home, or maybe a birthday card needs to be sent. Whatever the needs are we can assist you in the little extra touches that will make you stand out above the rest. Drip Campaigns: We can assist you with your drip campaigns we are certified by RainMaker as a Certified Virtual Assistant with their company. If you don't already have an account with them, you can receive a discount by ordering through us. Open House Assistance: Need to make arrangements for an open house? Do you need flyers done? Need someone to handle feedback? Or maybe you need someone to send out Thank-You cards to attendees. Whatever the case may be we are here to help. As you can see at At Your Service! Virtual Assistant Specialists we strive to serve you the best we can. If you need assistance with a service that you don't see feel free to contact us as we can customize a service to fit your needs. Contact Us
Call our Sales Department ext 106
Testimonials for Skye Hawk
"Skye is an important part of our team and can help any real estate agent to grow by delegating important work as a virtual assistant. I can highly recommend her to any agent out there seeking to find great help at his or her disposal whenever needed!"

"Team Jeacoma are very pleased with the business relationship we share with Skye's Company. We have found their service to be dependable, friendly and open over the years. Their attention to detail and willingness to listen to our needs is extremely important to us."

"As a consultant, I hired Skye on numerous occasions to help with overflow marketing projects. She's intelligent, reliable, and gets all of her work finished in a timely manner. Skye is also professional, personable, and easy to work with."
Introducing a fresh new look for your Profile.
Click the 'Edit Profile' button below to enter 'Edit Mode' and continue the tour.