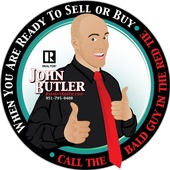 Real Estate Agent
John Butler
"Bald Guy in the Red Tie"
Murrieta, CA

—

Exit Twin Advantage Realty
39755 Murrieta Hot Springs Rd., G110
Murrieta , CA 92563
---
Bald Guy in the Red Tie...specializing in helping people sell and buy in the Murrieta, Temecula, Menifee and Winchester area.
Get to know John Butler
GETTING INTO THE BUSINESS...
Like many people that got into the business, I took every loop and turn and side road to get there before I finally arrived in a real estate office as an official Realtor.
I had been working as a waiter in a place we'll call "The Lobster Palace" when a Broker and his wife, Mike and Robyn Zingg, were dining in my section when Mike asked me, "So, it looks like this is a fun place to work."
I looked around at the messy tables next to them, which were covered in crab legs, plates and napkins and noticed the cookie crumbs on the floor which I would soon be on my hands and knees cleaning, when the reality hit me: Damn, I should have gone to junior college...um, yeah, or at least tried to do something a little more ambitious with my life.
As the conversation went on, Mike told me that he owned a Century 21 office in Canyon Lake and that he'd be willing to help me get started in Real Estate if I was looking for a change.
I took his card, said thanks, then thought in the back of my mind that I would never get into Real Estate because I thought Realtors were a mutant cross breed of used car dealers and a door-to-door Kirby salesman: Cunning, pesky and capable of making you buy things that you never thought you needed until they convinced you that, in fact, you really needed that warranty on the air freshener or you needed that extra year supply of vacuum bags.
A month went by with his business card sitting on my dresser, when late one night, I was watching one of those infomercials about Real Estate, you know the kind, the one where that dyslexic house wife with ten kids on welfare bought so-and-so's program and bought her first piece of Real Estate with absolutely no money down, and turned around and sold it for, like, a billion dollars.
I figured, heck, if she could do it, why couldn't I? Isn't that the thought that begets all of history's greatest accomplishments?
Besides, I considered myself to be a somewhat capable individual, and I figured that the best thing that I had going for me was that I wasn't dyslexic, didn't have ten kids, and heck, I wasn't even on welfare.
So, I called up Mike and he signed me up for some on-line training. These courses were quick and easy and could be taken in six weeks...well, for the motivated/dedicated person I guess.
Me? I sailed through it in a record 18 months. I'd sit down, go to the website, watch about five minutes of the lesson, then realize I had something urgent to do: Like take out the trash or arrange the silverware. Yes, yes, important things.
Long story short, I failed the test twice and finally on the third try, passed with flying colors.
Woo Hoo! Real Estate riches here I come! Move over Donald Trump! No, no, YOU'RE FIRED!
Obviously I was going to take over the local, regional, national and global Real Estate markets...right?
Nah, instead I took another mediocre job answering phones for a local casino, then got promoted to a fancy Casino Host.
Yes, I know, I was a licensed Realtor, but hey, the market was tough (at least that's what the newspaper said) and I figured I could just do it on the side...you know, a part-time job, showing a few houses here and there, making a few million on the weekends.
Well, life has a funny way of twisting you around and getting you on the true path you're really supposed to be on.
Right as I was on the top of my game at the Casino, I ended up getting fired. Eww, ouch. That sucks. I found out that A). You can't always count on a corporate casino job and B). It really sucks having to tell your wife that you got fired and C). As much as it sucks telling your wife, it's even worse telling your mother-in-law.
Now what was I supposed to do? Go back to being a waiter? (I shudder at the thought of cleaning up crab legs or getting another lemonade for a demanding four year old).
So, I called up a lady named Susan Ebert at Exit Twin Advantage Realty, an office full of overly enthusiastic and happy people, and she told me what to do to get started in Real Estate.
I lived on my credit cards for about four months, but I ended up getting into the groove of being a Realtor, and in my first year, I have sold over 25 houses.
In conclusion, all I have to say is: I'm never going back to cleaning up crab legs.
Real Estate...you gotta love it.
BALD GUY in the RED TIE
Certifications
I'm a marketing specialist that makes house selling and buying fun.
Introducing a fresh new look for your Profile.
Click the 'Edit Profile' button below to enter 'Edit Mode' and continue the tour.