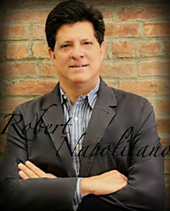 Real Estate Agent
Robert Napolitano
Real Estate Professional /Capri Jet's Founder and Owner. Capri Jet Realty specializes in Home Sales, Rentals, Condos, Lofts, Investments and Commercial Properties. (Brooklyn, Queens and Manhattan).
Get to know Robert Napolitano
Robert Napolitano is the Principal Broker and a Founder of Capri Jet Realty.
He has been in the business of buying and selling real estate with his family members since 1985. His primary market is Williamsburg and Greenpoint. He also specializes in Howard Beach, Queens, where he grew up, and other sections of Brooklyn and Queens as well. Negotiating the Real Estate deal is his forte. He is a marketing and advertising expert. His mission is to use his many years of experience and his integrity to sell your property at the highest possible price in the least amount of time. He is always leaving each client with smile on their face and a new dream home that they can be proud of!
Certifications
TestimonialsWe Encourage You To Call Our Satisfied Clients
________________________________________________________________________
Richard Farney - 116 Devoe Street - Brooklyn, NY 917 697 9834 First, thank you and your staff for the time, effort and diligence in selling my house and the related activities. The appraisal was done with honesty and integrity. The figure you gave- what you can get for the house - $557,000 was close to what I got. There was no major gap. This was good. All potential buyers were made aware that the house was a "fixer-upper." No surprises were sprung upon them when they came for a viewing. Contractors, Developers and people who would devote the necessary resources to restore the property were the viewers. This saved their time and mine if the commitment was not present.Second, negotiating the sale agreement was easy and hassle free. You were more concerned with customer satisfaction with the terms than getting the listing at any cost. It was very easy to deal with you and your staff. Any discrepancies or concerns were immediately resolved. Finally, and a major issue, validation of the ability of the buyer to have the funds and/or his ability to secure a mortgage was under-taken by Capri-Jet staff multiple times for different buyers. There was a thorough review of all presented documents. Updates were given to me in a timely fashion. When a buyer was selected by me, I was given updates on the status of the processing of the mortgage. Also any and all new information was immediately relayed to me. And, the pool of potential buyers was increased since Mr. Napolitano allowed other Brokers an opportunity to show the property.Robert, Thank you very much to you and your staff for all your efforts in selling my property. It was successful. Keep up the good work. Happy New Year to all, may it be filled with good health, happiness and many more satisfied customers like me.God Bless you and your staff. I would recommend Capri Jet Realty and you to anyone looking for a Broker to sell a property. ________________________________________________________________Vincenzo Morena - 397 Graham Avenue - Brooklyn, NY 011 39 389 43 4285 I must say that it was a pleasure to work with Capri Jet Realty to sell my property. Robert, the Broker, negotiated a deal that worked out perfectly for me. I tried to sell the house on my own for two years unsuccessfully. Robert went over and above the call of duty to close this deal.I had a problem with the commercial tenant on the first floor and Robert virtually negotiated a new lease with the tenant for the new buyer in order for the deal to go through.He is truly an experienced professional Real Estate Broker and I would highly recommend Capri Jet Realty._______________________________________________________________Vinny Gangone - 165 Jackson Street - Brooklyn, NY 347.645.3814 I used Robert at Capri Jet Realty to sell my property at 165 Jackson Street, and I can honestly say that he did a great job! He showed the property to many buyers and got us a fair price in the end.From start to finish he handled the transaction very professionally. In fact at one point the deal was dying because the buyers could not secure financing; so he recommended his mortgage broker who saved the deal.I am sure that if you hire Capri Jet Realty, that you will be more than satisfied._______________________________________________________________Vita Zavoli - 564 Metropolitan Avenue Brooklyn, N.Y 11211 (510) 352-2029 My family and I had the pleasure of working with Robert at Capri-Jet for about 12 months in one of the most difficult economic real estate climates in many years. Right off the bat, he was straight forward about the market, gave us comps to review, explained the selling process in detail from start to finish and made himself available to answer our questions during working hours, evenings and at other odd times.Since I live in California and the property sold is in New York, Robert kept in touch with me constantly via email, telephone and through his colleagues in a timely fashion. He arranged to have work completed in the house and handled any issues that arose since no one was available in the New York are from our family. He presented all quotes for the home with enthusiasm and responded immediately to prospective buyers. Robert likes to get the job done and will stay on the case until all avenues have been explored and the house has been sold._____________________________________________________________Victor Brucato - 158-04 97th Street - Howard Beach, NY 11414 516 745 3778 My father and I wanted to thank you once again for all of the time and effort that you devotedto selling our home in Howard Beach. Your knowledgeof the local real estate market and expertise in advertising... enabled us to move ahead with the sale even in these difficult times.The open houses that you scheduled and conducted were ultimately the meansfor meeting our buyer. You communicated with us frequently and addressed our concerns promptly. Your courteous and professional assistance was very much appreciated. It has been a pleasure dealing with you.._______________________________________________________________Elio Cuoco - 181 Withers Street - Brooklyn, NY 11211 516 380 9088 I purchased a parcel of land from Robert Napolitano at Capri Jet realty, and was very satisfied with his services. Robert was very familiar with the plan that he presented to me, and was able to answer all of my questions knowledgably and professionally. His expertise on what he was selling helped me to make my purchase decision. I would use him again, and in fact we are using the services of his company to help us sell the luxury condos that we built on the property. ._______________________________________________________________John Lego - 265 N 9th Street - Brooklyn, NY 11211 212 868 1010 My wife and I worked with Robert Napolitano when our family purchased a multiple family dwelling in Williamsburg. Robert represented the Seller's and we were not represented by a broker. A broker has ethical obligations to bother the seller and the buyer when acting in dual capacity. However, Robert never crossed any ethical boundaries, conducted himself with professionalism, never missed an appointment and never offered bad advices. I believe he represented the seller's quite well, but also served the purchaser's with honesty and integrity. His knowledge of the real estate industry and the market is readily apparent and I would work with Robert again if given the opportunity. ._______________________________________________________________Pasquale and Maria Ricchetti - 184 Devoe Street - Brooklyn, NY 11211 646 651 3592Dear Robert, My family and I want to thank you for working with us on the sale of our property. You worked diligently and consistently in finding us a buyer, and were always available to answer any questions we had.You were very considerate in scheduling appointments to show the property, and always made yourself available. I knew I could call you any time with any questions, and you always kept us informed as things started to materialize. You got us a great price for our home, and we are very happy with our decision to list with you. I would recommend your services to anyone. Thank you again for helping us sell our property, we are very happy with your services._______________________________________________________________John And Nancy Orlando - Middle Village, NY917-335-0839Robert, I can not thank you enough for all of your hard work in helping us find our new home in Howard Beach. You are a gentleman and a professional with extensive knowledge of the Real Estate Market. You came recommended to by Eddie and Jean Echt and I would highly recommend you to our friends and family for all of their Real Estate needs._______________________________________________________________Louis Carnivale - NY, NYRobert Napolitano and Capri Jet did a wonderful job of quickly finding a buyer for our house. Robert treated us like family from the start, explaining everything we needed to know, making the selling of our house a very pleasant experience. I highly recommend Robert Napolitano and Capri Jet. _______________________________________________________________Don & Jeremy Stenger - California714-357-5325Dear RobertI really enjoyed working with you this summer while looking and purchasing real estate in the Brooklyn / Williamsburg area. My son, who rented in Brooklyn for 10 years, and I, who lives in Southern California needed someone who could work with the two of us. My son was close by and I was at a considerable distance away. We both sincerely appreciate the extra efforts it took to close escrow with me on the West Coast. Your patience in explaining the difference between east & west property purchases was very clear, honest, and I found your input to be most trustworthy. You recommended a buyer's attorney who was excellent, and you suggested utilizing a power of attorney so we could close escrow with me having to make another trip to N.Y. to simply sign papers.Of the many realtors that I encountered - ...You were the one who actually listened to our needs....Who found & showed us appropriate properties...And followed through with all things you said you'd do.Everything went very smoothly, on a most timely and efficient schedule because of you and your excellent staff. It's been a pleasure to work with you and your team, and you will be my first choice for my next real estate adventure in New York.We loved the neighborhood you helped get us into - very rich in character with excellent potential for growth as time proceeds.Again, many thanks._______________________________________________________________Jean - Marie Eacht - Howard Beach, N.Y.917-862-3796My experience with Rob and Capri Jet was fabulous. He always called me back, answered all our questions, and was always honest and corteous. He organized our Open Houses around our busy schedules and went above and beyond to advertise our house for sale. I would recommend and have recommended some of our closest friends to Rob and Capri Jet. Great job, Rob...Thanks Again_______________________________________________________________Tony D' Amico - Brooklyn, NY 732-580-4384Hi Rob,As you know, we were very satisified with your work.Capri Jet was fabulous in handling the sale of our property. Our house was sold and under contract in less than 1 week and we got the sales price. Robert and his staff were very efficient through the process, following up as we went along to make sure everything was OK and nothing slipped through the cracks. They are extremely professional, knowledgable and operate their business with integrity.I would not hesitate for one minute to employ their services again!!!_______________________________________________________________Ria Puma - Howard Beach, NY718-296-5865Robert,I want to thank you once again for all of your help. I'm so thrilled that finally the house did sell and that you in fact were the broker.You are not like the other brokers. The other brokers were unexperienced with no contacts. You on the other hand were very experienced, had alot of knowledge of the neighborhoods, and had many contacts. Thank you, thank you, and did I forget to say thank you. Teri and I truly appreciate what you did for us._______________________________________________________________Mike and Natalie Sheehan - 248 Frost Street - Brooklyn, NY 11211 917 341 1356I am writing to thank you and Fuat for all the time and effort you took in selling my house. Both of you worked tirelessly and exhausted every effort you possibly could to sell my house. Selling my house in just three months in a sluggish market like this was totally amazing. I thought it was going to take at least a year. Mike and I are both very happy with the way you handled the sale not to mention what great people you and your staff are. Doing business with you and everyone at CapriJet made a stressful time in my life a lot easier and I will certainly recommend you to anyone who is either looking to sell, buy or rent a home. Thanks again for making Mike's and my life easier. Talk to you soon _______________________________________________________________Sylvia Greenstone - Fresh Meadows, NY516-887-4334[Robert,] - I could not have been happier, with my selection, of you Mr. Napolitano, as my realty agent. Never having been in contact with a broker before, nor the opportunity of selling a home, my experience with you, has been remarkably admirable. Your attentiveness, honesty and going that extra mile with all the details involved and your being in constant touch (especially in this economic environment ) with prospective buyers, assured me that it would not be long before my home was sold. I shall always be grateful for all that you have done to make my house saleable and at this very moment, SOLD. I cannot thank you enough for your forthrightness and kindness in making this sale possible It has certainly been a respectful pleasure to do business with, and best of all, to know a person like you!With very warmest regards, Sylvia G_______________________________________________________________ Eddie and Aida Gonzales - East NY (347)585-0645Dear Robert, Just want to say thank you for working with me on the sale of my property. All of the hard work that you put into it really made a difference. You always returned my calls, addressed all of my concerns, and were always coming up with new ideas for marketing and advertising. I'm very happy with your services, and I will be recommending you to anyone I know that is looking to sell their home. Thanks for doing a great job._______________________________________________________________ Mary and Al Giordano - 265 North 9th Brooklyn, N.Y 11211 My family and I would like to thank Robert Napolitano and Capri Jet Realty for doing an outstanding job in selling our home. His honesty and professionalism helped us get the best possible price for our home, and in our opinion he went well beyond his ability. We were very fortunate to have Robert sell our home with such knowledge and experience.We would highly recommend Capri Jet Realty for their expertise in real estate, and definitely woulduse him again. Once again Thank You!! The Giordano Family.
Introducing a fresh new look for your Profile.
Click the 'Edit Profile' button below to enter 'Edit Mode' and continue the tour.