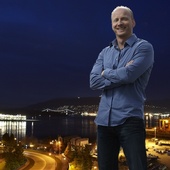 Mortgage and Lending
Mark Fidgett
Vancouver, BC

—

Mark Fidgett - www.NotaPennyDown.com
I always strive to leave the impression with my customers that the mortgage business is a service business first. You don't make a profit on one mortgage; you make it on the lasting relationships
Get to know Mark Fidgett
Some people think that all mortgage companies are alike. Money is money, so what's the difference? The difference is great service! So, what does great service really mean? It means we make the mortgage application process as easy and painless as possible. We're happy to spend time answering ALL of your questions rather than rushing you through the application process. We will NOT pressure you into making a decision, and because we are completely independent brokers, we won't steer you into one product like most traditional lenders.
Most Lenders do Business as if they were taxi cab drivers...
Most Lenders do business as if they will never see or hear from you again! Just like a cab driver...
They ask "Were-ya headed?" Sometimes they'll get you to your "destination", safely. And sometimes...well, lets just say they like to get you there as fast as humanly possible so they can get on to their next fare.
We have adopted a particular philosophy of doing business!
Our way of doing business is to think of our relationship with a client as a long-term association... not for just a "deal"...like the many "cab drivers" out there.

Its important to us that our clients know... that we
have their best interests in mind.

We tell the truth and live with the consequences. Again and again we've found that people prefer to work this way. Our concern is about our clients' well-being, their goals and what is best for them, always!
Our Clients Are In Complete Control!
We work for you. There is never pressure to buy a particular home or accept an offer that's not right for you...because you are in control. (Sometimes, those cab drivers try and recommend "short cuts", that end up leaving you far short of your goal.)
A high percentage of our business comes to us from referral... friends, past clients, friends of past clients and even other Lenders from across North America.
Because these people have dealt with us in the past, and have seen first-hand the high level of service and commitment we provide to our clients, there is a very high level of trust. That means: trust in our integrity, in our level of skill and market knowledge to do the best job possible and in our commitment to put the needs and requirements of our clients first!

"Your service was free, the lender paid your costs, you clearly defined our financial situation and instilled the confidence that we could indeed buy a home with zero down." ~ Kevin and Denise
We work on a By Referral Only basis. Meaning, that if we provide our clients with the high level of service that they deserve and require, we expect that our clients will refer their friends, relatives and work associates to us.

Our goal is to do 100% of our business By Referral Only... with referred people who trust our skills and counsel. The only way for us to accomplish that is by exceeding your expectations by delivering a level of service to you that you have never experienced.
We listen to what you have to say. We want to know what your concerns are, what questions you have and how we can best help you! We're concerned that you be educated and informed about the market... that you be confident you're making the right decision for YOUR personal circumstances.
Once you realize that we won't be pressuring you into doing anything, there's a major turning point in our relationship, trust has been established between us! You will be more open with us, more comfortable sharing with us what really matters to you and that, in turn, allows us to better advise you and to give you a wide range of options.
How do you "sign on" to this lifetime program? A handshake will do. We know you are honest people with integrity, just like us. We want to do business with people like that and we know that you do too!
Wouldn't YOU like to be a member of our "Clients for Life" program? We strive to be your resource center for real estate, and even personal matters. We've used the services of many businesses and professionals during the years and can recommend excellent ones to you.
Call Mark Fidgett of Not a Penny Down today (604) 273-2002 to start the process with an initial telephone consultation!!
Mark Fidgett's Blog Posts
ActiveRain Community
–

over 6 years ago
ActiveRain Community
–

almost 8 years ago
ActiveRain Community
–

over 2 years ago
Real Estate Best Practices
–

over 8 years ago
Certifications
Debt Consolidation
SPECIALTY PRODUCTSNon-conforming lending:Providing Viable Solutions
We've all heard the saying that you can't fit a square peg in a round hole. This is particularly true today. With self-employment, contract and commission-based work on the rise, fewer people than ever are able to meet traditional financial models that hinge on a person earning a "regular" paycheque. Banks have dubbed this group of applicants as "non-conforming," but the number of people falling into this group is growing at such a fast pace, traditional lenders can't cope. Our mortgage consultants understand these changes and we're responding with a mortgage service that breaks with tradition.
Perhaps you are new to Canada. Maybe your income fluctuates or you've experienced some challenges with your personal credit in the past. Regardless of your situation, if you've found that you don't meet the requirements of a traditional lender, we may be able to help. At NotaPennyDown.com, we find innovative ways to say "yes" when the traditional lenders have said "no". We can arrange all of this at a competitive interest rate and charge you no fee for our service.
We have access to Canada's best specialty lenders and we know how to work with them. Our consultants will walk you through the entire process from start to finish, and we can usually have an answer to you within 24 hours.

Debt Consolidation
We have access to products that will allow you to borrow up to 90% or even 107% of your home's full market value. Put your home to work for you!
You can have more money in your pocket each month by consolidating your existing debts into one new mortgage with one lower monthly payment. You can pay off higher interest rate loans and credit cards, as well as take advantage of today's lower mortgage rates.
Afterwards, if your monthly cash flow improves or you come into an unexpected cash windfall, you can always choose to apply extra payments and help retire your mortgage early. We can show you how!

Self-employed programs
Despite good credit ratings, entrepreneurs often have a difficult time obtaining a mortgage approval because the lender's approval formulas and score cards can work against them.

Often, they have insufficient confirmation of their income to satisfy the lender.

At times, a common sense approach must be taken to evaluate their ability to repay.

We have the experience and the products to help!


Purchase a home with "No Down Payment"
Home purchases with "No Down Payment" have been possible in the U.S. for some time now, but until recently they were unavailable in Canada. Let us show you how it works.

If you have an established credit rating, can demonstrate stable employment and are purchasing a marketable home in good repair, we can show you ways to purchase a home with no down payment.


Impaired credit rating programs
Former bankrupts need a fresh start, and we can help.

Applicants with explainable credit problems need guidance to turn things around. We can help.

If you can demonstrate your intention and ability to repay, we can try to find ways to get you back on the right path.

We will be there with you throughout the entire process of re-establishing your credit and returning you to a good credit rating.


Home equity loans
We have access to mortgages that will give you access to 90% and even 100% of your home's full market value, for any worthwhile purpose.

This could be things like borrowing for your children's education, investment opportunities, home renovations, and more.


Second home and/or cottage financing
If your thinking of purchasing homes for students attending university or college in another city, we can help.

If you want to buy a cottage for year-round R & R, we can help.


Refinancing exiting mortgage(s)
Do you currently have a first and second mortgage? We can combine them both into one mortgage, often at a more favorable rate and with one low monthly payment.
Introducing a fresh new look for your Profile.
Click the 'Edit Profile' button below to enter 'Edit Mode' and continue the tour.