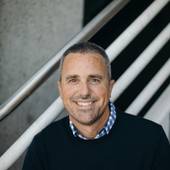 BRE# 01265683
Real Estate Agent
David Ames
San Francisco
San Francisco, CA

—

Zephyr Real Estate, San Francisco
David is a third generation San Francisco native representing Buyers and Sellers of residential and income producing properties in the City of San Francisco.
Get to know David Ames
Without getting too "wordy", one of the best insights I've had over my lifetime of living here in the San Francisco Bay Area is realizing and appreciating just how special this place is.  I don't think I could have really confirmed that had I not traveled extensively throughout the U.S. and Abroad.  When you're a kid growing up in the Bay Area, it's easy to take certain aspects of daily life for granted...mild weather, amazing vistas and geography, the Ocean, the Bay, the City, the People, and just about everything you could need or desire right there at your fingertips.   As an adult...well, it just keeps getting better every day.  We live in one of the most tolerant, educated communities in the country, and I feel privileged to be a part of it.
David Ames's Blog Posts
|
Real Estate Market Trends
–

10 days ago
Real Estate Market Trends
–

26 days ago
Real Estate Market Trends
–

3 months ago
Real Estate Market Trends
–

5 months ago
Real Estate Market Trends
–

11 months ago
Real Estate Market Trends
–

8 months ago
Real Estate Market Trends
–

7 months ago
Certifications
I've been helping Buyers and Sellers realize their goals now (since 1999) at Zephyr Real Estate in San Francisco.  Although I've sold residential property in every neighborhood of the City, the majority of my business tends to lean toward the "Central Core" of town.  A couple of key things I think Buyers AND Sellers should know about me are the specific background experiences that brought me to where I am today.  For starters, I worked as a residential mortgage consultant for about 3 years back in the late 80"s and early 90's.  After that, a diversion to "outside" Pharmaceutical sales helped me gain a greater understanding of the pulse and geographical workings of Northern California from a working and commuter perspective.  Next on the list was a break from the corporate world and into a life of learning the restaurant business (waiting tables, sous-cheffing, and finally managing).  That was definitely the best "drop-out" and "tune-in" experience of all before deciding to get back to the Real Estate Industry in 1999.  In 2003 I also started a home staging company (with two other colleagues) with the idea of providing an affordable, value added service to our clients and our fellow real estate community.  It was a great success...enough so that we decided to sell the business in 2010 to another stager who wanted to take it to a higher level!  These connections over the years have proven invaluable, and I enjoy having the opportunity to share these insights and experiences with each client I work with.
Skills
-Home renovation
-Home staging
Testimonials for David Ames
Norman Modena and Judith Sirota

04/26/2016

We had the pleasure of working with David for over a decade on multiple realty engagements. David has been nothing short of an amazing realtor. He is one of those rare gems who truly cared about our well being above his own sales, and we have always trusted David to advocate for whats best for our family. He also is incredibly knowledgeable, has an amazing eye for detail and is just so kind and delightful to work with.

Shanna Cook, San Francisco

06/14/2015

David helped us both sell and buy a new home in San Francisco this spring. He's incredibly professional, very courteous, patient, organized, and friendly. Go with him to any open house weekend and you'll quickly see how connected he is in the city - he knew about so many listings and knew many of the agents! He's also fabulous with numbers - one look at a house and he can tell you the ballpark price it'll actually sell for (and what you'd have to bid to get the house yourself) -- this is knowledge you'd only get with so many years of experience as a relator in the valley! David went above and beyond, both when he was acting as the seller's and the buyer's agent, and was incredibly patient in explaining everything in layman terms.
I wish I could give David more than 5 stars - but you'll see for yourself when you pick him as your next realtor.

Shareen Harvey, San Francisco

12/18/2013

David is our families long time, trusted confident, friend and expert real estate agent. He diligently worked with us to find a home over a year ago that fits our family size and location desires. He listened to our needs and requests, continually researched and produced real estate options that best met our criteria and budget. He is proactive and never required redirection. Every day there was clear and open communication on new opporutnities for us to review. After our initial property was discovered David served as an invaluable resource to guide us through financing, understanding the requirements, helping us prepare for our loan qualification, updating the property for appraisal, and providing referrals for any considered remodel. His expertise goes far beyond real estate and would be an effective and successful asset to anyone's interest in home purchases or any other process associated.

John Cunningham, San Francisco

12/06/2013

David has helped in purchasing two homes and selling one. He is incredibly insightful and professional. David consistently sets realistic expectations and provides expertise based on his extensive knowledge of the market. Throughout each transaction, we were comfortable with David's counsel and confident that he was advocating for our best interest. David exceeded our expectations in his representation and set a high bar.We have bought and sold homes in other markets (Atlanta, Philadelphia) and did not have similar experiences with our agents. David served as a trusted advisor on all these transactions and continues to do so as we check in periodically for an update on the market and our investment. We fully intend to work with David again for any future real estate needs. David is a super star!!!!

Cherlline Garcia

10/10/2013

David was very warm and kind. He was very informative,helpful , and knowledgable. He was very supportive considering we are first time buyers. Responds immediately to emails text and calls.

David was all we could ask for in an agent - we would whole-heartedly recommend him to any friend.

David helped us purchase a property while we were oversea. He is very professional and was able to handle some unexpected situations very well during the process, looking over all details all the time. We would highly recommend him as a real estate agent.

Eric Owiesny and Shareen Harvey

01/07/2013

David, you are a rock star both personally and professionally! We could not have done this without you, your help and expertise!!! Thank u, thank u, thank u!!!!!!

David spent the better part of 7 months and more than 10 offers later to finally find my wife and I a home. Given our lower budget and lower down payment needless to say we were in the interesting part of real estate in the San Francisco City area. Short Sales, Bank Owned, HUD owned, Renter occupied, and the list goes on and on. Regardless David treated us like we were buying a place at the top of the hill in Pacific Heights. He treated every property that we were interested in like it was the first offer. He would in great detail walk me through all the info and walk me through the pros and cons and the upsides and potential gotchas in buying the property.

In the end David was the key person in finding my wife and I a property that met all of our needs and he then really impressed us when he walked us through every step of the the closing and his attention to detail was just incredible. I do not think we could have pulled off owning a great property in San Francisco without him. I will recommend him to anyone I know is looking to buy property in San Francisco.

Marietta and Kevin Bernstein

10/27/2010

Hi Dave. Just wanted to say THANKS for your strong negotiation shills in getting the lovely home on Anderson! We will be very happy and having our baby shower there. I can't believe we have a YARD and a STAND ALONE home in San Francisco!!!!!. And to think just a few years ago…we lived in a small condo without parking! XXXOOOOO
Introducing a fresh new look for your Profile.
Click the 'Edit Profile' button below to enter 'Edit Mode' and continue the tour.