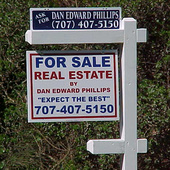 Real Estate Broker/Owner
Dan Edward Phillips
Humboldt and Del Norte Counties, CA
Eureka, CA

—

Dan Edward Phillips, Humboldt and Del Norte Counties, CA
Broker/Owner, Realtor. Expect the Best. 707-407-5150 or email Broker@95531.Net Serving Humboldt and Del Norte Counties, CA. Search the MLS at WWW.955MLS.Com Referrals negoitated. CA Lic. 01326283.
Get to know Dan Edward Phillips
Are you considering listing your property? Get started early, we can walk through your property with you and make suggestions to enhance the marketing potential of your property. We will provide a list of suggestions to you. The creation of an excellent selling enviroment is critical!
You do not pay anything to list your property. The costs of listing your property on the MLS, photos, a virtual tour, placing the listing on additional real estate web sites, providing "For Sale" signs etc. are our expense. For additional information on our sign's, virtual tours, syndication of listings to multiple web sites etc., please visit WWW.95531.Net. And do not hesitate to call or email with any questions! We answer the phone. If you receive voice mail you have been transfered to our cell phone and we are out of range. Please leave a message and we will return your call as soon as we receive it. Your calls are very important! Emails are responded to as soon as we receive them and we also receive them on our blackberry. It is easy to recognize an email message sent from a Blackberry. You will not have to wait until Monday morning office hours for a response to your email.
All of the paper work to list and sell your property can be handled by email or fax, we can even arrange to have the closing "signing" completed anywhere in the world. Contact me for an outline of my marketing program. Searching for a property?
To search the Humboldt Association of Realtors MLS, with out registration,
or any other games, click on the following link:
and save the link for future use. PLEASE NOTE! The public MLS only provides information on CURRENT/ACTIVE listings. If you do not find a specific listing you are looking for, it may be pending, sold, withdrawn, cancelled etc. Call or email the information and I will be happy to provide that information. Looking for "comp" sales. Let me know by phone or email and I will provide those to you.
Interested in additional information on a property listed on the MLS? We can email additional photos, in real time, and fill any special requests for photos you may have via mobile email.
Background Information
10 years of Real Estate Industry experience with Real Estate Broker experience in California, Colorado, New Mexico and Oregon. We have handled all types of transactions both representing sellers and buyers. Residential, Land, Multi-Family/Investment, Commercial etc. 25 years experience as an electrical contractor and additional experience as a general contractor. This experience is a benefit to clients. Knowing what to look for, where to find additional information, understanding how homes are "put together", what is normal and what is out of the ordinary is important.
Many years experience with high-resolution virtual tours from Real Tour Vision (I was trained in 2002), contact me to view resent examples or go to www.realtourvision.com for additional information on this tour system. If a tour fits your home and we shoot one, there is no cost to you. Tours require time and effort to obtain the best effect. Several trips to the property are normally required to obtain the right light in all locations a tour will be shot. Staging of furniture is critical to virtual tours.
Excellent negotiating skills to provide you the smoothest real estate transaction possible. Experience is important! We have the experience from many transactions to know what to ask for and how to ask. The price is not the only important factor in a transaction. We know what is important and what is not.
Extensive experience with unique and exclusive properties. We know where to look for buyers, what additional web sites to market your property on and we are there for the buyer or the buyers' agent to contact with any questions. A real person answers the phone that knows the property. They will not end up talking to an answering machine and have their call returned on Monday! Time ia always of the essence! Emails go to our cell phone first so they can be responded to immediately!
Consistent Multi Million Dollar Producer.
Strong Internet marketing skills. We know what sites are popular with buyers and what information buyers are looking for when they search the web. Great photos and excellent virtual tours help sell a property before a buyer enters the home. Photos and tours direct a buyer, the buyer looks for amenities they have seen. A great description of the home, the property it is on and the area it is in is important. We work from a list and make changes based on questions buyers have about a property.
Solid contacts with other real estate professionals in the state, country and internationally. This is very important to the marketing of your property. We exchange marketing ideas with those contacts, we find out what is currently working for them, we exchange listing information and refer buyers. New ideas and concepts are shared, as are the results.
CREDENTIALS
California Real Estate Brokers License number 01326283
Colorado Real Estate Employing Broker License 40045623
New Mexico Real Estate Qualifying Broker License 16675 (expired)
Oregon Real Estate Principle Brokers License, 200403317 (inactive)
New Mexico Electrical Contractors License 24257
Broker Member of The Humboldt Association of Realtors
Member, California Association of Realtors
Member, National Association of Realtors
QUALIFICATIONS
Real Estate Broker experience in four states.
Ten current active years experience in the California Real Estate Business.
Extensive experience in the construction business.
12 years residence on California's North Coast.
Experience in listing and selling rural land and homes.
Timber lands listing and sales experience.
Extensive knowledge of real estate related software.
Knowledge of current building and electrical codes.
Current knowledge of tax credits and other buyer benefits.
Extensive 1031 exchange experience including reverse 1031's.
Specialties
Unique and exclusive homes.
Subdivision development.
Timber lands.
Rural lands and homes.
Commercial property including business purchase.
Vacant land purchases and it's development.
Multi family properties.
Multi family project development.
Resort properties.
Recreational properties.
New Construction Homes
25 years electrical contractors licensee experience. Former General Contractor.
Experience with minor and major subdivision development.
Knowledge and experience to review new home construction.
Well developed understanding of building codes.
Strong understanding of site requirements and construction.
Expertise
Unique and exclusive homes. This type of home needs wide spread promotion on the internet to locate a qualified buyer. I have that expertise.
Ocean front and ocean view homes and property.
New home construction.
Commercial Property. Both vacant land ready for development, building and land combination and building and land with the current business.
Multi Family Property.
Vacant Land. Timber Land.
REO's. Real Estate Owned by a bank or other lender.
Awards
Multi Million Dollar Sales Award.
Specialty markets
Vacation/Second.....Looking for that special get away , vacation home etc., we can that ocean view, ocena front or home in the mountains to fit your needs and price range. From land to camp on to exclusive ocean front living in a gated community, give us a call at 707-407-5150.
Buyer Representative.....We will represent you exclusively, both as an agent and as a brokerage. As Realtor members of the Humboldt Association of Realtors we can show you any home listed on the MLS. Most homes can be shown with just a short notice. Call or email with your requirements and price range and we will be happy to supply you with a list of available properties. You can access the Humboldt MLS directly by going to WWW.955MLS.Com
Luxury Properties.....The promotion and sale of luxury properties requires marketing skills unique to that market segment. The ability to produce high end virtual tours, excellent photography skill, knowledge of internet marketing and promotion, outstanding contacts with other real estate professionals in the state, nation and foreign countries are critical to a sucessful sale. We have that experience and knowledge.
Relocation....We work with relocation companies to both find your new home or to market and sell your existing home.
New Homes....We will work with you to locate your new home or assist you in finding the right parcel of land and having your home constructed.
Retirement
First Time Buyers
Recreational
College/University
Lot/Land
Dan Edward Phillips's Blog Posts
ActiveRain Community
–

over 9 years ago
ActiveRain Community
–

over 9 years ago
ActiveRain Community
–

over 9 years ago
ActiveRain Community
–

over 9 years ago
Certifications
We are focused on providing the highest level of service to our clients' weather they are in the market to purchase or sell real estate. It is our desire to produce the smoothest real estate transaction possible. We are available full time to answer your questions and concerns and to resolve any issues that may arise during the purchase or sale process.
We are experienced in residential, multi-family, commercial and land, sales and listings. With ten years real estate industry experience and broker licensee experience in four states, you can "Expect the Best". We know the business and we also, "know how to learn". The real estate business is ever changing and we keep up. We look ahead and prepare for the changes as they occur.
For buyers we offer access to the Multiple Listing Service and provide new listing updates via email, if you wish. If you are out of the area we will preview properties of interest for you. We can show you any property currently listed on the Multiple Listing Service and most can be shown with short notice. We will be happy to represent you as a buyer exclusively both as an agent and as a brokerage firm. In the event you have interest in a property we have listed we will refer you to another agent outside the firm with out asking for a referral fee from that agent.
For sellers we provide high quality signs with a contact phone that is answered by a real person who is knowledgeable about the property and can answer any questions the perspective buyer may have. We have strong Internet advertising marketing skills to syndicate and promote your property as widely as possible and to as many potential buyers as possible. We will advertise your property locally on the Multiple Listing Service and in local print advertising. We will be happy to represent you as a seller exclusively both as an agent and as a brokerage firm. In the event that another of our clients is interested in your property we will be happy to refer them to another agent outside the firm without payment of a referral fee.
We will arrange for residential properties to be placed on 'caravan' and arrange showings of the property for you. Once a showing is completed we will obtain feed back form the agent showing the property and transmit that information to you. We install and maintain high visibility and high quality signs from "Oakley Graphics". Our signs are placed on almost six-foot tall arm/posts with the real estate sign hanging from the arm and a "sign rider" above with additional information. A potential buyer doing a drive by is not going to have to try to find a sign in a low frame that may be obstructed by bushes and landscaping. We want potential buyers to find your home! We check to make sure they are "clean" and upright. We use brochure boxes and brochures that are designed to "stay dry" (this is very important in this climate). We keep track of information that was requested by potential buyers and update the flyers and the web pages to incorporate that information. Information provided on an MLS sheet tends to be limited and we do our best to expand on that on the web and on the flyers to provide all the amentias your home has to offer the buyer. In addition we provide accurate driving directions on the MLS sheet, not just a cross street that a buyer from out of town may not be familiar with. Our MLS directions start at the main road or Highway in a community and have turn information (left or right) to find your home or property. They will include distance if necessary. We want potential buyers that are doing a drive by to find your home and not "give up" and go look at the others on their list. In the event you do not want "drive by's" we will be happy to present that on the MLS sheet. We also cooperate with sellers who do not want a real estate sign on their property.
For unique and exclusive homes, we can provide high quality virtual tours from Real Tour Vision. Virtual tours work best with a large room environment. Virtual tours require time and your cooperation to be successful. Furniture placement is very important. The location to shoot from is critical. Tours need to be immediately reviewed and in some cases re-shot. In order to have the best natural light available, several appointments may be required. Even more so if the outside of your home has views of the ocean, a river, mountains etc. A weeks lead time is usually required to prepare a virtual tour before placing a home on the market. In some areas where the weather is marginal, more time may be required. The idea is to start early to produce the best quality. Contact us early with any questions or concerns. We will also provide you with copies of the tour at the close of escrow as a memento. We will be happy to provide you access to resent tours for your review. We can also arrange showings of your home so that we will be present to turn off alarms, open gates, re-secure the property etc.
In all cases the required paperwork can be faxed or emailed to you. In California you do not have to be present at the closing of a sale. We have worked with overseas buyers and sellers and arranged to have the paperwork signed and notorized at an Embassey or Consulate. California allows Escrow Companies and they do an excellent job of holding escrow. With few exceptions, Real Estate Brokers or Attorneys do not hold escrow here. The Escrow Companies usually have direct access to a Title Company and their Title Plant. Please feel free to call with questions on the escrow process here. The choice of an escrow company is negoitable in the purchase of real estate here.
If you are an agent with a client looking to purchase property in this area, contact us. We will be happy to negotiate a referral fee based on your efforts. Referral fee's may be paid to you directly from escrow.If you are an agent with a client who is interested in selling their property here, contact us. Your efferts are important and will be rewarded in a negotiated referral fee. Referral fee's may be paid to you directly from escrow. Your cooperation in language translation, presentation of offers, handling the transmission of paperwork will be recognized.
Referrals received will have priority when we refer clients out of the area. We will be happy to provide you referrals in the future. We do maintain a contact list for referrals that is easy to access. With many clients over the years, we receive many calls asking for advice in purchasing property in other areas. If DRE regulations allow we will have your referral fee paid out of escrow directly to you. In other cases we will pay your referral fee directly to you from the escrow proceeds we receive. We will be happy to provide you with a referral fee agreement to be completed before you present your referral. We will also keep you informed of your client's progress during the search for property or the sale of their property and while the property is in escrow.
REO properties. We have the knowledge and experience to maintain and promote your REO properties. Contact us to discuss your needs. A whole range of services is available to inspect, secure, service, promote and sell your REO's.
Please feel free to contact us directly at 707-407-5150 or by email at DanPhillips@95531.Net to answer any questions you may have in respect to the above.
Sincerely,
Dan Edward Phillips California Real Estate Broker Licensee 01326283Colorado Real Estate Employing Broker Licensee 40045623
To "search" the Humboldt MLS, "click" on the link below:
WWW.955MLS.Com
And do hesitate to call us at 707-407-5150 or email DanPhillips@95531.Net with any questions. We answer the phone!
Introducing a fresh new look for your Profile.
Click the 'Edit Profile' button below to enter 'Edit Mode' and continue the tour.