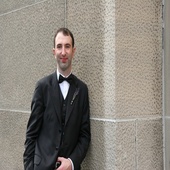 Real Estate Agent
Donal Ward-McCarthy
Toronto, ON

—

Right At Home Realty
Toronto Real Estate in the West end, Semi-Detached, Detached residences and downtown Toronto Condominiums and Lofts. Bloordale, Junction Triangle, The Junction, West Bend, High Park, Brockton Villag
Get to know Donal Ward-McCarthy
My path to Real Estate in Toronto via Cork in Ireland!! I was born and grew up in Ireland and was brought up by my mother who was an elementary school teacher. The heritage from my mother's side, hence the name Ward, or Baird in Gaelic, explains my huge passion for music and art. I was classically trained on the piano from an early age and at age thirteen I picked up a guitar and it wasn't long before I was playing in bands where by necessity I also became a vocalist as well.

Of course, with rock stardom on my mind, definitely not on the horizon, my mother was adamant that I never lost sight of my education. So I did my degree in Electrical and Micro-electronic Engineering at University which was a fantastic degree for so many reasons. However, whilst in university, my mother was diagnosed with terminal cancer and on graduating and getting my first position she passed on.
I worked with an international microelectronics firm in Ireland for a few years while I attended to a modest real estate portfolio which I inherited of a few houses.
I am so lucky that I chose to learn about real estate and how to run property as a business. This is where my passion of real estate comes from, the empowerment and control which it gives to owners is far greater than any other form of investment in my opinion.

I wanted to learn more, staring through CSI forensic style equipment at silicon all day wasn't really doing it for me so through a serious of events I ended up in Toronto, Canada, taking a time out and learning about real estate investing. I started learning about economics, markets and analysing economic fundamentals in the real estate market. Before long I was investing myself and really caught the bug and decided I wanted to share my passion and help those around me buy their first homes, or invest, whichever, I loved it all. I've analysed and love all types, and each suits people at different stages in their lives, be it a modest condominium, house, townhouse or a more serious investment such as multi family residential.

Today I focus on downtown west end Toronto residential, single family and multi unit, condominium apartments be they standard, hard lofts, soft lofts, preconstruction or assignment condominiums.

I enjoy working with people selling their homes, be it upgrading, moving up or downgrading such as the retirement community also. I really love working with first time buyers, these are a very exciting demographic to work with as I believe so strongly that this is one of the smartest moves they will ever make towards their future financial health, especially woman buying independently, this later demographic is the fastest growing demographic in Canada according to www.statscanada.ca
Feel free to download my bio with testimonial and details of my knowledge and experience and services approach here.
Finally, I have not forgotten about my passion with music, I spent the last 10 years learning the technical skill of production and focused on dance music production.
Today I am focused on a more commercial avenue where I am combining my rock roots with the electronica and currently working on an Album to be released in 2011 / 2012 with Thoughtless Music in Toronto. See some of this material recently performed at the Arts and Letter's club and the Underground Drake in Toronto here.
Certifications
Downtown Toronto West End: Semi Detached, Detached Homes and Houses, Townhomes, Condominiums and Lofts. One of the areas and neighbourhoods I love working in is Wallace and Emerson, Bloordale Village. It's vibrant and very affordable neighbourhood for first time buyers and younger families. It's an area with a great future ahead of it. Until recent years the majority of homes have been multi family properties for rental purposes, which have in a lot of cases been left to age without much maintenance. Young families starting out and who want to start a family in the area are now snapping up these homes.
I love to work with all kinds of people from all walks of life! It helps that I live in such a diverse city. I do however have a passion for working with First Time Buyers as I believe every strongly in this decision in people's live and the impact it will have in the future for them.
Working with people retiring and downsizing is also very rewarding, it requires a lot of patience and is one of the more challenging moves people have to make in their lives.
Another demographic that largely interests me, and whom I enjoy working with is the independent woman. It's a great sign of our social times when this demographic of buyers is the fastest growing demographic of buyer.
Introducing a fresh new look for your Profile.
Click the 'Edit Profile' button below to enter 'Edit Mode' and continue the tour.