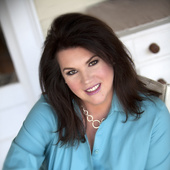 Real Estate Agent
Rhonda Duffy
#1 Retail Listing Agent in the U.S.
Milton, GA

—

Duffy Realty of Atlanta & Rainmaker Realty
#1 Retail Listing Agent in U.S., Radio & TV Personality, National Consumer Advocate & Trusted Expert, Liscensor of Business Model to over 56 cities in the U.S., Pro bono Charity Auctioneer
Get to know Rhonda Duffy
Rhonda Duffy has been around and making huge profits in real estate for over 15 years as a real estate agent. She is a broker in 7 states. "Being a national broker is really no big deal," Rhonda says. "It is really just a lot of paperwork and keeping up with other state's quirks." Rhonda became a broker of many states when her and her husband, Frank, decided to license their realty business to cities across the U.S. "It was just a natural progression when our clients said that they wished they could take our model with them to help their friends and family." So, Frank and Rhonda built an incredible business model for others to learn and partake in to reap the millions that Rhonda and Frank make yearly. That licensing company can be explored at www.RainmakerRealty.net   Rainmaker has a network of over 56 cities wherein owners do their own business twist on Rhonda's model after they pay to learn the "Duffy way".
The business that has made them millions, keeping both Rhonda, Frank and many employees busy daily and where Rhonda calls "home", is ranked as the #1 agent in Georgia and the #1 retail listing agent in the U.S. Duffy Realty of Atlanta is Rhonda's baby that she started from her kitchen in 2002 and has made her famous in Atlanta, as well on the national front. Frank left the corporate world and joined Rhonda in the business full time in 2004 when it "just became too irresistible," says a very proud Frank.
Rhonda prides herself on personal growth and has a motto at Duffy, "If you are not growing personally, I would prefer you not be here." Duffy has a full staff of listing agents and buyer's agents and all of them are on a strict, high quota of sales per year. It is really simple at Duffy, if you don't make quota, you don't stay. Fortunately, the listing program that Rhonda has developed, the Buyer Magnet System and the Buyer Cash Bonus she pioneered are so irresistible that Duffy agents flourish. Rhonda is so pleased to know that 4 out of the 6 original agents that she hired way back when, remain integral members of the team. Rhonda over the years has added many more outstanding, serious agents to her loyal army of consumer advocates, and continues to do so.
"Rhonda is hard to keep grounded," says one of her loyal staff. "She is constantly learning new things and bringing them home to us to use and to encourage us to expand our own thinking. We love it and more importantly, she loves it. We are constantly learning, and that's a good thing."
In 2005 Rhonda became a licensed auctioneer. She uses her talents  developed in this field and the skills of her highly trained auction team to not only sell properties but as a  way to give back to the community. Rhonda and her team perform charity auctions for worthwhile philanthropic organizations around the city, at no charge. This pro bono work has won Rhonda the acclaim of civic leaders and a special place in the community. "The money that Rhonda and her team brought in at the auction and the fact that they waive their auction fees for the service, which can be as high as 10% with other auctioneers we have used in the past, is a Godsend", says Jim White. 
Rhonda has also become an accomplished Stager. Another area of learning that Rhonda has immersed herself into and has seriously started to practice and teach is Neuro Linguistic Programming. In just a few years, she has become a Master Coach and Trainer and achieved some of the highest certifications in the field. Next on her learning list is Feng Shui and more introspection, about becoming a whole person  controlling every thought and meaning in their life through meditation.
Rhonda also gets interviewed constantly by the media as a local and national expert. The list of media contacts that respect her opinions and routinely call upon her insight is long and would make any small business owner jealous. The amount of free press and status that she has obtained can be a attributed to her contrarian approach and pension for always being able to provide a good quote. "My controversial attitude about things does seem to stir up a lot of emotion," says Duffy.
As Rhonda continues her journey for success, we asked her what she thinks it will take for her to complete her journey to a place of no regrets. "I don't know what it will take to reach the highest peak, but I do know, I won't stop until I get there. I am a consumer advocate at heart and I know that I will be rewarded for my efforts to change real estate every step of the way of my climb to the top. And as we keep championing the cause of the consumer, our view gets better and better."
Rhonda Duffy's Blog Posts
ActiveRain Community
–

about 7 years ago
ActiveRain Community
–

about 7 years ago
Introducing a fresh new look for your Profile.
Click the 'Edit Profile' button below to enter 'Edit Mode' and continue the tour.