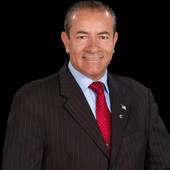 01500176
Real Estate Broker/Owner
Gil Rodriguez
With Us It is All About You!
Whittier, CA

—

SharpStone Realty
Gil Rodriguez Broker/Owner of SharpStone Realty, Inc. Mentor and team leader. Residential and Commercial real estate. With Us it is all about You! Call Us!
Get to know Gil Rodriguez
I am the broker owner of Sharpstone Realty. As office we specialize in Residential and Commercial Listings, Probate Sales, Trust Sales, Short Sales, Relocation, Investment, and Property Mgmt.  We go above and beyond the standards to ensure our clients goals and dreams are met. Visit our site www.SharpStoneRealty.com 

Gil has always been on the cutting edge of the marketplace. He has earned several designations that are crucial for today's market like Broker Property Opinion (BPO), Real Estate Own (REO), Short Sales, and Coldwell Banker Previews International. His passion is serving his clients with all their real estate needs and supporting our community, Gil has gained his tremendous recognition and respect throughout our local community and across the real estate industry within the Coldwell Banker Alliance Realty, and now with SharpStone Realty.
Gil is motivated and driven by challenges; he loves helping and identifying his client's real estate needs, solving complex transaction issues & satisfying all the important requirements that contribute to a highly successful transaction for his clients. Gil knows that, the number one thing homeowners and buyers want from a Real Estate company is Results! Gil has developed a marketing plan of action, that will get the results clients are looking for…the HIGHEST POSSIBLE PRICE for your home, in the SHORTEST TIME with the LEAST AMOUNT OF INCONVENIENCE to the clients and their family. When buying, his strong relationship with his colleagues and real estate associates, up-to-date technology, and strong negotiation skills, Gil can find your Dream Home for the best possible price.
Gil's Signature: I'd rather call Gil for all my real estate needs!
 What my cleints have to say :http://youtu.be/vRXnJE4KBbQ
My team and I. We are friendly not shy! We will help you to sell. We will help you to buy!
We will price your place. Get a warm embrace. We will market your space!
When you are feeling out of place. We will find your new place. And close with a happy face!
 My team and I. We are friendly not shy! We will help you to sell. We will help you to buy.
We are only one phone call or a click away.  Allow us To Assist You, Your Family and Friends to represent you with all your real estate needs. As Your Real Estate team!
My Professional Associations:
-       Board of Directors Whittier Host Lions Club International.
-       Board of Directors for Los Angeles County Salvation Army.
-       Member of the Knights of Columbus, 2nd Degree.
-       Member of Friends of La Serna High School.
-       Member of Whittier Area Chamber of Commerce.
-       Realtor.com.
-       Member of Loop Net / Commercial Real Estate.
-       Member of PWR, Pacific West Association of Realtors.
-       Member of CAR & NAR, California & National Association of Realtors.
-       Member of NAHREP, National Association of the Hispanic Real Estate Professionals.
Gil Rodriguez's Blog Posts
Real Estate Industry
–

almost 5 years ago
Home Buying
–

about 5 years ago
Home Buying
–

about 5 years ago
Home Buying
–

about 5 years ago
Certifications
We specialize in residential, commercial; Standard sales, Short sales, Foreclosures, REOs Etc. We serve the Cities of Whittier, Friendly Hills, La Habra Heights, La Habra, La Mirada, Downey, Hacienda Heights, Pico Rivera, Norwalk, Montebello, South Hills in West Covina and surrounding areas. www.SharpStoneRealty.com 

About Gil
License # 01500176
When only the best will do!  Call Gil Rodriguez and Sharpstone Realty team to SELL or BUY your new property.  We provide personal and exceptional service; we keep our clients for life. 
We serve de areas of Whittier, La Habra Heights, La Mirada, Hacienda Heights, La Habra, Downey, Santa Fe Springs, Pico Rivera and surrounding areas. County of Los Angels, San Gabriel Valley, Orange County, San Besrnardino and Riverside.
My team and I enjoy serving the community of Whittier area. We specialize in Seller representation, relocation, buyers and investments. I have certification on Probate, REO, BPO, and International Previews Certification, Prior to becoming a realtor; I work for 17 years in the paralegal field with an attorney service representing several Law Firms, like Lathem and Waltkins, Sidley and Austin, Parkinson Wolf, etc. Therefore I understand contracts very well and I have very strong negotiation skills.
I am a true believer that you must give to receive and I have the privilege to represent the Whittier Area Chamber of Commerce as an Ambassador, I am a 2nd Degree Knight of Columbus, I am on the Board of Directors for the Whittier Host Lions, I participate and support Friends of La Serna and I am very involved with our community.
We are constantly attending functions and training classes to be up today with the new laws and regulations in our industry.
Our specialties include helping sellers upgrade, helping seniors and empty nesters downsize and we also specialize in helping buyers and investors find them the home or investment property of their dreams. We are very strong and skilled in negotiation and can make the process of selling a memory of success.
I am 100 % dedicated to helping them reach the American Dream of Property Ownership. Nothing gives me more satisfaction than seeing the smiles and happiness that comes from my clients, with every successful sale or purchase.
Nominated Top Producer and proudly representing the number one office in Whittier.
With us it is all about you! Allow us represent you in all your real estate needs, call Us today! www.SharpStoneRealty.com , 562-217-7646  
Mar Vista Heights in Whittier
Mar Vista Heights in Whittier. It's a community located north of Mar Vista St. near the communities of Friendly Hills, Whittier College Hills, and Michigan Park.  The Exclusive Hills of Mar Vista Heights are a very desirable area of East Whittier, it's a community of approximately 800 hundred homes and many of these homes have ocean views, panoramic views, hills views, and a very green and friendly atmosphere. It's a pride of ownership community; most of the residents are long standing home owners. It is a very friendly community where you can enjoy and experience many sunsets and walks in the friendly hills of Mar Vista Heights.
How would you like to live in Mar Vista Heights?
Some history of Whittier
The following information was contributed by the Whittier Historical Society.
Quaker Family
The eye-catching Quaker family symbolizes the importance of Whittier's ancestry. Today the residence of the original Quaker family, Jonathan and Rebecca Bailey, can still be seen at 12501 Camilla St Unlike most towns, which are named after their founder, Whittier honors the American Quaker poet, John Greenleaf Whittier. When he was asked for the gift of his name, he penned a dedication poem.
Friends Church
The Friends Church embodies the dynamic role of religion in the daily lives of the Quakers. As soon as the land for Whittier was purchased in 1887, the Quakers, led by Jonathan Bailey and Aquilla Pickering built their church. Completed in August, 1887, it stood at Wardman St and Comstock Ave Today a new Friends Church, the largest in America, thrives at Philadelphia St and Washington Ave.
Pio Pico Hacienda
The Pio Pico Hacienda remains an historical tribute to the beloved last Mexican governor of California. You can visit the hacienda at the intersection of Whittier Boulevard and 605 Freeway between the hours of 10 a.m. and 5 p.m. Wednesdays through Sundays.
Farmlands and Oil Wells
Initially the Quakers depended upon agriculture to support them. In 1897, just 10 years after Whittier's founding, a group of its enterprising citizens developed oil wells, which greatly expanded the local economy.
Whittier College
The early beginnings of Whittier College developed from the Quakers' emphasis on education. Established as a private liberal arts college, it was the town's first school of higher learning. Originally it stood on the land now functioning as American Savings' parking lot. Its new location is at the corner of Painter Ave and Philadelphia St Today Whittier College proudly salutes its illustrious alumnus, Richard Milhous Nixon.
First Schoolhouse
In 1885, Evergreen School was built along El Camino Real by neighboring ranchers. When the Quakers founded Whittier, Evergreen School was outside the new town's city limits. Thus in 1889, the industrious Quakers built a new school and respectfully.
Other Facts of Whittier
•§  Quaker Town was originally suggested for Whittier's city name.
•§  On December 24, 1887, Whittier's first newspaper, The Whittier Graphic, was first published.
•§  First bank opened in Whittier on January 2, 1895, with $ 2,445.00 in capital and $ 5,012.75 in deposits.
•§  First bank robbery in Whittier occurred in 1955.
•§  First telephone was installed in 1904.
•§  Biggest department store " Meyers " was founded in 1905.
•§  The City of Whittier's official flower is the" Friendship Rose."
•§  Founders Day was celebrated for the first time on May 11, 1894.
Awards
We just won the best of the best Realty frir 2016-1017 from the Whittier Area Chamber of Commerce.
Top Sales Associate by Coldawell Banker Alliance Realty & International Diamond Society for production achieve on 2008, 2009, 2010, 2011 and 2012.
Top Sales Producer at Sharpstone Realty 2014
Top Sales Producer at Sharpstone Realty 2015
Skills
With Us it is all about You!  As a team we are ready to guide our clients through the real estate process and make that experience a rewarding and successful one for you.
Experience
As a Broker/Realtor Associate, I have represented numerous clients with transactions of all shapes and sizes. Since 2005, I have proudly represented Coldwell Banker Alliance Realty. Now I am the Broker Owner of Sharpstone Realty and for my job performance, I have been nominated and recognized as a top producer in the real estate industry.
I am knowledgeable and have experience in Probates, Short Sales, Reo's (Bank Owned), Trusts, Commercial, Businesses and Property Management.
Introducing a fresh new look for your Profile.
Click the 'Edit Profile' button below to enter 'Edit Mode' and continue the tour.