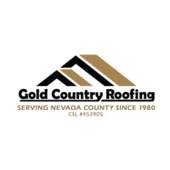 CSL# 453905
Home Builder
Stan Smith
Gold Country Roofing, Inc.
Grass Valley, CA

—

Gold Country Roofing, Inc.
731 South Auburn Street
Grass Valley , CA 95945
---
Our roofs are GUARANTEED to last you a LIFETIME!
Get to know Stan Smith
Welcome to Gold Country Roofing!  Our quality residential, commercial and industrial services include re-roofing and tear-offs, shingle and seamless gutter installation, leaf guard systems, blown-in attic insulation and installation of tough, single-ply PVC membrane.  Our full range of roofing-related products and services include an extended workmanship warranty, a manufacturer's warranty (where applicable) and installation any time of the year.  We will work at providing a roof system that is cost effective yet does not compromise the integrity of the roof, and we use only quality products such as Duro-Last, Owens Corning and Leaf Solution.  Financing available.
At Gold Country Roofing we've been serving Nevada County since 1980.  With this much experience, it's no wonder that we're reputed to be the gold standard of roofing in our area!
California State License #453905
Awards
* Voted Best Roofer 2010, 2011, 2012, 2013, 2014 & 2015 by The Union's "Best of Nevada County"
* In 2020, the Nevada County Building Department established their Platinum Roofing Program, which serves to recognize those the Building Inspectors have found to show a proven track record of compliance, workmanship and integrity. We are proud to be one of the local companies invited to give input on the formation of this program and to become one of the first members.
Testimonials for Stan Smith
Deborah Kincaid, Grass Valley

08/23/2019

"The work crew did I fantastic job! I love the new roof color! The crew cleaned up after themselves on a daily basis and on the completion of the job, left the property looking cleaner and neater then when they arrived. They all seemed to work very well together. The crew was very polite, helpful and professional in there mannerism, completing the replacement in a timely manner. They should be commended for a job well done and deserve a big "ATTA BOY". I'm used to most companies doing a half assed job, with me ending up having to either redo most of the work that I hired them to do, or having to clean up after them. I'm not used to the high quality of professionalism in hired workers. Gold Country Roofing should be very proud of the work crew that they employ. The workers performance on the job says a lot about the kind of company that Gold Country Roofing has become. If ever Gold Country Roofing would like a reference for either the company or the work crew, please do not hesitate to give my name and number to any future clients. I couldn't be happier with the results of my roofing project. Although I checked out several roofing companies besides Gold Country Roofing, with people I knew and took my time in deciding which roofing company to hire, causing myself a long wait time before my roof could be scheduled for replacement, the wait was well worth it. I couldn't be happier with the end results. I'm so glad that I hired Gold Country Roofing to do my roof replacement. I'm forever grateful for a fantastic job with I great crew. I will definitely refer Gold Country Roofing to others in need of a roof replacement. Thank you again."

Jan & Bill Krening, Grass Valley

03/28/2019

"Words cannot express how pleased we are with our new roof from Gold Country Roofing. From the moment of first contact to set up an appointment, to obtaining our estimate and finally having our new roof installed, everything was handled extremely professionally. I have never seen a crew work so hard to make sure our roof was installed before rain started once again. We then had the opportunity to test our new roof and it was perfect. Thank you all again for a job very well done and you can rest assured that we will definitely be recommending you to friends who need a roof replacement in the future!"

Charlie & Teri Maier, Nevada City

02/12/2019

"When it came time to re-roof our home we researched roofing companies and picked the three that seemed to be most qualified for our project. After meeting with Stan I was very hopeful his quote was in the ballpark because his professionalism, knowledge and presentation was far superior to the other competing companies. Thankfully his quote came in right in the mix… there was no question we were going with Gold Country Roofing. I have waited until we had a couple big storms to comment on the roof. No surprise, everything is perfect. Stan's crew was amazing with their application as well as minor repairs that were needed. We did a large home, a guest home and a large workshop and all three roofs came out perfect. Stan and his crew communicated well, was on time, and did what I would call a superior job. I will call them again for other projects."

Andy Maurer, Grass Valley

02/19/2018

"New to Grass Valley in November 2017, I learned from my pre-purchase Property Inspector that my roof was in bad shape with less than a year at most before complete failure. I also began to explore panel solar solutions. I started searching YELP and found several contractors for both a roof and solar. This effort developed into several Contractor site inspections, bid proposals and a discussion of an integrated installation plan. As a past Project Manager, I wanted fair and independent competitive bid(s) that provided the best in rooftop roof leakage protection and solar efficiency and design. I wanted no restriction on who I picked for each discipline. I wanted full workmanship and materials guarantee from both suppliers.

Stan Smith, Shannon Gassaway and the Gold Country Roofing team always emailed or answered every phone call or question I had. Stan Smith met with my Solar Company Designer to learn about the Solar Design and new Solar Rail standoffs/flashings. Carlos from Gold Country Roof worked with the Solar Company Operations Manager to insure a coordinated watertight roof as the new Solar Panel Frame Standoffs were positioned and attached. Carlos acted as a lead installer for Gold Country Roofing and managed the job site. Each day, the Gold Country Roofing team arrived on-time and cleaned up the work area as if it was their own home!! All debris was hauled away by Gold Country. They performed the work with a smile and a kind word to me as we installed. Save time and call Gold Country Roofing first."

Matthew Connelly, Grass Valley

03/18/2017

"Just had our 25+ year old roof replaced by Gold Country. We initially contacted a repair person who told us we were on borrowed time with our old roof. This led to contacting 3 local companies for quotes.

FIRST COMPANY: Came by, walked on our roof. Discussed the work they would do and gave us a verbal quote and said he would email an estimate by the following Monday. We never heard back.

SECOND COMPANY: Came by, walked the roof. Discussed their work and what we needed. Mentioned they outsource the tear off to an outside company. Then told us they would have an estimate in about a week. 10 days went by, he called with an estimate. 15 days went by and we got one in the mail.

GOLD COUNTRY: Stan came by. Walked the roof, discussed our situation in great detail. From skylights to gutters, warranty on a 50 year shingle, how they do their vents, etc. Lots of details and he had answers for all of our questions. Left us with a big packet of information too. We felt confident in his company but expected a very high quote due to the "extras". We received Stan's quote later that afternoon. All the estimates were within $500 of each other. Gold Country's included the most new stuff, (gutter covers, new sky light boxes, replacing seals around pipes, a 50 year shingle that no one else mentioned or offered.) We decided to go with Gold Country.

Given it was still winter, we had to play close attention to weather. They needed one day to tear off the current roof and lay down their water proof material. That day came and just as expected, his crew showed up and worked quickly to take off our old roof. At the end of the day, everything was cleaned up and back to normal. The following morning, his crew was back. The roof was completed by mid day and our property showed no sign of a construction site. They literally cleaned up everything and took the time to use a leaf blower to do a final sweep. The roof looks great. No leaks. Very happy with the results and highly recommend Gold Country for any roof replacement you might need. Thanks Stan and crew!"

Jakki Garcia, Grass Valley

03/08/2017

"So happy with Gold Country Roofing! We were hit with one winter storm after the next, causing some bad leaks. We were concerned with the cost of getting a new roof, so we had 5 bids from 5 local companies. Gold Country was the most thorough, well prepared, had a competitive bid, and were easy to deal with. All of their policies are well outlined on their webpage and contract. No surprises here! Any time I had a question, they were quick to get back to me and explain. Because I had a leak, they were able to get my roof on within a week of accepting their bid! The roof was done in 2 days. It was amazing. The workers were courteous and friendly. I highly recommend them to anyone looking for a great roof, with a guarantee, these guys can't be beat!"

Joe Carlson, Grass Valley

10/30/2016

"We were very happy with Gold Country Roofing. Stan and his crew were total pros throughout the whole process. We got multiple bids and of all the roofers we met with, we were impressed with the attention to detail and thoroughness of the bid, their references, and their insurance documents, not to mention how competitive their bid was.

We were booked to have our roof installed later in the year, but this last storm revealed that our current roof was leaking. Stan was able to shuffle some things around and get our new roof installed ASAP.

The whole process was great, from the bid, to the office staff, to the crew that installed the roof. They left our yard looking nicer than when they got there and the new roof looks great."

John Shaban, Auburn

09/21/2016

"I chose Gold Country Roofing for several reasons. Since I was spending over 100K for two roofs, I did get two other bids. My first step was to call a large roofing contractor in Atlanta to find out what type of roof was the better choice. Of course all manufacturers will tell you their product is the best. I was told by the Atlanta contractor that PVC was superior. My next step was to contact the Duro-Last sales representative. His feedback was very positive regarding Gold Country Roofing. All the while during the process of getting other bids, I was hoping your bid would be the lowest because I already felt like I could deal with Stan very well and that the installation would be done professionally. Well, I was right. Stan's crew was very professional, started and finished when Stan said they would and communication was excellent. I was a contractor for 40 years and consider myself detail oriented. The installation looks very good to me. I did have two change orders that Stan charged a completely fair price for. Bottom line, I am 100% satisfied with Stan and his crew at Gold Country Roofing."

John recently purchased two large commercial buildings with flat roofs that needed to be replaced. His new Duro-Last roofs come with a 15 year no-dollar-limit warranty, and are also backed by Gold Country Roofing's workmanship guarantee.

Jim and Diane Carter, Nevada City

07/12/2016

"We are very pleased with the quality and efficiency of the work performed by Gold Country Roofing. Stan answered all of our many questions and offered recommendations based on our needs. Once we made our decision, he gave us a thorough explanation of the work to be completed and then followed up with a folder with information about the products and services to be used in our project along with a very detailed contract with the costs stated very clearly. When the job was scheduled, the crew arrived as promised. They were friendly, efficient and skilled workers. They kept the area clean and free of debris and protected our plants and outside furniture. The end result is a very high-quality, beautiful roof that will more than likely outlast us!"

Roy Ng, Grass Valley

03/09/2016

"When we needed our roof replaced, we got 5 estimates. Gold Country Roofing was not only the most reasonable, but the presentation that Stan provided was thorough and professional. It put our mind at ease about the quality of the product his company provided and the time that it would take to complete the job.

We were scheduled to begin work in December, but with the El Nino rains it wasn't started until the end of February. The crew from GCR was excellent. They arrived when they said they would and worked hard all day. Our roof needed two layers removed. The roof over the back had dry rot and had been leaking for several years. Carlos and crew made quick work of removing the old roof the first day. By the second day the house was water tight. Total time to complete the job was 4 days. Rains came back that night and everything worked as expected. We also had new gutters all around the house and had 3 Velux light tubes installed.

Carlos and crew worked very well together. They were organized and each had his duty to perform during the re-roofing. They cleaned up every night before leaving. Their work was outstanding and the roof looks great. I would recommend them to anyone who wants a roofing crew that is friendly, courteous, professional and works to get the job done in as short a time as possible.

The overall experience was hassle free. Our thanks to Stan, Carlos and the crew for their hard work and to Shannon for keeping us in the loop during the entire process."
Introducing a fresh new look for your Profile.
Click the 'Edit Profile' button below to enter 'Edit Mode' and continue the tour.