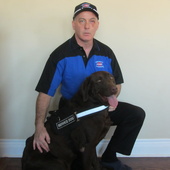 Home Inspector
Al Wright
Have your inspections performed the Wright Way
Hamilton, ON

—

Affordable Canadian Home Inspections
Southern Ontario's Home Inspection Choice since 1997, with 30 years renovation expertise, 15 year in marketing and as a real estate investor. Use my experience and knowledge
Get to know Al Wright
Hi, my name is Al Wright, owner of Affordable Canadian Home Inspections, which is an independent home inspection company serving Southern Ontario. As a home inspector I work for you the client giving you an unbiased report on the condition of your home. With my years of experience in home inspections, renovations and as a real estate investor I can help reduce your risks and provide you with peace of mind in your buying or selling decisions. During the 2 1/2 to 3 hour inspection I will demonstrate my skills and knowledge necessary to perform the best quality inspection on your home. The end result, the report can give you leverage to solve any problems addressed before closing, making the buying process easier and less stressful.
If you wanted to get a $50,000 sport car painted, would you go with the guy offering a $100 paint job or go with someone who may cost more but has years of experience and will give you the best quality of service for your buck. Don't be fooled with inspectors offering low prices and / or discounts. This is a red flag that an inexperienced inspector uses to promote business, you get what you pay for. You don't want to penny pinch on one of the most expensive investment you may ever make and where you will be living in for many years to come.
Even someone who has some experience in areas of home construction (Plumber, electrician, carpenter, etc); they will not provide you with the overall knowledge and experience required to perform a thorough 1600 point inspection. The National Certified Home Inspectors require a minimum of 200 academic hours of training. My training through Carlson Dunlop has provided with over 420 Academic accredited hours. Also as a member of InterNACHI, I am required to participate in a minimum of 24 hours of training every year. At present I perform over 50 hours of additional training (More than double the national average).
I adhere to the strict standards of practice and the code of ethics of the Ontario Association of Home Inspectors and the International Association of Certified Home Inspectors.
I strongly recommend that the client be present during the inspection, so they can visually see what will be in the report and give us the opportunity to discuss things as they are discovered. I have found that by having the client present it gives us a better way to communicate any defects that are found. It also gives us the opportunity to discuss possible solutions, that can save you time and money, putting the client more at ease when major defects are found.
Al Wright's Blog Posts
ActiveRain Community
–

almost 10 years ago
ActiveRain Community
–

over 10 years ago
ActiveRain Community
–

over 10 years ago
ActiveRain Community
–

over 10 years ago
Certifications
Move-in Certified Inspection (Pre-Listing with free added Marketing)
An inspection for the seller before the property is listed for sale, used as a great marketing tool. This determines what defects, safety issues, etc exist with the property. The report presents the seller with the needed information to ether repair or replaces any needed items prior to listing the property. By either replacing / replacing or disclosing any problems found can be used to determine fair market value, discount values, or any pre-listing expenditure necessary to increase the value and desirability of the property. This is similar to a pre-listing inspection except that a second inspection can be performed and the report updated with any changes made on the first inspection. The report will be hosted by  www.FetchReport.com. Potential buyers can view the report by simply typing in your address at www.moveincertified.com. A Move-in Certified sign for your lawn can be provided as a great marketing tool.
 Pre-Purchase (Buyer's) Inspections
An inspection performed for the buyer to uncover any defects, repairs and safety issues with the home. The buyer will usually sign a contingency agreement with the seller prior to ordering this type of inspection. The inspection report will help both the buyer and seller identify items needing repaired or replaced so that both parties can either renegotiate the selling price or the seller's responsibilities to repair the property at the seller's expense prior to the final close. Even if the seller has previously  performed a Seller's Inspection, a buyer should still perform their own unbiased inspections.
 Pre-Warranty Expiration Inspections (Tarion)
Performed usually from 1-3 months prior to the expiration of your home warranty. It is used to take advantage of the features and benefits of your home warranty to assure that necessary repairs guaranteed under your warranty are executed should repairs or damage be discovered.
 New Construction Inspections (Performed by a City Building Inspector)
This type of inspection is usually performed immediately after your new home has been built and is considered "Certified of Occupancy" by the builder and appropriate legal authorities before your closing date. A building inspector spends 15 minutes or less focusing only on code compliance infractions, which is often a minimum acceptable standard. A home inspector on the other hand will be performing an unbiased inspection on the entire home usually spending at least 2 1/2 - 3 hours for a typical inspection. Inspectors always hear "It's a new home it won't have any problems", which is true for 1/1000, but for the other 999 they will definitely benefit from a New Construction Inspection or at least have a Pre-Warranty Expiration Inspection Performed.
 Four Phase Construction Inspections
This is a series of inspections over the course of the construction of the structure or home to observe and describe any defects or concerns.  As each phase is complete, simply call us to arrange the inspection. We can come out and inspect as many times as you want, no less than three onsite phase inspections and one final inspection is recommended.  The cost for each phase inspection will run between $175 and $250 depending on the size of the home. The final inspection will follow our normal inspection pricing. 
 Phase One Inspection Shall Include (prior to slab pour):
• Foundation
• Rough-in of the Potable Water System
• Rough-in for the Waste and Drainage System
 Phase Two Inspection Shall Include (prior to sheetrock):
• Slab and/or Floor Structure
• Roof Structure, Flues and Vents
• Fireplace and Chimney installation
• Exterior and Interior Walls & Ceiling Structure
• Main Electrical Panel, Grounding and Branch Distribution System
• Heating and Air Conditioning Equipment Installation and Distribution
• Potable Water Distribution System and Waste Drainage & Vent System
 Phase Three Inspection Shall Include (prior to final trim, appliances, paint and carpet):
• Grading and Drainage
• Insulation and Ventilation System
• Electrical Fixtures and Receptacles
• Roof Covering, Flashing and Penetrations
• Plumbing Fixtures and Water Heater installation
• Exterior & Interior Wall Cladding Windows and Doors
 Phase Four - Final inspection and resulting report shall be a complete 1600 point Home Inspection
 Periodic Maintenance Inspections
Usually performed every two years to assure the health of your family and the safety of your real estate investment. Periodic The Maintenance Inspections is necessary to assure the integrity of your structure in-between storms, floods and droughts, to identify possible indoor pollutants (such as Mold, CO, CO2 and radon), to check the building's integrity that may compromised by cracked beams or foundations, to visually inspect for wood-destroying insects, and more. Any these situations can contribute to decrease home value or pose a physical risk to your family if not identified in time.
 Home Maintenance / Pre Renovation Inspection
This type of inspection is performed prior to engaging in any renovations of a property. These inspections help you to assess potential problems that may affect the cost or difficulty of the renovation and adds the assurance of quality control as the work progresses.
 Diagnostic / Investigative Inspections
This type of inspection is most-often used when a homeowner feels that a problem may exist. For example, after unusually severe weather, if you experience an odd smell in your home that cannot be identified, or if you notice unusual pest and insect activity. In many cases, Investigative Inspections can help homeowners to catch problems before they become an expensive or irreversible liability.
 Single Component Inspection
This is a basic inspection of one area of concern in the home, example (Plumbing, electrical, roof, etc). This can be used to problem solve any concern and repair or replace any defects found when they are in the beginning stage. This can prevent things that are small from becoming an enormous expense, for example (Small crack in the foundation can be easily fixed if dealt with in the early stages, later the crack could widen and possible cause structural failure).
 Infrared Thermo Technology
Coming Soon!
Introducing a fresh new look for your Profile.
Click the 'Edit Profile' button below to enter 'Edit Mode' and continue the tour.