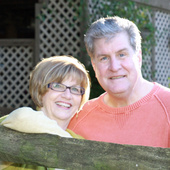 359552 2002004005
Real Estate Agent
Karen & Doug Parker
From Hilliard to the Hocking Hills Ohio
Logan, OH

—

Sorrell & Company Realtors
29083 Hideaway Hills Road
Hide-A-Way Hills
Sugar Grove , OH 43155
---
We Kare'n Sell ('n Live) primary & vacation homes, log homes, land..Hilliard to Hocking Hills & Hide-A-Way Hills. Logan-Hocking Chamber, Hocking Hills Tourism Assn, Friends of Hocking Hills, HAH Club.
Get to know Karen & Doug Parker
Karen & Doug Earn the Lancaster Board of Realtors Platinum Awards Both Karen and Doug each have received the LBR's Platinum Award for real estate sales of more than $4-million.  Doug also received the Columbus Board of Realtors' $10-milllion sales Award. The Karen and Doug Parker "ikarensell" team assists their real estate clients in different markets stretching from northwest Columbus & the Hilliard-Dublin area down Rt. 33 to the famous Hocking Hills vacation region and the resort community of Hideaway Hills.  Whether you're looking for a primary or vacation home, building lot, acreage, & everything in between, they've been there & done that!
Karen Parker has been a respected and top producing Realtor in central Ohio for more than 20 years, and Doug has earned the Columbus Board of Realtors' $10-million sales award, having joined Karen after many years of media marketing, teaching, management & negotiating experience.  As an experienced broadcaster and communications instructor, he provides the seasoned new media, photography & videography skills so essential in today's changing real estate environment. Along with helping hundreds of home buyers & sellers, they've built, bought and sold a number of homes, condominiums, and land themselves, including their own vacation properties.  They've also sold for sellers and found for buyers both primary and vacation homes in numerous counties as well as cities and towns.
Karen and Doug are or have been active members and supporters of various local community groups, including the Hilliard Chamber of Commerce, Logan-Hocking Chamber of Commerce, Hilliard Chamber, Hocking Hills Tourism Association, Friends of the Hocking Hills, and Hide-A-Way Hills Club, and both the Columbus (CBR) & Lancaster (LBR) Boards of Realtors.  Karen is a long-time member of the CBR's exclusive $25-million dollar award winners' group, and has earned the coveted designations of Certified Residential Specialist (CRS), Accredited Buyer Representative (ABR), Graduate of the Realtor Institute (GRI), and Resort and Second Home Property Specialist (RSPS). 
They've also served as volunteers to many community organizations, including the Hilliard Educational Foundation and the Hilliard Schools Board of Education, of which Doug was a member (and also served as its President) while it was the fastest-growing district in the state of Ohio.  Karen also served as a "TWIG" member for Nationwide Children's Hospital, and has also held committee leadership posts for her Board of Realtors.  Doug served many years as a board member and officer for Hide-A-Way Hills Club board of trustees, along with the Hilliard City School District and The Friends of Hocking Hills State Park.  He currently serves as a board member and President for the Hocking Hills Tourism Association.  They have also been active members of various local Realtor associations, from the Hilliard Area Realtors Association through to the Hocking Hills Area Real Estate Professionals group, and Lancaster Board of Realtors. 
Karen: GRI, ABR, CRS, eCertified, Prudential Caliber Club and President's Circle, Top 5% of Prudential agents nationwide, Columbus Board of Realtors $25-Million Club. Ohio Association of Realtors' Award of Excellence. Co-chair of Columbus Board of Realtors' Mentoring Program for new agents.  "Agent of the Month" in Broker Agent Magazine (June 2008). Sponsor of various local teams and events. Also completed home staging coursework (IAHSP). B.S. in Psychology; former Certifified Occupational Therapist Assistant and Community Mental Health Center Therapist.
Doug: New Home Specialist, Columbus Board of Realtors $10-million Club, Former President & Member of the Hilliard City School District Board of Education, Hide-A-Way Hills Club Board of Trustees, Hilliard School District Citizens Finance Committee, Friends of the Hocking Hills Board of Trustees, Logan Town Center; M.S. in Media/Communications. Former university instructor of Marketing, Management, Journalism, and Communications at Indiana University, St. Mary of the Woods Collge, and Indiana State University, as well as high school teacher; former TV and radio broadcast station manager, along with various professional, community and other non-profit volunteer and board positions.  In June 2008, REALTOR.com presented Karen and Doug Parker the company's Online Marketing Award of Excellence, for their efforts to maximize listing information, photos and now video tours on REALTOR.com. Our experienced team provides you with Realtors® who "Kare'n Sell" central and southeastern Ohio...for home buyers & sellers in Hilliard, Dublin, Grove City, and the entire west side of Columbus, Hideaway Hills and the Hocking Hills Region, Canal Winchester, Lancaster, Logan and more.  We would be honored to help you with with your home investment, before, during and after the purchase. Clients we've assisted since 1989 will assure you that our slogan says it all...We truly Kare 'n Sell central Ohio and Southeastern Ohio, and belong to both the greater Columbus and Lancaster Multiple Listings Services (MLS) and Boards of Realtors!  And as members of Hide-A-Way Hills Club, the Hocking Hills Tourism Associaion, and Friends of the Hocking Hills, we'd love to tell you more about what's happening and available in the hills, and along the developing Route 33 corridor.  We also specialize in log homes and land!For our clients' convenience and peace of mind, we also retain the services of an attorney who also holds a real estate license.  In today's complex and quickly changing market, we will always do our best to maintain the various types of support to ensure full satisfaction and service.If you're in need of individualized attention to essential property services, exterior or interior, or specialized services related to investment properties, please let us know.  We'll be happy to work with you on one-time-only or ongoing plans to prepare, market or maintain your property so that it's just as you want it to be. As your overall real property consultants & advisors, we understand and will help you create and maintain the best "big picture" of your investment(s)! For most of our listings, we provide a digital video tour as well as a Visual Tour®. You can now view both the Visual Tours® and video tours online, but we´d be happy to get a real "hard" copy to you on CD. If you´re interested in a specific listing on our site, we can mail you a copy of a CD containing both tours; just let us know your  mailing address. If you´d like us to represent you as a buyer, and you´re interested in a listing that we don´t have, in most cases we can also arrange to preview the home for you and shoot digital photographs of the home that you can preview before a personal showing. This can save you valuable time, especially if there are a number of homes that appeal to you.  
Karen & Doug Parker's Blog Posts
Certifications
I (...we!) Kare 'n Sell...Hilliard (and more of Central Ohio), where we continue to reside. This is one of Ohio's fastest-growing communities, featuring one of the state's top school districts and great recreational opportunities. Here you'll find homes in all price ranges, and friendly neighborhoods both well-established and new. I'd like to tell you much more about the area my family calls home! 

I (...we!) Kare 'n Sell...vacation & resort homes, too...in the famous Hocking Hills Region, including Hide-Away-Hills (click on "Buy Your Hideaway" for photos and tour!). Hundreds of families make this one of Ohio's most unique communities. It's a place for year-round homes and weekend getaways. Club members enjoy boating, fishing, golf, stables, tennis, pool, lodge, security and much more in this community nestled in the beautiful and well-known Hocking Hills area. As members and property owners in "The Hills" as well as realtors, we'd be more than pleased to show you everything this unique private community has to offer.  And as members of the Hocking Hills Tourism Association and Friends of the Hocking Hills, we'd love to also show you what this oh-so-scenic area is all about, and how things are developing on the heels of the opening of the Route 33 Lancaster bypass.  We also specialize in log homes, now representing Jubach Log Homes....if you're not well acquainted with this classic construction, we'll be happy to offer you a top-to-bottom tour (through photo tours and production)....and connect you with clients who've bought log homes, including some available for rental!
Through many years, we've found our clients now considering second or even retirement home options.  The traditional "snowbird" or other distant locations for these homes no longer are the automatic sort of choices they once were, as folks decide it's best to buy a getaway that's within a relatively short drive...or to remain closer to family and friends.  If you'd like to find out if "The Hills" might be the right choice for you, just give us a call for a personal tour!
Introducing a fresh new look for your Profile.
Click the 'Edit Profile' button below to enter 'Edit Mode' and continue the tour.