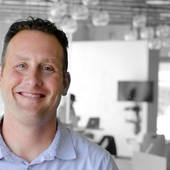 Real Estate Agent
Kevin Oldham
Real Estate Marketing Geek - Agent @ eXp Realty
Lee's Summit, MO

—

Smart Agent Life powered by eXp Realty
Obsessively curious about eliminating barriers to growth for real estate professionals. I'm a real estate technology and marketing geek.
Get to know Kevin Oldham
SmartAgentLife.com  powered by eXp Realty is a collaboration between two real estate industry veterans, Ted Laatz and Kevin Oldham.
We met while we both worked for a global real estate franchisor. Prior to working together Ted owned a top franchise in Chicago and Kevin had been part of a Top 15 team in Kansas City and had co-founded a real estate marketing services company.
Together, as COO , CMO and co-founders, we helped build one of the fastest growing major market real estate franchise systems in the US.
We are excited to share eXp Realty's unique model with you and invite you to reach out to learn more. The company is so remarkable that we have teamed up to help more agents build valuable futures.
We've helped thousands of agents transition from one broker to another and know it is a decision not to be taken lightly.
I'm also the founder of Diffactory where we help businesses thrive in a digital world.

Areas of focus: Franchising, licensing, subscription models and e-commerce.
Prior endeavors:

I have invested the past 20 years of my career surrounding myself with like-minded professionals in the real estate, auction, professional services and film industries. I've led and been a part of multiple start-up companies and always find the energy needed to launch to be exhilarating.

My career has enabled me to provide marketing and strategy services to respected companies such as: American Express, Verizon Wireless, Target, Toyota and BMW. 
I served as Chief Marketing Officer and Co-Founder of United Real Estate and United Country Auction Services.
I co-founded United's marketing services company, EMS. EMS has grew from a blank sheet of paper to the largest real estate marketing services organization in the U.S. in a short amount of time.
Prior to EMS, I co-founded a regional marketing services and design firm that catered to real estate developers, offering strategic solutions designed to generate traffic for their projects.
Prior to my entrepreneurial ventures I delivered marketing services for Kansas City's largest residential real estate broker and for AMC Entertainment where I was instrumental in launching Virgin Mobile in the United States in collaboration with Best Buy Advertising.
In 2012 I was recognized as the recipient of a Rising Star award from KC Business Magazine celebrating business leaders under the age of 40.
Kevin Oldham's Blog Posts
Real Estate Sales and Marketing
–

over 4 years ago
Diffactory Direct (D2)
Learn How to Market Like A CMO
Certifications
"We utilized Kevin's services to assist with a national marketing campaign for commercial properties and for land for sale. His understanding of multi-channel marketing is fantastic and his ability to leverage that understanding in a cost effective, intelligent campaign is phenomenal. I enjoy working with him and would recommend his services to any of my friends."
Patrick Duffy, MCR
President
Colliers International – Houston
"Kevin has proven each day why he is one of the brightest minds in real estate marketing. He has a vast knowledge of how to add unique value with both technology and traditional marketing programs as it pertains to effectively selling all types of property. Kevin is getting results and implementing programs that no other individual or Real Estate Company has come close to obtaining. Kevin has also been a critical component in creating United Real Estates unique messaging in the market place that has allowed the brand to become the fastest growing company in the markets that it has opened in. I highly recommend Kevin to any individual or company in the real estate industry that are seeking to obtain a higher level of success."
Peter Giese
President
United Real Estate
"Kevin Oldham has been an integral member of the United Real Estate launch team. His creation of United Real Estate's unique messaging has been critical in helping United become one of the fastest growing brands in numerous markets throughout the U.S."
J. Ted Laatz
COO
United Real Estate
"As an experienced entrepreneur, Kevin brings a unique blend of entrepreneurial energy and large company discipline to his business unit. Kevin has successfully launched a profitable and substantial business unit in less than a full year of operation. His attention to detail and exceptional execution on every single project has resulted in 100% client satisfaction on delivered projects. We could not be more excited about the prospects of United Country Marketing Services under Kevin's leadership!"
Dan Duffy
Chairman and CEO
United Country Real Estate
"For a team to win consistently every person has to perform at a level that not only gets the job done but assures the rest of the team they can depend on that person to deliver excellence every time they are called on. Kevin exemplifies that truth. He always exceeds expectations. His work makes my job easier because he creates a tangible validation of my promise that the quality and effectiveness of our system is not just best but so superior it can't even be compared to what is offered by other real estate franchises. The moment I show his work in a sales presentation is often the moment the prospect begins to understand the true value of our offering."
Richard Thompson
Executive Vice President
United Country Real Estate and Auction Services
"Kevin is joy to work with, great marketing ideas, and quite simply knows how to get it done when it comes to Real Estate and Auction Marketing. He and his team are helping me take my business to the next level."
Jason Wallingford
Owner
Wallingford Group
"Kevin is truly an expert in the field of Marketing. He knows who to market to and how to get there attention. He finds the most effective marketing tools to add value for the dollar expended. His marketing wisdom is a huge part of my success."
Jack Canterbury
Co-Owner
United Country Wapiti Realty Ltd.
"I had the distinct privilege to work with Kevin Oldham while we were both employed with National Cinema Network (NCM). Kevin is one of the most talented and resourceful individuals I have ever worked with. He tackled unfamiliar territory with passion and professionalism. Kevin would always deliver on time and exceed expectations. I have yet to find another colleague who has even come close to the skill set demonstrated by Kevin. If you ever have an opportunity to work with Kevin, be prepared to be "Wowed'!"
Mary Kokoszka
National Account Director
National Cinema Network
"Kevin combines knowledge of marketing and promotion with cutting edge techniques to provide customers with marketing campaigns that generate results. He heads a team of professionals that turn out some very good looking collateral pieces and media plans that will make your phone ring."
Mike Fisher
Owner
United Country – The Redfield Group
"We have used Kevin and his team at United Country's EMS to market several real estate auctions for us. They have always performed at 110% and produced top self results. I would give my top recommendation to Kevin Oldham and his team."
Jimmie Dean Coffey, CAI, AARE
Owner
United Country – Coffey Realty & Auction
"Kevin Oldham and his marketing team have provided outstanding services to our 50+ offices, agents and their clients in the states of Oklahoma, Kansas and Nebraska. They have provided vital expertise and assistance in helping win a number of trophy projects. I would highly recommend Kevin and his team to anyone that wants to take their marketing program to the next level. Bringing the "A" Team to a quality project can be the difference between winning and losing!"
Dave Rose
Area Vice President
United Country Real Estate
"Kevin is an exceptional leader! I couldn't ask for a better mentor and guide. He is extremely knowledgeable about marketing especially in the real estate and auction space and is very driven. He knows how to empower his team to produce excellent results. I thoroughly enjoy working with him!"
Amanda Siler
Senior Project Manager
United Country Real Estate
"Whether it's a quick question to be answered or I need a detailed proposal....Kevin is quick to lend an ear and offer advice or that detailed proposal. He has exceptional knowledge in the field of marketing."
Michael Rogers
Owner
United country – Rogers Auctioneers
"Kevin has spearheaded many of my marketing programs. He is always on the cutting edge with innovations that enhance and continually improve our marketing efforts. He gets our marketing to the right places, where our buyers are looking. I highly recommend Kevin."
Brad Wooley
Owner/Broker
United Country Brad Wooley Auctioneers
"Kevin Oldham has proven to be a valuable asset to our company. As a leader in the auction services division, Marketing is a key component of our service offerings. Kevin Oldham and his team have delivered everything on time and at a level which is unheard of in this industry. I look forward to working with Kevin Oldham and the Marketing Services team again soon.
Shawn Terrel
Vice President
United Country Auction Services
"Kevin and his EMS team have overseen marketing for a number of our auctions. I'm hooked, we can't use anyone else. He directs a highly professional and personable team that produces exactly what we need every auction. In fact, they often exceed our expectations. And after getting to know Kevin on a personal level, I say that he is an A+."
Eric Iman
Broker / Auctioneer
United Country – The Wallingford Group
"Kevin Oldham knows the auction marketing industry better than anyone I have met in the business in the last 29 years. He is thorough and efficient and keeps his eye on the bottom line of the budget. When you add his staff and the UC Marketing platform, you have the best combination possible for making auctions a success!"
Scott Swenson
President / Chief Auctioneer
United Country - Jones Swenson Auction Marketing, Inc.
"Kevin is very knowledgeable about marketing real estate. He is diligent in his work. He "does what it takes" to get the job done."
Larry Theurer
Owner
United Country Theurer Auction/Realty LLC
"Kevin Oldham is aggressive, goal oriented and demanding work ethic that is nothing less than astounding when it comes to marketing property for our company. His attention to detail will set him apart in a vast field of highly qualified choices, his mannerisms are above reproach allowing Kevin to relate to the customer and to each of our customers projects, his high quality work ethic allows him to produce more than a marketing campaign, he creates and event in lifestyle marketing. His valued concern for everyone involved in every project make each task run smooth oriented toward success with follow-up on each task. Take a opportunity to talk with Kevin and you will quickly learn you will be dealing with a true professional that will certainly take care of your requests."
Myers Jackson
Real Estate Auctioneer / Broker
United Country Real Estate and Auction Services
"Kevin is a very detailed individual who has implemented full scale marketing strategies for me on multi-million dollar sales projects. Kevin has the skills, knowledge and energy to effectively complete any business project he agrees to undertake."
John Stratman
Mason & Morse Ranch Company – Proud affiliate of United Country Real Estate
"Kevin and his staff have increased our ability to capture a national exposure on our auction properties and to achieve higher property values for our clients. Without a doubt Kevin and his staff at United Country Marketing Services have raised the bar of our overall auction and real estate business."
Travis Hamele
Owner/Broker/Auctioneer United Country Hamele Auction & Realty
"Kevin and his team always deliver more than they promise. They are punctual and very detail oriented."
Rich Ranft
Owner
United Country – Beloit Auction & Realty
"Mr. Oldham was a true rainmaker for our firm and absorbed our company process and culture immediately. I've never had an individual have the ability to run a team in turnkey fashion in such a short time. His dedication and production level was quite extreme. What we all enjoyed most in working with Kevin was his ever present congenial nature."
Dennis Gray
Principal
Thirdrail Advertising
"It was a pleasure working with Kevin at National Cinema Network. He was an important member of our strongest sales team. His creativity and hard work was a major factor in our success."
Chuck Battey
President
AMC Theatres (National Cinema Network)
Awards
- Over 50 real estate marketing awards from USA Today and the NAA
- Standing Ovation Award from Best Buy Advertising
- KC Business Rising Star 2012
Skills
Real Estate Marketing Strategy, SEO, Google AdWords, E-commerce (Shopify Expert company owner), Web Development, Lead Gewneration, Storytelling and Content Strategy
Introducing a fresh new look for your Profile.
Click the 'Edit Profile' button below to enter 'Edit Mode' and continue the tour.