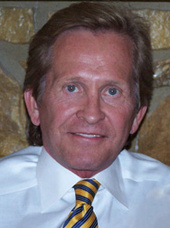 Services for Real Estate Pros
Leo Kingston
Oklahoma City, OK

—

1-800-2-Sell Homes
1-800-2 SELL HOMES delivers Quick Selling Solutions™ and expert service to home owners who need to sell their home fast. Our lead generation system covers the USA on first page of Google search.
Get to know Leo Kingston
I have always had an adventurous spirit. I like action and the thrill of winning. When I graduated from high school, I bought a couple of houses and worked as a supervisor at a tire plant.
Supervising men was not exciting to me, buying property was. At the age of 29, I decided that I wanted to continue investing in real estate and became a full time real estate investor. Real estate is a relatively simple business model with few barriers to entry. All I needed to secure financing was a small down payment.
I was on the right track, my Mom and Dad owned rental property and I learned at a young age that real estate is the key to long term wealth.
Within a couple years, I had accumulated 36 rental homes that were all producing income. They also created plenty of headaches such as non-paying tenants, maintenance issues and damage created by tenants, but they were tangible assets.
In 1982, our largest, local bank failed; the housing bubble had burst. I was in trouble. I was overleveraged and had few resources.
After a series of ill conceived ideas which resulted in tremendous loss, I started over in 1992.
I was flat broke, lost everything. Somehow my wife and I were able to scrape together enough money to buy an $8,000.00 home. We really struggled and knew that the only way to overcome financial obstacles was to work hard and smart.
My credit was not good and yet a banker believed in me. I multiplied a $25,000.00 loan and today I am a man with a multi-million dollar portfolio of property and almost debt free.
In the early 1990's, the market was flooded with thousands of neglected homes that needed just the kind of love that I specialize in giving. I went back down to a one-man show. I made strategic relationships with good contractors who had the same passion for their trade as I had for mine. I was able to focus on finding homes, negotiating deals, raising capital, arranging financing, creating project plans and providing project oversight.
In 2003, my company reached a new level when I bought a vanity phone number; which is now, 1-800-2SellHomes. 1-800-2SellHomes is a household name in Oklahoma.
As a result of the growth of my company, I have hired a great team. My wife, Paulette, has joined our company, full time.
Currently, we buy and sell residential and a few small commercial properties. We either, buy and quickly sell; buy, rehab and sell or buy and hold for rental. There are many facets to investing, and as the market changes, I have adapted.
Real estate investing is not for everyone. I'm not trying to sell anyone on this field. It's not easy money. It's not a get rich quick industry. I've faced lawsuits, personally cleaned filthy houses, evicted tenants and on many occasions have been left with completely trashed properties. Several times I've vowed to stop investing, but then the next opportunity comes along and I can't resist.
There's a lot of action in this business, and the problem solving is exhilarating, but there's also a lot of paper pushing. I've served in the State Senate and travelled the world; nothing gives me a greater thrill than bringing a deal together. My days are action packed, my greatest focus, at this point, is social networking. Follow me on Twitter, LinkedIn or Facebook.
My wife tells me that I am a visionary. I do find myself looking at old buildings or trashed out properties and imagining what they could be. I stand and marvel at completed projects.
I am very gratified to know that my company buys homes that no one wants. I love seeing a project go from unsightly to beautiful. I have a tremendous sense of accomplishment knowing that my company strives for the best.
Certifications
My area of expertise is residential real estate, single family homes in Oklahoma City, Oklahoma and condos in Miami Beach, Florida. The lead generation system I've developed brings in motivated sellers of all types of property because people see our TV ads and they find us on page one when they search the web.
Introducing a fresh new look for your Profile.
Click the 'Edit Profile' button below to enter 'Edit Mode' and continue the tour.