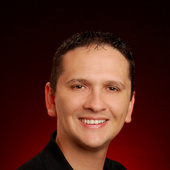 Real Estate Agent
Lucas Taylor
Miami Beach, FL

—

Keller Williams Miami Beach

Keller Williams Realty Inc.
Whether you or your clients are moving to Miami or Fort Lauderdale and points inbetween, I will be there to assist with outstanding service. I specialize in the sale of homes, condos, and townhomes.
Get to know Lucas Taylor
A certified Residential Specialist and Fine Homes and Estates Specialist, Lucas prides himself on handling each client interaction with honesty, integrity, and commitment. From his prior career in management, Lucas brings strong negotiation skills combined with proven problem-solving abilities that have earned him the loyalty and trust of buyers and sellers throughout Florida.
Find out why "Integrity is Not Negotiable"
Areas of Expertise:
As a South Florida area Luxury Real Estate Specialist. Whether you or your clients are moving across the state or country, I will be there to assist you with outstanding service. I specialize in the sale of single-family homes, condos, townhomes, and multi-family properties in and around the South Florida areas from Miami to Fort Lauderdale, to include South Beach, Miami Beach, Surfside, Golden Beach, Sunny Isles, Hallandale and Beach, and Hollywood Beach.
Testimonials:
"Several months ago we contacted Lucas Taylor to help us sell our investment property. Because we lived out of the area, we relied on Lucas to handle everything -- from finding a contractor to make needed repairs, to getting us our asking price. We highly recommend his services."
- Mr. & Mrs. Jennings
"We enjoyed working with Lucas Taylor during the purchase of our home. His professionalism, honesty and integrity were outstanding, and Lucas' knowledge of the area was very helpful."
- Paul & Rosa Smit
"I recently purchased my first home and Lucas was awesome. He guided me through the whole process and made it very easy. As a first-time buyer, I just gave him an idea of what I was looking for and I actually chose the first home he suggested! I would recommend him to anyone buying a home. His level of service and expertise far exceeded my expectations."
-Shannon
"We appreciate your assistance during our house search in Apollo beach. Thank you for your time and attention to detail. We think we will greatly enjoy our time in Florida, which has much to due with our wonderful home. Thank you and best wishes."
-Amy
Lucas Taylor's Blog Posts
ActiveRain Community
–

about 9 years ago
ActiveRain Community
–

over 9 years ago
ActiveRain Community
–

about 9 years ago
ActiveRain Community
–

over 9 years ago
Certifications
From Dream to Reality with Lucas Taylor Broker-Associate: On Your Way to Your First Home
Buying a home is one of the most important personal and financial decisions you'll ever make. That's why I wants you to have this step-by-step guide to help you find and buy your first home. We're also here to answer your questions along the way. We want your first real estate experience to be both hassle-free and rewarding.
The following guide explains the real estate process in plain English. What you're about to read is an overview of the procedures normally followed in a typical home purchase. Read on and see how finding and owning your dream home can be easier than you think with help from me and Keller Williams Miami Beach.
Preparing to Find and Buy a Home
Knowledge Is Power... Accurate Information Is Essential. Before you start looking for a home, become an educated consumer. Knowledge is power and misinformation gets in your way. First, learn about the process and requirements for buying a home. Common misconceptions include: renting is always cheaper than buying, you have to be a permanent resident of the United States to buy a home, and you have to have a huge down payment to qualify for a mortgage.
Here are the facts. You only need a work permit to buy a house. And in some cases, the starter costs of renting may be about the same as a house down payment. As you start your search to find a home, stay informed. Talk with people who've gone through the home-buying process., attend home-buying seminars, and visit with knowledgeable real estate experts like me or at KW Miami Beach.
Choosing Your Real Estate Professional
Deciding to find and buy a home is one of the most important decisions of your life. It combines your personal hopes and dreams with wanting what's best for you and your family. It means making changes. That's why it's in your best interest to choose an experienced real estate agent who listens to and understands your needs, and works in the area where you want to live. When you choose me as your Agent, you're dealing with an experienced professional who understands your concerns and will provide you with the personalized service that makes all the difference.
What should you expect in your first meeting with a real estate agent? I typically will talk to you about the neighborhood where you want to live, home prices, schools, transportation, and the surrounding commercial and residential areas. Before you find a home, I can also assist you in talking with a mortgage representative about getting a "mortgage pre-approval." It's helpful to get pre-approved before you find a home so you'll know how much money you have to spend. You also can calculate how much you can afford in monthly payments.
Have a Financial Plan Before You Find a Home
You can reduce the stress of home buying by thinking ahead. Before you find a home you want to purchase, develop a financial plan. This plan becomes your guide not only for saving money for the down payment, but also for covering other expenses such as your credit check, mortgage application and closing costs. For more details about what to expect financially you can call me 305-741-5397
Establishing Credit
Having an established credit history plays an important role in the home buying process. It's never too soon to start building a good credit history. Start by diversifying how you pay for things; don't pay for everything with cash. Pay your bills on time, limit your debt, reduce the number of credit cards you have, and use them responsibly. Your goal is to show that you are financially responsible and a "good credit risk."
It's also important to review your credit report. This is a record of past and current debt that states when, how and if you paid. Make sure that the information contained in your credit report is accurate. By reviewing your credit report now, you'll have the opportunity to correct any errors. I can help you get a copy of your credit report to review. Don't wait until you've found a home to do this. Do it now.
Why is this so important? Your credit history is one of the documents that give the mortgage lender confidence in you. The better your credit history, the better your credit score. And the higher your credit score, the more likely your mortgage lender will offer you more mortgage options with better terms.
You're smart to think ahead. The best approach to buying a home with few financial surprises is to learn how homes are financed, find out how and where to get financial assistance, and understand all the costs involved in addition to the cost of the house. What follows is a brief explanation of (1) Mortgage Pre-approval, (2) Down Payment, (3) Mortgage Options, and (4) Closing Costs.
(1) Mortgage Pre-approval
A pre-approval is a simple calculation done by a mortgage lender that tells you (a) the amount you'll be able to finance through a loan and (b) what your monthly payment will be. When you find a home to buy, a pre-approval also reassures the seller that you have the financial means to purchase his or her home. Contact me at 305-741-5397 or Lucas@BestBeachRealty.com for help in getting a mortgage pre-approval.
Once you know the amount the bank will lend you, the next step is to determine how much to save for your down payment. This will help you define the types of homes within your budget. Keep in mind the monthly costs associated with home ownership include not only your mortgage payment, but also real estate taxes, homeowner's insurance and utilities.
You may not realize it but when it comes to getting mortgage financing, you have options. Which one's right for you? As your Agent I will be happy to help you make sense of both the financing process and your financing options.
(2) Your Down Payment
A down payment is the money you pay up front toward the purchase of your new home. Typically, the larger your down payment, the less you pay each month on the mortgage, and the lower the interest costs will be over the life of the mortgage.
How large should your down payment be? Many people make down payments of 5%, 10% or 20% of the sales prices of the homes they buy. There are also loans available for buyers with down payments of under 5%. However, the right percentage for you depends on many factors. Talk to a mortgage professional to learn more about your mortgage options and which option is the right fit for you.
(3) Your Mortgage
Your options for financing the home you find depend on your personal financial situation and your unique needs. You can check with a me for guidance about contacting mortgage lenders and getting a Mortgage Pre-approval. This will help you gauge how much you can afford to spend on a home and the financing options available to you. Here's an overview of typical financing options available:
- Adjustable Rate Mortgage (ARM): This is a mortgage in which the interest rate is tied to a specific economic index and may adjust at specific times. Overall, your monthly payment may go up or down at intervals specified in the disclosure associated with this type of mortgage, depending on the current interest rate.
- Fixed Rate Mortgage (FRM): This is a mortgage with an interest rate that does not change during the entire term of the loan. This means the monthly payments for principal and interest are also fixed for the life of the loan.
- Conventional Mortgage: This is mortgage that is not part of a government-housing program, typically has a limit of $417,000 and is not insured by the federal government.
- Jumbo Mortgage: This is a mortgage that typically exceeds $417,000 and is not insured by the federal government. These loans usually have higher interest rates.
- Government Backed Loans: There are two types of government-backed loans FHA and VA. FHA loans are insured by HUD (the Department of Housing and Urban Development of the United States) and VA loans are insured by the Veterans Administration.
(4) Closing and Other Additional Costs
After you find a home and receive mortgage approval, the closing is when ownership of your new home officially transfers from the seller to you. In some cases, sellers pay the closing costs. If not, you need to be prepared to pay this additional cost. This can add another two to five percent to the home purchase price. These costs also can vary from state to state. For specifics, call me 305-741-5397. Other additional costs may include:
- Good faith deposit: This deposit reassures the sellers you are genuinely interested in buying their home and are willing to make them an offer. A good faith deposit can vary between 1% and 10% of sales price depending on the market and can be applied to the down payment.
- Mortgage application and credit report fees.
Finding A Home Your Search
You'll want to have an idea of the features you "want" versus "need" in a home to help me guide you in a successful home search. Then the fun begins! I will provide you with information on houses for sale and take you to visit the ones that interest you. You'll have the chance to discuss the pros and cons of each house with me, I will use my real estate knowledge and experience. And don't be afraid to ask questions. Remember, one of these houses you visit could be your future home and a major financial investment.
Throughout the process, I will help you fine tune your search criteria to find the home of your dreams. As part of the search, you'll probably visit "Open Houses." Visiting an open house includes personally touring a house that's for sale to get a first-hand view of the home and property. You may want to visit open houses on your own or with me. Either way, it's a chance to get a better feel for the market, neighborhood, and styles of homes available.
With each house you tour, ask yourself these questions:
- What features are most important to me? Number of bedrooms? Number of bathrooms?
- Does it have special features like a garden, a fireplace, a yard or a garage?
- Do I want a newly constructed house or a house that has been lived in before?
- Is it most important that the house be near a specific school, my job, or public transportation?
- What is the school district like?
- Are there kids in the neighborhood who are the same age as my own?
- Does this house need a lot of repairs?
Making An Offer
When you find a home you want to buy, you'll make the seller an offer in writing. Your offer is typically the first step toward negotiating a sales contract. That's why determining how much to offer is more complex than simply determining a price. Because of the large amount of money involved, both the buyer and the seller need to protect their investments and limit their risk. This is why when you make an offer, you not only specify the price you are willing to pay, but also the other details of the purchase such as:
- How you intend to finance the home
- Amount of the down payment
- Who pays the closing costs
- What inspections will be performed
- Whether or not personal property is included in the Purchase
- Terms of cancellation
- Any repairs you want done
- Date you will take physical ownership and possession of the property
How to settle disputes should they occur Contingencies:
Contingencies generally allow you to anticipate potential problems so if something goes wrong, you can cancel the contract without penalty. If you cancel a contract without having agreed upon conditions and contingencies, you could find yourself forfeiting your good faith deposit and money spent to inspect the property, as well as other damages. For this reason, it's recommended you retain an attorney. Your attorney will advise you about what to include in your offer to protect yourself.
Before making an offer, thoroughly evaluate the property (including but not limited to the following):
- Property Conditions
- I can tell you how the property compares with the rest of the neighborhood.
- Home Improvements
- Take note of what the previous owners have done to the house to determine if these improvements warrant the asking price and/or were done correctly.
- Market Conditions
- If the market is "hot," it's often considered a "seller's market." This may give you, the buyer, less room to negotiate your ideal price because there may be other people willing to pay more for the home.
- If the market is "slow," then it's considered a "buyer's market." In times like these, houses often sit for longer periods of time without receiving acceptable offers. When reasonable offers do come in, sellers may be more willing to negotiate.
- Seller Motivation
- If an individual needs to sell quickly due to his or her personal situation, he or she may be more willing to negotiate.
- Once you find a home and submit your offer, you then wait for the seller's response. The seller can accept, reject or counter your offer with one for a higher amount. This begins the process of price negotiation that continues until both parties either agree on a price or decide to go their separate ways.
Your Good Faith Deposit
Along with your offer, you'll provide a "good faith" deposit that demonstrates to the seller your serious interest in buying. This is one of the additional costs mentioned earlier. This money is deposited only once the offer has been negotiated and accepted by both parties.
The Home Inspection
After you find a home and make an offer, a house inspection is often ordered. The seller should have the property available for inspection by a professional.
In a typical inspection, experts examine the existing conditions of the property. Inspections may be required by law with the elements inspected varying by region, state, and/or your agreement.
The most common type is the General Home Inspection. A home inspector can provide you with a complete service that covers from the basement to the attic, as well as the exterior of the home, walls, chimneys, and fixed appliances such as refrigerators and stoves. Other specific elements that can be included: (not a complete list)
- Termite inspection
- Plumbing
- Water Quality
- Lead
- Radon
- Septic Tank
- Asbestos
- Electricity
Indispensable Insurance
Before a mortgage company will approve your lending arrangement and allow you to close on your new home, they will typically ask you to show proof of title, title insurance, and homeowner's insurance. Your mortgage representative can explain the details. Your real estate attorney can also provide counsel on title issues and title insurance.
The Final Walk-Though
Before the closing and property ownership is transferred, you and I will want to visit your future house. This "walk-through" is an opportunity to ensure that the house has been left in the expected condition.
You should make sure that all the items the owner agreed to leave are still there, such as kitchen appliances. This may also include furniture and accessories listed in the final sales contract. If there are problems, discuss them with me and attorney. In some cases, you can ask for a discount or credit at the closing to cover missing items or last-minute damages to the property.
The Closing
To be knowledgeable and prepared, ask me and your attorney to go over the details of the closing with you beforehand. The closing process can vary by area of the country and even within the same state.
Generally, the seller is required to provide clean title to the property at closing. I with the help of your mortgage lender representative, and real estate attorney/legal counsel can help you make sure all documents are provided and steps followed.
Making a House Your Own
Now that you found your dream property, it is time to make your house a home. Visit Dream, Discover, Do and find a whole range of products and services to help with your home remodeling , gardening and decorating needs.
Please visit www.BestBeachesRealty.com
Introducing a fresh new look for your Profile.
Click the 'Edit Profile' button below to enter 'Edit Mode' and continue the tour.