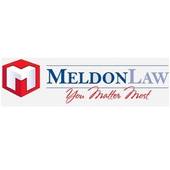 Real Estate Attorney
Meldon Law
OCALA PERSONAL INJURY & DUI LAW FIRM
121 NW 3rd St
Ocala , FL 34475
At Meldon Law, we are dedicated to use our experience, resources, and time to fight for Justice for victims of accidents and the rights of individuals charged with DUI and other criminal offenses
Get to know Meldon Law
At Meldon Law, we are dedicated to use our experience, resources, and time to fight for Justice for victims of accidents and the rights of individuals charged with DUI and other criminal offenses.
Most Florida accident victims and those arrested for DUI want their questions answered and their options explained to them with respect, understanding, and in terms they can understand. My dedicated and innovative team of experienced accident attorneys and criminal defense attorneys and I, Jeffrey Meldon, do just that. In addition, we add the personal attention that any individual who has been seriously injured deserves. Feel free to contact us and find out how we can help you regain your peace of mind and get you started on the right track towards justice and recovery.
At Meldon Law, our car accident lawyers have helped many injured victims in and around Ocala and we can help you recover for your injuries. If you would like to discuss your car accident, please do not hesitate to contact our skilled legal team today. At Meldon Law in Ocala, our personalized and committed approach to every case helps us best represent the rights and interests of our injured car accident clients. We understand how significantly your injury can affect your life and know that the last thing you need is added stress from your financial losses or legal case. Our car accident attorneys will handle every step of your claim so that you can focus on your physical and emotional well-being.
The experienced personal injury lawyers at Meldon Law in Ocala are committed to helping victims of accidental injuries recover for their losses whenever they can. If you would like to learn about your legal rights following a personal injury, please call our office today to discuss your specific situation with an experienced member of our legal team.
The attorneys at Meldon Law know that you have many different options when it comes to hiring an attorney to defend against your DUI charges. For this reason, we always strive to stand out from the rest by providing the highest quality of defense representation possible. It is important to realize that not every criminal defense lawyer is familiar with DUI defense, so you should always seek assistance from a lawyer who has specific experience handling DUI cases. Our team of attorneys have six decades of combined experience defending against DUI charges in and around Ocala and you can count on us to dedicate all necessary resources to helping you.
CONTACT:
Meldon Law
121 NW 3rd St
Ocala, FL 34475
Phone: (352) 629-5700
Fax: (352) 373-8400
Toll Free: (888) 458-1482
Email: jmeldon@meldonlaw.com
SOCIAL PROFILES:
Flickr
Blogger
MySpace
Issuu
Tumblr
StumbleUpon
Behance
Disqus
Medium
Imgur
Goodreads
Kickstarter
TED
Gravatar
500px
AboutMe
Calameo
Indiegogo
Evernote
Livestream
Storify
LiveJournal
Yudu
Scoopit
Angel
Carbonmade
Visual.ly
Activerain
Codecademy
Diigo
Hubpages
Wikidot
Pen.io
Care2
Spreaker
Weheartit
8tracks
Folkd
Authorstream
Brandyourself
Hulkshare
Spruz
List
Ranker
Beta.vizualize
Muck Rack
Rockethub
TWUBS
BCZ
Clarity
Yourlisten
LookupPage
Wanelo
Itsmyurls
Steepster
Appearoo
Alternion
Crayon
Betternetworker
Zintro
Startupxplore
Trepup
Follr
Xperlink
BLOG CATEGORIES:
Big Truck Accidents
Truck Accident And Fire In Gainesville
Four Things You Didn't Know About Truck Accidents
Proving That A Truck Driver Was Speeding
Electronic Logging Device Trucking Mandate
Safety Tips For Avoiding An Ocala Truck Accident
Why Do Large Commercial Trucks Roll Over In Florida?
Car And Motorcycle Accidents
Chain Reaction Crashes In Ocala
Recognizing Negligence In A Pedestrian Accident Case
Car Accident Settlement Work In Florida
Is A Traumatic Brain Injury The Same Thing As A Concussion?
Single-vehicle Motorcycle Accidents And Road Defects
How A Bicycle Accident Can Affect Your Life
The Importance Of Pedestrian Safety
Compensation For Your Gainesville Uber Accident
Dui And Criminal Defense
Florida Crash Illustrates The Dangers Of Broadside Collisions
The End Of School Brings A Greater Risk Of Drunk Driving
The Difference Between A Criminal And Civil Case After Dui Accident
What Is Bac And Why Is It Important?
What Are My Rights When I'm Pulled Over?
4 Facts Every Driver Should Know About Dui
Implied Consent And Breath, Blood, Or Urine Testing
What People Charged With A Dui Typically Get Pulled Over For
Medical Malpractice
Medical Malpractice Can Cause Cerebral Palsy
How Does Medical Malpractice Cause Birth Injuries?
Local Med Mal Lawyer Explains Hip Replacement Complications And Lawsuits
Premises Liability Accidents
The High Costs Of A Tbi
Slip And Falls In Large Retail Stores
When To Call A Lawyer After A Florida Car Accident
Recognizing When A Gainesville Slip And Fall Accident Was The Result Of Negligence
When Defendants Avoid Liability | Slip And Fall Defenses In Florida
Public Service Announcements
Tedx Returns To Ocala!
Support American Legion Post 16!
10 Helpful Tips To Having A Safe Halloween!
LIBRARY CATEGORIES:
Bicycle Accidents Information & Safety
Avoid A Bicycle Accident – Adult Safety Tips
Bicyclists – Know The Law And Stay Alive
11 Ways To Protect Your Brain – What You Should Know Before You Purchase A Bicycle Helmet
General
New Changes To Florida's Slip And Fall Law Are Detrimental For Victims
Meldon Law / Wcjb-tv20 Scholar Athlete Program
Press Release: Meldon Law/ Wcjb-tv20 Will Host The 17th Annual Scholar Athlete Awards Banquet
Tv20 And Meldon Law Scholar Athlete Of The Year Program
Meldon Law In The Community
COMMUNITY:
Meldon Law In The Community
Arc Of Marion's 3rd Annual Ocala Bike Fest
Spirit Of The Automobile
Casino Royale 007
Meldon Law Joins King Of The Wing
Career Day At The Pace Center For Girls
Meldon Law Gives Back For The Thanksgiving Holiday
VIDEO CATEGORIES:
Big Truck Accidents
Been Injured In An Accident With A Big Truck? Get Help Today! Gainesville & Ocala Truck Attorney Gives You The Facts
Help With A Big Rig Crash. Gainesville And Ocala Truck Attorney Gives The Facts
CASE RESULTS:
Big Truck Accidents
Slap Surgery Following A Rear-end Collision
Semi Truck Vs. School Bus Accident
General
Fingers Severed On Young Boy In Bicycle Basket – $108,300
State Of Florida Restitution Check Fraud
Case Result: Medical Malpractice
Nica Claim For Death Of Baby At Delivery – $110,000
Medical Malpractice
Medical Malpractice
Introducing a fresh new look for your Profile.
Click the 'Edit Profile' button below to enter 'Edit Mode' and continue the tour.