M. Suzi Woods (Gravenstuk)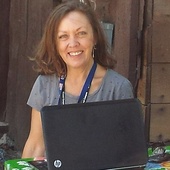 Services for Real Estate Pros
M. Suzi Woods (Gravenstuk)
Suzi Woods, Prior Independent REBroker in MS
Grand Canyon, AZ

—

NOW Sharing the life and spice of the GC one day at a time
Please email me, I will call you back. I am happy to help agents and buyers/sellers with non-licensed type property tasks.
Get to know M. Suzi Woods (Gravenstuk)
Have fun in the rain! Active Rain is a Gift to all of us--a gift of discovery, enlightenment, relationships, and synergy.
Please understand that the opinions expressed in this Blog are my own. My first post was 9-17-2006. Over a period of time, I change--just as most people do.
Now the About me--I would as soon have it about you. But, the purpose in profiles and many about me sections we post is to convince you that we are worthy of your trust and your business. I don't know how words can do that. So, if you see anything worthwhile in my postings, communicate with me--that is the only way we will be able to determine if we are suitable for working together in any capacity.
My Pre-Real Estate education includes earning a Bachelor of Arts with a major in Psychology, a minor in English, and core electives in Management, Marketing, Economics, Advertising, Feature Writing (Pre-Blog era). The focus in Psychology and Sociology seems to fit with real estate. Don't you agree that real estate transactions are as much about the people behind the legal description as they are about the property?
Pre-real estate included a wide variety of work experiences. I often prayed that my eyes would be opened to the best way to turn these work experiences into a focused career asset.
I grew up with a Restaurant Entrepreneur for a Mother. It was a great way to learn business and customer service/client retention --as well as employee relation basics. Ethics and "THE golden rule" were taught at an early age. My mother who was and is a hard worker; devoted Christian, and astute business woman; never wavered as she raised 5 children under roof at one time . Her favorite quote was Zig Ziglar's "always have a winning attitude-- times don't last; but tough people do."
My attitude towards customers and clients that I serve comes partially from observing her and her success in residential and commercial purchases. ...
Sometimes, clients know what they are talking about. My objective is to communicate at a real level, clarify your objectives, understand your goals--then decide together if we are compatible.
Believe it or not, at some time in each transaction I am glad that I have had the varied work exposure that I have had. It all works together!
In closing, here are some of my favorite quotes:
"Fall down 7 times, Rise the 8th time...(to infinity)" attributed to the Bible, Proverbs, Helen Keller, and Chinese wisdom.
"Do, or do not. There is no try." Yoda
"People who say it cannot be done should not interrupt those who are doing it."-Anonymous
"You can have everything in life you want, if you will just help enough other people get what they want." -Zig Ziglar
I believe I am an instrument. I believe faith is important, but we should use the wisdom, knowledge and skills that have been attributed to us. Beyond that, we have providence.
Let the Son shine in!
M. Suzi Woods (Gravenstuk)'s Blog Posts
Real Estate General Information
–

over 7 years ago
Introducing a fresh new look for your Profile.
Click the 'Edit Profile' button below to enter 'Edit Mode' and continue the tour.