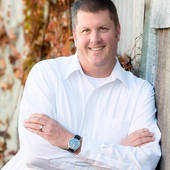 CA 01842775
Real Estate Agent
Paul Weir
Grass Valley, CA

—

RE/MAX Gold

RE/MAX International Inc.
Specializing in rural properties: Ranches, Farms, Horse Property and Recreational Land Nevada, Placer and Yuba County
Get to know Paul Weir
  Who's Paul Weir?
I was born in Southern California, but grew up in San Jose. I met my wife in 1989, and we were married, right here in Grass Valley, 5 years later.
I have had a love affair with the natural world since my early days of chasing butterflies, collecting wildflowers, drawing pictures of birds and watching tadpoles morph into frogs in my Grandparents backyard creek.
I can still remember, with a a chuckle and a smile, my Dad coming home to find that I had dug (with the help of some neighborhood friends) a 10ft x 10ft x 4ft deep hole in the backyard to make my own fish pond. We pooled our money to buy a plastic liner and took a group oath to start our very own fish club. I was 9 years old at the time.
I still think about digging fish ponds to this day :)
I have a degree in horticulture, though I have spent most of my adult life working in high tech. I have always held a sacred place in my heart for the special connection people need to have with the environment and the natural world we all live in. My move from the Bay Area to Grass Valley in 2005 has given me a wonderful opportunity to pay more attention to myself, my family and the beautiful world to be had in Nevada County. 
I met Keith Crabtree when we first moved to Grass Valley when I took his excellent Rural Property Management Course at Sierra College. It opened my eyes to my true calling and Keith and I have been great friends ever since.
Green Acres 101 is the company Keith and I created, in January 2006, to assist new and seasoned rural property owners in all aspects of embracing their dream of living the country life. Teaching at the college and our private consulting is very rewarding to me.
My family and I live on 6 acres in Peardale. We own Gopher Hill Heirloom Apples. We have 2 horses, 20 chickens, a dog and a cat. We are active in the Chicago Park 4-H Club, Magnolia Intermediate and Bear River High School, Gold Country Soccer Association and are members of the Nevada County Farm Bureau too.
Living the country life is where I want to be and I know that many of you do too . . . that is why I am here to help. Helping buyers make their country living dreams come true is our top prioirty and helping folks make the best possible choices, one property at a time, is what it is all about.
With Green Acres 101, your rural dreams have never been closer to reality and I am totally commited to help you to make it all happen.
May all your acres be green ones!
Paul Weir
Paul Weir's Blog Posts
Home Improvement
–

over 3 years ago
Real Estate General Information
–

about 4 years ago
Real Estate General Information
–

over 6 years ago
Real Estate General Information
–

over 11 years ago
Certifications
Working as a team with Keith Crabtree and Michael Parrish, together we specialize in Sierra Foothill rural property. We are experts in many facets of rural acreage including; soils, ponds, irrigation, and pastures. With our collective knowledge spanning over 40 years of combined experience, we are excited to offer our services as dedicated specialists to both buyers and sellers alike.
Would you like to know more about us?
please see our website http://www.greenacres101.com
Awards
Nevada County Masters Club, RE/MAX 100% Club, Nevada County Citizens Academy
Testimonials for Paul Weir
I am sending this note to let you know how much I appreciate your employee, Paul Weir. He has been so great to work with. Anything I needed or any questions I had he has always been there for me with quick responses and support and always with a smile too. I now consider him an important part of my real estate business and I hope you all do too. He has treated me great and I look forward to our future property business together.



Christopher Box

04/20/2010

Your service, your skills and ability are unmatched Paul. You are an asset and excellent resource to those key people that have a lot on their shoulders at any give time. I look forward to continuing the relationship we have developed together over the past few years.



Lana & Doug Strasburg

12/13/2009

This will serve as a letter of reference for Paul Weir, Realtor Associate. When we made the decision to look at properties in the Grass Valley area, a friend of ours put us in contact with Paul Weir. Our friend told us what a wonderful guy he is, but we really had no idea how truly outstanding he is.

Right from the start, we felt like we were Paul's only clients and he was instantly dedicated to meeting our needs. Although we thought we were just "looking" at the time since we aren't retiring and planning to move until 2010, we found the perfect property in Lorna Rica and just couldn't pass it up! We had a major dilemma at this point since we are located in the Bay Area and taking care of all the details when purchasing a home would have been too difficult for us being so far away from Loma Rica. However, Paul stepped in and saved the day for us. We closed escrow on our new house in Loma Rica just this week.

We have never seen anyone perform their profession as well as Paul has throughout this entire project. He gave us 110% of his time and efforts from day one. He devoted all of his time, energy, patience, and persistence to making this happen for us. He made countless trips back and forth from Grass Valley to Lorna Rica whenever necessary to be there on our behalf. He assisted us with scheduling all of the necessary inspections and has provided us with so much valuable information and who to contact for what that it has truly been amazing. This is all new to us, but we weren't worried because Paul is such a tremendous source of information! When we needed information, he provided it right away. He explained all the pros and cons to us on every issue and then he let us make our decision. Paul's knowledge of country living is very impressive!

You won't find a nicer guy than Paul Weir, but what makes him even more special is how much he cares about his clients and how much of his time and efforts he devotes to you! We are really excited about our new home in Loma Rica and have Paul Weir to thank for it. Without him and all his hard work, this would have never happened. We have no question about this even being possible without his dedication and devotion. In our opinion he is clearly "second to none" and we will be eternally grateful- to him! We now have a wonderful new home and gained a very special friend in the process!

If you have an opportunity to work with Paul, don't bother to look any further because you have found the best there is!

Some people say that Customer Service is dead, well I am hear to tell you that it alive and well. Need proof? just call Paul!


Paul Weir opened my eyes up to what going the extra mile really means. Knowing your deal is in great hands and managed every step of the way is worth so much to me. I recommend him to my friends and colleagues as often as I can.


Paul you have been great. I really have appreciated your work and your friendship. If I have friends or family that, in the future, need to sell here in Calif or move I will remember your help and recommend you. God bless you and your family.


Introducing a fresh new look for your Profile.
Click the 'Edit Profile' button below to enter 'Edit Mode' and continue the tour.