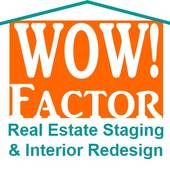 Home Stager
Peggy Harrington
Expert in Home Staging
Grand Blanc, MI

—

WOW! Factor Real Estate Staging, LLC
From modest to mansions, we're helping homeowners throughout Central and Southeastern Michigan "move" through life's transitions!
Get to know Peggy Harrington
Real Estate staging has provided me with a means in which to merge my love of all things creative and my strong desire to help others. When it comes to transforming homes into Real Estate showcases, I have long been the 'go to' person for family members, friends, and even friends-of-friends. I bring over twenty years of skill and expertise to Realtors and home sellers throughout Mid-Michigan, helping them enhance their properties so that they stand apart from the competition and create fast, profitable sales. I use proven processes and guidelines to stage homes and make them appealing to the largest number of home buyers possible. In today's highly competitive real estate market, your home must stand apart from the rest - it must have WOW! Factor appeal. Don't just put your property on the market and "see what happens" - bring in my expertise to maximize your results and take the guess work out of preparing your property for sale.Contact me today, I am anxious to share with you how working with WOW! Factor Real Estate Staging & Interior Redesign will help you get your home sold quickly and for the most money possible!I look forward to helping you sell your home soon!        
Peggy Harrington's Blog Posts
Real Estate Market Trends
–

almost 9 years ago
Real Estate Market Trends
–

almost 9 years ago
Skills
Staging is the all seasons, all markets, mega-powerful, "gotta-get-my-house-sold-fast" tool, and doesn't need to be complex or costly - it can be as simple as thoroughly cleaning a home and rearranging furniture. Of course there are times when more involved staging is needed such as re-painting, re-carpeting and renting furniture to increase the home's marketability. But, as is often the case, I find my clients already have everything they need to make their homes stand apart from the competition, they just need me to show them how how to use those belongings more effectively to help showcase their home's selling features. That's where I shine! I pride myself on working with what is already in the home and use it to show the home in a new, buyer-enticing light.
Staging is a proven  process that helps prepare a home for sale regardless of its price or location. Staging is not interior decorating, but rather preparing a home for sale and creating emotional connection points for buyers throughout the home. Staging is no longer considered just a "nice" thing to do, it has become mandatory to maximize equity and makes good business sense for Realtors, homeowners and prospective buyers alike.
Real Estate staging is a cost effective and proven way to get homes sold fast and for the most money possible -- which begs the question, "Why would anyone attempt to place their home on the market before staging it first?" 
Testimonials for Peggy Harrington
Many satisfied clients

10/09/2014

I had my home on and off the market for five years! It was a horrible experience in such a tough seller's market. Perspective buyers that viewed the house either thought it was priced too high, needed too much work or didn't like the floor plan. I loved my house; after all, I bought it! Why couldn't others see its beauty and potential?

I hired Peggy Harrington to stage my house. She brought interest and warmth into each room, which helped buyers imagine their family living in that space. Our first open house was one day after the staging - I was amazed, we had two perspective buyers that day! But we decided to keep the house available for future showings while working through the purchase agreement. And as it turned out, we had additional opportunities to sell the home again during that time, which gave me further confidence to go through the purchase agreement negotiations.

Peggy stopped by the house periodically to make sure it was presentable. She kept all of the rooms looking fresh after each perspective buyer walked through. When considering how much it costs to have a house lingering on the market, month after month waiting for a purchase, I realize now it would have been silly not to have had Wow! Factor Home Staging assist me in the sale. I only wish I had done it sooner.

I couldn't be more enthusiastic about giving WOW! Factor Home Staging and Peggy Harrington this letter of reference. I think home sellers would be crazy not to use this wonderful service!

Sincerely,
Denise T. Fenton, MI
_______________________________________________________________
Our Realtor suggested we contact Peggy of WOW! Factor Real Estate Staging to help us prepare our home for sale. I was a little bit apprehensive because I consider myself to be a "self-proclaimed" home decor expert. I watch HGTV and DIY nonstop and thought I didn't need any help. Much to my surprise, Peggy made a HUGE difference in the layout and overall look of my home. It was great to have a fresh pair of eyes looking over the situation and in addition she is so much fun to work with! Our home sold to the FIRST person who walked through the doors ... even before we could have an open house! And, the offer was well OVER our asking price! In addition, Peggy made my job much easier for the big move. Together we weeded things out and organized items so that packing will go much quicker.

As soon as we move into our new home, I will be calling upon her services again. She is so worth the money and as our Realtor said, "What you spend on her services will come back to you five-fold." HE WAS RIGHT!!

Thank you Peggy for the new friendship and also for helping give our home much needed "WOW! Factor"

Kathleen C.
Fenton, MI
_____________________________________________________________
Hi Peggy,

Just letting you know that the 'for sale' sign was not up for more than 1 hour on Friday, and we have a buyer! We agreed on a deal last night. This couple were quite interested in another house, but they bought ours instead, yeaaa!! The buyer's wife, told our agent that she was "surprised that for such an old house, how well it looked and was cared for ..." Your staging let her see the beauty of the house, I am sure! I especially wanted to thank you for being behind me and getting rid of that awful carpet!!! I kept telling Bob that it had to go, but he had to hear it from you. The family room is so fantastic now, that room makes this house great!

I'm a BIG fan of yours and can not say thank you enough!

Connie B.
Fenton, MI
_____________________________________________________________
We passed the inspection! Inspector was really impressed. Buyers liked the move-in condition, granite and master bedroom.

Staging really worked!!

C. Davidson
Grand Blanc, MI
_____________________________________________________________
OMG ... condo looks awesome!!! Thank you so much Peggy!!! Should sell pretty quick!!

D. Raymond
Grand Blanc, MI
_____________________________________________________________
Peggy works very well with her clients, and is highly skilled in her ability to view listed homes through a buyer's eyes. She is very artistic, creative and really is expert with color, design, texture. She follows through with call backs and improvements/suggestions and is genuinely interested in helping you reach your goal. I highly recommend Peggy for any of your Real Estate enhancing needs!

L. Clark, RN, CMSRN
Shepherd, MI
_____________________________________________________________
Hi Peggy,

I went to the house today and stayed there for an hour. Sat in the living room and enjoyed everything that you did with the place. The wall colors are real nice. Your artwork really coordinates well and the pillows are cool! Also like all the other things you did -- the kitchen and dining staging -- everything is so great. Also the small bathroom, oh and the fireplace is so-o-o cool! Just sat there and enjoyed the view, thanks so much!

Judy K.
Canton, MI
_____________________________________________________________
Hello Peggy,

I do hope this note finds you doing well. I wanted to let you know that a new neighbor stopped in last week and raved about the living room ... she said it looks like something out of a magazine! We're still getting compliments!

We are smiling,

Terry & Ernie R.
Swartz Creek, MI
_____________________________________________________________
Peggy Harrington of WOW! Factor Home Staging is nothing short of amazing! She did an amazing job on my condo in preparation for sale, and she is one of the nicest people I've met. She rocks!!

Matt L.
Howell, MI
_____________________________________________________________
Hey Peggy!

I just wanted to say thank you! You did an amazing job staging my house and I wanted to let you know how much I appreciated your help with the transformation! I believe it will have a 100% better chance of getting sold now.

Thanks again!

Jackie B.
San Antonio, TX

p.s. The house looks so good, I wanna move back in!
______________________________________________________________
Working with WOW! Factor Home Staging and Peggy Harrington was an excellent experience! Living in our home for 22 years, we didn't see the things others saw when walking into our home for the first time. Peggy helped us get our home looking its best for upcoming showings. Our house looks almost like a model home now due to Peggy's great staging advice and assistance! Each and every room is inviting, attractive and has the WOW! Factor.

As we look at new homes to purchase, we see sellers who haven't taken advantage of home staging and therefore, will have difficulty selling their homes because of the clutter, colors and other factors that are not buyer-friendly. We reviewed Peggy's Website portfolio prior to hiring her to stage our home. Viewing her staging examples, it was quickly apparent that she is creative and has vision when it comes to decorating, colors and furniture layout. She put that creativity to use in our home by re-arranging and eliminating pieces of furniture and helping us choose paint colors that are "buyer friendly."

Family and friends have visited now that our home is "staged" and can't believe how much bigger our home looks. They also see accessories and ask if they are new because they weren't noticeable before where we had them placed.

Peggy kept in contact with us while we made the changes she recommended. She was very encouraging and reassuring that our hard work would pay off. She was very responsive to questions we had after our final staging session; even returned to help tweak a room that just needed more excitement. Peggy is also a very kind, caring person and easy to work with. Peggy is very budget conscious! She would say things like, "If your budget allows, you may want to change this ceiling fan to a more updated style." She used accessories from around the house in new, more suitable and creative places. After staging a 3000 square foot area, the accessory items we needed to purchase were less than $100!

Now that our home is staged, we feel very confident in how our home shows to future buyers. Several Realtors have told us that our home shows beautifully and demonstrates a pride in ownership! I highly recommend Peggy and the staging process for anyone thinking of listing their home for sale.

Cheryl R.
Fenton, MI
_____________________________________________________________
My husband grew up in this house. It's been in his family since 1940. I first saw the house in 1972 and I have to say, it has never looked this good!

Eve B.
Flint, MI
_____________________________________________________________
We were a little bit hesitant at first about hiring a "so-called" home-stager to stage our home. After all, we had staged our own homes in the past and were successful! However, we decided to give Peggy a try. My wife and I were very surprised about the knowledge and professionalism she had and the great ideas that she incorporated into staging our home. As a matter fact, she even went above and beyond and came back the following Saturday to make sure everything was in it's proper place. She even brought in more pictures that she had acquired during the week to place in our home. That said it all!

Furthermore, she even took pictures of our staged home and followed it through the listing process with our agent. She suggested making a few changes in the visual format of the listing agent's pictures & helped us along with that whole process. She follows you through it all the way to make sure everything is perfect. As a result of Peggy's Home Staging efforts, we ended up selling our home in just 8 days! This is record time for the Flint area based on current real estate market conditions. My wife and I are very, very impressed with her work.

We will definitely be using her services from now on!

Gaetan M.
Flushing, MI
_____________________________________________________________
I loved the staging process and it was a real pleasure working with Peggy! Peggy's expertise and input were invaluable. She did a lot more than just staging – she went above and beyond the call of duty! Peggy really worked hard and put love and caring into the project, consulting in all areas of remodeling and making sure that we got maximum results for minimum investment. I felt the home looked fabulous after staging, it made a huge difference in receiving multiple offers.

We received offers from people who went through twice – and also those who were seeing the home for the first time – buyers couldn't resist the "call of the house." This was no small feat in a market where there are a lot of houses available! Staging took the stress off me by not having to deal with a lot of issues. And as a result of the staging, I was able to increase my asking price! I definitely feel staging was a great investment. Also loved working with Peggy!

As a Realtor, and a home owner, I definitely would recommend home staging! It is the best investment you can make in getting your properties sold! Staging is a "must," it helps at any price range. I would definitely recommend home staging, not only in general, but staging in particular with Peggy & WOW! Factor Home Staging!

Judith K.
Troy, MI
____________________________________________________________
I have to admit that at first, it was difficult to hear my "beautiful house" would show as cluttered and unappealing to buyers. However, as the staging process progressed, I began to understand the philosophy. When Peggy finished the house it looked great! So much so, that had I not already owned the place, I would have bought it! Seriously. Anyone putting a house on the market right now knows it can be stressful. However, I was put at ease by Peggy's expert help and advice and I knew that I was placing my house on the market looking its very best.

I have been asked if I felt home staging was worth the investment. Absolutely! In addition, I think that home staging can apply not just for selling a home, but also for making a current home look and "feel" better. I would totally recommend home staging -- and specifically home staging with WOW! Factor and Peggy!

Sharon N.
Holly, MI
___________________________________________________________
Working with Peggy was such a pleasure! She is very professional and made it very comfortable and easy for my husband and I to be receptive to the changes that needed to be made to improve the marketability of our home. She has an excellent eye for making huge visual improvements at minimal expense and inconvenience. We felt confident that, after Peggy did her magic, our house would sell-- and it did! We had 2 offers in the first 12 days!

We would not hesitate to recommend Peggy to anyone interested in selling their home and for those seeking a quick sale at a fair market price AND those seeking the help of a professional with a vision to walk them through the daunting and overwhelming task of preparing to sell a house and getting ready to move (especially in this down turn market!) Peggy is a professional, always on time, uses her time efficiently, is energetic, has a great sense of humor and vision, (which helps to ease the stress of changing your home from the familiar to a fresh new marketable look!), genuinely cares about her clients and will take on any task to get the job done!

Was it a worthwhile investment to have our home staged by Peggy and WOW! Factor Home Staging? Without a doubt!"

Linda K.
Bloomfield Hills, MI
___________________________________________________________
Having just gotten back from house-hunting out of state, boy, did we see some of everything! I picked up some brochures for houses that were staged for sale and my goodness, their appearances were so bad. We were not inclined to look at any of these so-called "staged" homes. Peggy's staged homes look SO MUCH better than anything we saw. If we were looking to buy in Michigan, we would definetly be interested in making an offer, or at the very least, setting up an appointment to view, any of the homes she has staged as they are all move-in ready and quite appealing!

I just wanted everyone to know that she is worth her weight in gold and I hope people continue to realize how talented she is and take advantage of her talents and insight to get their homes sold!"

Martha H.
Flint, MI
___________________________________________________________
What a difference! The home was presentable before, but after the home staging, it looked so much better! The rooms looked larger, and the feel was brighter! Thanks, and WOW!"

Dawn K.
Alma, MI
___________________________________________________________
My house sat on the market for 18 months with the last six months resulting in no showings or interest of any kind. I had heard about WOW! Factor Home Staging through a friend at work and decided to contact them. Peggy came out to my home, thoroughly explained the benefits of home staging, showed me several option plans, and provided a detailed explanation of the staging process. I liked what I heard and hired her on the spot.

Peggy was professional; knowledgeable; on time; worked extremely hard; and last but not least, did a fabulous job! In fact, I made the comment that 'My home is so nice now, maybe I will just stay here!' Within one week of staging, I had 3 interested parties and multiple showings! Both me and my Realtor are convinced, staging is absolutely necessary - especially in today's market. And I ended up with a home that I am proud to have on the market!

Ruth A.
Davison, MI
___________________________________________________________
You are the lady to do it!! Our listing went from blah to BEAUTIFUL to SOLD!!

Thank you!

Ange P.
Grand Blanc, Michigan
___________________________________________________________
My wife mentioned home staging to me when we first put our house on the market over a year ago. I was completely against it because I believed our house was priced fairly, looked fine as it was, and it would sell when the right buyer was found. After our house sat on the market an additional three months with only one showing, I found myself agreeing with my wife -- that maybe at the very least, we needed to speak to a home stager. Soon after Peggy arrived, she quickly set about putting my mind at ease, she earned my trust, and convinced me of her expertise and knowledge. I agreed to have our home staged.

After Peggy spent two days in the house, my first word when I saw our house was indeed 'WOW!' And now, to say that I am a believer in home staging is a huge understatement! Our home sold with multiple offers just 3 1/2 weeks after staging! I will always use Wow! Factor Real Estate Staging for any future home sales that I have.

Jim W.
Grand Blanc, MI
Introducing a fresh new look for your Profile.
Click the 'Edit Profile' button below to enter 'Edit Mode' and continue the tour.