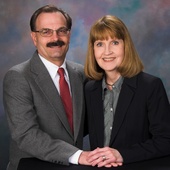 Real Estate Agent
Pat & Steve Pribisko
Westlake, OH

—

Keller Williams Greater Cleveland West

Keller Williams Realty Inc.
Keller Williams Greater Cleveland West
30400 Detroit Road, Suite 100
Westlake , OH 44145
---
Pat Pribisko, J.D.; Steve Pribisko, M.S.S.A.; 40 yrs. Combined Real Estate Experience; Agents Who Earn Your Trust; So Friendly They Feel Like Family; Customized Real Estate Services
Get to know Pat & Steve Pribisko
TEAM PRIBISKO and Keller Williams Realty Greater Cleveland West, Westlake, OH - - your premier resource for Northeast Ohio Real Estate. Make TEAM PRIBISKO Your Realtors® of Choice (40 years of combined real estate experience)!
Although based in Westlake, OH, the members of TEAM PRIBISKO concentrate on the 7 counties that are a part of the Greater Cleveland Market, yet TEAM PRIBISKO covers 22 counties in Northeast Ohio as needed. This is because of TEAM PRIBISKO's investment in robust on-line lead generation software. The members of TEAM PRIBISKO are available by phone, e-mail, text message, etc.; and, they communicate both in the manner and as often as each client chooses. TEAM PRIBISKO represents both Buyers and Sellers. Through www.AgentsWhoEarnYourTrust.com, TEAM PRIBISKO's web site, Buyers and Sellers can search directly in the MLS, much like a Realtor®, using the Team's IDX. Buyers can shop for homes and Sellers can look at their competition. Contact TEAM PRIBISKO by e-mail at pribisko@sbcglobal.net or by phone and text message at 440-725-0910 for Pat or 440-463-1726 for Steve. Team Pribisko is a full time team. We are available 24/7 to accommodate the needs of its clients.
Pat & Steve Pribisko's Blog Posts
Real Estate General Information
–

almost 8 years ago
Real Estate Market Trends
–

almost 8 years ago
Real Estate Market Trends
–

almost 8 years ago
Real Estate Market Trends
–

over 7 years ago
Certifications
Patricia W. Pribisko, B.S., J.D., ASP, has an extensive background in residential and commercial real estate as an attorney for 34 years. Because of her passion for real estate, she became a Realtor® as well. She has prior experience in banking operations, where she supervised credit & collections; escrow & loan processing; and the legal department. This gives Pat significant insight into every aspect of a real estate transaction, from both the seller's side and the buyer's side. She has excellent interpersonal skills. But, Pat is, also, a tough, yet low key, negotiator when it comes to representing clients' positions in a real estate transaction. In addition, Pat enjoys staging homes for sale - - she is an Accredited Staging Professional ("ASP"). She stages clients' homes at no charge. Pat, also, has an IMSD, which is an Internet Marking Specialist Designation.
ABOUT STEVE: Stephen M. Pribisko, B.S.W., M.S.S.A., has a bachelor's degree in social work and a master's degree in social services administration. He has served in many capacities in social services and has been on several nonprofit boards. Steve joined Pat as a Realtor® because of his excellent communication, interpersonal, and organizational skills. Because of his training and skill set, Steve is uniquely qualified to assist sellers and buyers through the many (often stressful) complex decisions and processes involved in selling and buying the most important asset in their lives - - their homes.
Testimonials for Pat & Steve Pribisko
Lorne and Mallory Torres

12/15/2012

Lorne Torres, Client, Buyer: My wife and I began looking for a home in June of 2012. After a few disheartening experiences with several other Realtors, we met Steve and Pat Pribisko after a call we made to them based on a recommendation from the Trulia Web site. We couldn't have made a better decision to use them. Steve and Pat are top notch professionals in their industry. They come prepared to each house hunting experience with printed color documents on the details of each home, point out legitimate pluses and minuses of them, and genuinely have your best interests in mind. They are also very down to earth and didn't have the overly friendly (fake) disposition like other Realtors we encountered. This made us feel very comfortable. We visited many homes with them (over 40) and they did not attempt to talk us into any of them compared to speaking with other Realtors that glaze over with dollar signs in their eyes after the first home visited. They truly want to find the right home for you.Both Steve and Pat come with unique skills that complement one another when searching for a home. Since they have real estate and law experience between the two of them, you get the complete picture as opposed to dealing with one person that has a singular specialty. They both brought out various perspectives on points we hadn't considered. After we decided on a home, it was time to iron out all the details. They wanted to ensure we had the home in tip top shape when we moved in. After the home inspector found a few items that needed to be addressed, they made several visits with us (and on their own) to ensure we weren't buying a lemon. In the end, Steve and Pat were instrumental in ensuring the seller took care of what we deemed their responsibility.They also made great recommendations for the home inspector, loan officer, and insurance agent. Each of their recommendations turned out to be just what we needed. The home inspector was fast and noticed the important details that we would have overlooked, the loan officer was fast (closed in less than 30 days) and extremely detailed, and the insurance agent had the best price for Home owners insurance when compared to other companies. After moving into our new home they helped with getting information on a mailbox key that we were having difficulties with. This let us know that they don't abandon their clients after the sale. That says a lot. Steve and Pat are simply among the best at what they do. If we ever end up buying another home, we will be sure to use them. Lorne and Mallory Torres Sat, Dec 15, 2012

Jennifer Cseh, Client, Seller: What does Team Pribisko do well? During my experience with Team Pribisko I was very happy with their open communication and the way they demonstrated such expertise in their field. I always felt very informed and appreciated how available they were to answer any questions or update me on the sale of my house. I was also very impressed with the amount of knowledge they demonstrated. When we first met, they were prepared with the needed documentation to begin the sale of my house. They were very informative and clearly explained all the paperwork, making it much easier to understand. Team Pribisko was very thorough and I felt very confident in working with them that everything was done correctly. And, why someone looking for a Seller's/Listing Agent would want to use Team Pribisko?If you are looking for a selling/listing agent I would highly recommend Team Pribisko. In my opinion they are the best agents in the business. They are very knowledgeable and will work with you in every way possible. They made me feel very important and we created a friendship that we continue to maintain. Not only are they great agents, they are great people! Thu, Nov 15, 2012

Steve and Debbie Walsh

11/10/2012

Stephen Walsh, Client, Buyer: As recent buyers of a home in the Cleveland area, we were extremely happy with the service Steve and Pat Pribisko offered to us. This team always kept our best interests in mind as they patiently went out of their way to give us sound advice and honest assessments of the properties we viewed. Steve and Pat are friendly, down to earth people who truly care about their clients and have a keen understanding of the Cleveland housing market, including re-sale values and geographic trends. As an experienced agent, Steve was able very helpful with all phases of our purchase, including the home inspection. As a licensed attorney, Pat assisted with all aspects of our transaction. Steve and Pat are highly recommended by us due to their excellent level of client service, and their generosity of time and attention to both our short term and long term goals. We couldn't have been more pleased in doing business with them. Thanks again, Steve and Pat, for all you have done for us. It was all greatly appreciated! Best, Steve and Debbie Sat, Nov 10, 2012

Joyce Able Schroth

11/09/2012

Joyce Able Schroth, Client, Seller In the real estate world, trust has to be a most important quality and Pat and Steve Pribisko keep that value along with honesty and integrity as part of their package. Because of their caring and respectful manner it seemed like they were our family selling a house. Joyce Fri, Nov 9, 2012

Michelle McCourt

11/09/2012

Michelle McCourt Client, Buyer During my time working with Steve and Pat Pribisko, I felt that they always had my best interest in mind. They did not simply try to sell me a house, but tried to help me find a home that fit all my needs. They routinely pointed out problems with houses to make sure I had all the information I needed to make an informed decision. They were never annoyed by the fact I looked for an extended period of time or that I had them show me over fifty houses. They assured me that they would help me find the home I wanted, no matter how long it took. Once we found my dream home, they helped me negotiate a fair price. It was my first home purchase, they took the time to explain everything to me and help me navigate all the paperwork and procedures. I would highly recommend them. They are honest, trust worthy, and all around great people. ~Michelle McCourt Fri, Nov 9, 2012

Eric and Natasha Daina

11/09/2012

Eric and Natasha Daina, Client, Buyer "Steve and Pat Pribisko were a pleasure to work with throughout our home buying process. During our initial meeting, we determined what our needs were and what our budget was in the homes we wanted to look at and Steve and Pat went to work. They found over thirty homes for us to view, with our needs, and within our budget. Not only that, but with each home we toured, Steve and Pat pointed out different features as well as issues with each home that might swing our vote or give us pause. We ultimately decided to build, and once we did so, Steve and Pat were and still are with us during the entire process. They made sure the contract we signed had no loop holes and if we had any concerns, Steve and Pat have always been prompt with a thorough and thoughtful response. We cannot express how good it feels to have two extra sets of eyes and ears during our build to make sure we are getting exactly what we want with our new home. We highly recommend working with Steve and Pat Pribisko if you are on the hunt for a place to call your own. They will be with you every step of the way, treat you like family, keep you on track and within your budget, and ultimately make sure the home you choose is one you'll love. Eric and Natasha Daina" Fri, Nov 9, 2012

Keith and Maria Estes

11/09/2012

Keith and Maria Estes, Client, Buyer What does Team Pribisko do well?- After working with Team Pribisko for almost two years to find our home, my wife and I cannot thank them enough for their patience! It is a buyers market, yet Pat and Steve never once pressured my wife and I to make a decision in anyway, shape or form. They always stressed that WE have the decision to make, and would always support us 110%! Moreover, whenever my wife and myself had any general questions regarding all topics, Pat and Steve were always upfront and honest. Why someone looking for a Buyer's Agent would want to use Team Pribisko? - After looking for homes for almost two years, never once did Team Pribisko waver to aid us in our home search. Whether it was helpful advice about expanding our search, to their knowledge about the real estate market in certain areas, Team Pribisko always had our best interests in mind. Their honesty and knowledge when looking at homes, to making our final signatures on our first home, Team Pribisko helped us every step of the way! Keith and Maria Estes Fri, Nov 9, 2012
Introducing a fresh new look for your Profile.
Click the 'Edit Profile' button below to enter 'Edit Mode' and continue the tour.