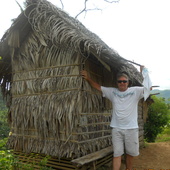 Industry Observer
Randy Landis
Overseas Retirement Consultant
Tupelo, MS

—

Retired in Samar
Currently providing consultation and informational services related to retirement and living overseas, and specifically in the Philippines. Custom consults are available.
Get to know Randy Landis
Welcome to my updated Active Rain Page! 
After spending over 13 years engaged in the business of marketing and selling real estate, I made the difficult decision to retire...again. During this short but fulfilling second career, I have enjoyed some really good times in real estate, and like many others, have gallently navigated through the troubled waters of the Great Recession. This time around though, my retirement plan was to head to the Western Pacific and settle in my choosen paradise. As I progressed from rookie agent up through managing broker/owner of a national franchise, the real highlight during my busiest years has truly been helping people achieve their dream of home ownership. There was nothing more gratifying than handing buyers the keys to their first home witnessing their look of excitement and relief. Along with these feelings of a complete sense of accomplishment, nothing has been more satisfying to me. 
Much like the anxiety associated with finding and purchasing that first home, the same anxiety can exist when the idea of retirement finally approaches.  For generations of Americans, retirement has always been considered the final installment in the Great American Dream payout. However, the aftermath of the recent Great Recession and our country's lethargic economic situation has forced many retirement plans to be shelved. The notion of enjoying a full retirement for many remains just that - a notion. And for some, aside from all it's ambiguity, it has completely dropped off of their "bucket list" altogether.
I can say one thing for certain - if you think you can't afford to retire, then you will never retire! Such negative thoughts like this are the same ones we are taught as real estate agents to combat against. As successful agents, we have been trained to the point where negative thoughts should no longer occupy space in our mindsets! But know this - there are viable retirement alternatives to many people these days and it just requires practicing the concept of "out-of-the-box" thinking. Have you ever thought about living overseas?
Visit my website Living in the Pacific  for more insight into living and retiring overseas. 
Randy Landis's Blog Posts
ActiveRain Community
–

almost 9 years ago
ActiveRain Community
–

over 7 years ago
ActiveRain Community
–

over 10 years ago
ActiveRain Community
–

over 7 years ago
Certifications
Today my focus has shifted to helping those looking into retirement living overseas - and all that it has to offer. From warm tropical weather, crystal clear turquoise blue waters, and coconut trees, to the realities of living in a developing country, I can provide you the information and insight you need to become an informed retiree. 
Of course, simply packing up and moving to a low-cost-of-living country is not for everybody, it does take substantial planning, both financially and in asset management. For many, with today's expanding economic outlook, retirement has never looked brighter. At the onset of the last big economic decline which began in 2007 is when we began to plan our retirement and even the Great Recession could not detour us. Here it is 2019 and we are now residing in the Philippine Islands in the Southeast of Asia part of the year and on the Island of Guam the remainder of our time. Although I have given up my real estate licensure, my job is not quite finished. I can consult with and advise anyone wishing to relocate or retire overseas.
Naturally, there are many more retirement destinations to choose from besides the Philippines, and many are much closer to the U.S.A. Our choice was based on economic growth in Asia combined with a low cost of living, and affordable health care. Okay, the tropical climate had a little to do with it. You can study all the collected data, analyze real estate statistics, crunch the cost-of-living numbers, study the weather and more...but nothing replaces your instincts when it comes to choosing your retirenment destination.
And with all the technology that is available today, living abroad is not nearly as far removed as it used to be. You should know that most of the information on retiring overseas is freely available and you just need to know where to look. I am happy to provide you with basic guidance and information. If you need a more specific consultation or information package for a particular destination, please contact me privately.  
Please visit me at any of my social media, website, or Youtube links above to learn about my own enchantment, and for information about living and retiring in the region known as Southeast Asia.
Here's wishing you a happy retirement!
Introducing a fresh new look for your Profile.
Click the 'Edit Profile' button below to enter 'Edit Mode' and continue the tour.