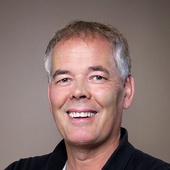 Real Estate Broker/Owner
Robert Haynes
Fishers, IN

—

Robert Haynes & Associates
Get to know Robert Haynes
My philosophy of business: First off, I'm retired. Well, people often laugh when I say that. I am a self motivated "doer" at heart. I spent 29 years of federal service and retired in October 2010. Real Estate is a second career for me. I love being a realtor. With my back ground in banking, construction, subcontracting and remodeling, I bring a little different perspective to the table. The beauty about this for me is I don't depend on sales to put food on my table. This allows me to be pressure free and look out for my clients best interest. I won't hesitate to walk away from a deal if it's not in the best interest of my client. I've done that time and time again...even to the sacrifice of "would be" commissions. I believe in ensuring credibility and integrity for me and all parties in the transaction. Have I lost commissions over the short term? Sure have. What I gained in return was client loyalty, trust, confidence and referrals. I'll take a long term client that has my trust any day over a one time commission on a sale that wasn't in the best interest of the client.
Robert Haynes's Blog Posts
Real Estate Market Trends
–

over 7 years ago
Real Estate Market Trends
–

over 7 years ago
Real Estate Market Trends
–

over 7 years ago
Real Estate Market Trends
–

over 7 years ago
Certifications
What others say about working with me...
Today I was asked by a friend, " Is Robert a good real estate guy?" I said, "No, he is an excellent real estate guy, truly." As a first time home purchaser we came to the process with a minimal understanding of all that is involved from evaluating a home to closing. Robert knew when to act quickly and which items to leave alone. He saved us loads of time, and got us into the right kind of homes for viewing. Robert gets right to the point with each question or need. No nonsense, but friendly. In the end we found a great home for our needs at a good price. I am sure there are other fine real estate agents out there, but if you are shopping around for an agent, I would say, just stop looking and give Robert a call.
Steve and Amie P. Indianapolis
When you move to a new area, there are so many logistics to juggle - getting settled at a new job, finding your way around town, updating your records. The list seems endless. And perhaps the most stressful is finding a home. After all, you want to find the right home in the right place at the right price. And key in that process is finding the right real estate agent. And that's exactly what happened when Robert Haynes began helping us. Robert was the perfect blend of patience and perseverance as he worked on our schedule and yet kept us moving toward the goal. And before you know it, we found a great home that truly fit our family. I can't thank Robert enough for his help. From search to offer to closing he was there every step of the way!
Brian and Kacie L. Noblesville
Working with Robert to purchase our first home was both helpful and effective. Robert's diverse real estate experience helped us evaluate a number of homes that were not right for us. Most importantly, he helped us choose and acquire the property that is perfect for our young family. In short, Robert is kind, patient, and experienced in a way that makes him uniquely qualified to help home buyers find the correct home.
Bill and Aubrie D. Fishers
Robert Haynes is more than a Realtor for me-Robert's tremendous strength of knowledge and intuition in this difficult housing market should be the easiest decision you make before buying or selling.Our house had 16 showings in one week and sold in less than 7 days for top value.Combine that skill with his sincere and genuine support as person, and you have more than a realtor-For as fast as he helped our family sell and move into our house of our dreams- you might as well call him SUPER Robert
Jason and Jen V, Noblesville
We gave Robert the difficult challenge of finding a 4 bedroom home with a finished basement, in a very moderate price range, outside the beltway, on the west side of Indy. Robert used advanced technology to locate several homes. He then skillfully negotiated an amazing deal, offering creative suggestions to help us close very quickly on the perfect home for our family. I
am impressed with Robert's sincere desire to please his buyers, and his out-of-the box thinking to help find homes for his clients.
Marie M. Indianapolis
We have bought and sold several homes, and Robert is the best realtor we have worked with. Robert is extremely professional, has the best technology available, and uses innovative methods that really work! We sold our home with the first showing! We would not hesitate to recommend Robert for any type of real estate need!Gary and Ruth B. Carmel
Simply Put: Robert Haynes is the best realtor in Indiana. In my 34 years of buying and selling many homes, Robert has proven to be an exceptional realtor on more than one occasion. The latest transaction that he handled for me was done after I had relocated to another state. Robert gave me advice that I heeded and my home sold in 17 days in a very difficult recessionary market. Robert gets a triple A rating from me. A gold medal. A 10 out of 10. Need I say more?Renita Y. Carmel
Robert Haynes is very knowledgeable, principled, and empathetic. I met Robert when I approached him with some questions I had about short sales, foreclosures, and rural grants/loans. E-mails were responded to in a timely fashion and Robert addressed every issue. While living in Nevada when I was looking for a house in Indiana, Robert guided me through which properties were suited for me and which were not. He has the ability to keep your priorities in mind and match up properties with desired locations. Remarkably, I bought my house without stepping foot in it. Once I saw the property, I knew it was the right home for me. Robert led me through every step and even got the house for less than I thought I would have to pay. Thank you, Robert.Gloria D. Noblesville
It was a pleasure working with Robert buying a new house and selling our existing home. Robert is not like most realtors who just try to "make the sell" and think about their commission and not about the buyer. An example is when we found a house that we really liked but, unfortunately there was another buyer who also made a bid on this house pretty much about the same as our bid. The sellers realtor said give us your best and final offer. Robert said lets hold off and let me go back to the office and check the competition and what the houses are selling for in the addition. About an hour later, Robert called and stated not to offer anymore money for the house because it would be a poor decision and we would lose money if we made a larger offer so we walked away.
We later learned that the house did not appraise for what the seller was trying to sell it for so Robert saved us about $10,000 on the deal where other realtors would not have looked out for the buyer. Robert called the next day and stated he found a house comparable to the one we bid on the previous day. Robert was able to negotiate with the sellers realtor and we were able to get the house for much less than the buyer was asking. Also, we had a home that needed to be sold and there were several houses in our addition that were in our asking price range and a couple had more features than our home. There were also several houses in our addition that were for sale for months and were unable to sell their home. Robert came to our home and with his several years of being in the business offered his knowledge on how to make our house more marketable than the other homes in the area. We took Robert's suggestions and made the improvements he suggested. Our home sold in (6) days. Yes, I said 6 days. So from when we made the offer on the home we are living in now and selling our home was approximately 7 weeks. That is unbelievable. I also need to say that Robert is a very caring person. In the process of selling our home my son became ill and had to go to the hospital several times. Robert told me to take care of my son and he would take care of the rest. How many realtors would have
done that? In my experience of buying and selling homes, I can honestly say no other realtor I have experienced would. Robert is not only an awesome realtor but, now a friend. I have told several of my friends about my experience with Robert Haynes and would recommend him 100 percent.Ryan and Kim A. Indianapolis
Introducing a fresh new look for your Profile.
Click the 'Edit Profile' button below to enter 'Edit Mode' and continue the tour.