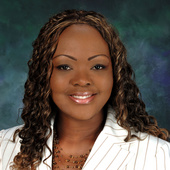 Real Estate Agent
Shataa Whittle
DC Realtors WashingtonReal Estate Agents - Your...
Washington, DC

—

Exit Right Realty
"Service, Commitment &Integrity! are my personal service goals to my clients and I look forward to building my services on the satisfaction of my clients!I am Looking forward to working with you!
Get to know Shataa Whittle
"Service, Commitment & Integrity, is my personal service goals to my clients. As a REALTOR, I have found this position of service to be very rewarding as it relates to achieving my clients goals. I have also come to value the relationships that I have established and now understand that those established relationships were the true value obtained. I am honored when I am asked to provide real estate services to my clients. As a Licensed Professional, my main concern is protecting and working in the best interest of my clients. I take the duty of helping my clients accomplish their real estate goals very seriously. I apply this approach to both my Buyer and Seller clients. I look forward to building my services on the satisfaction of my clients and providing the best real estate services possible, one transaction at a time!"
Shataa Whittle is a Realtor that provides real estate services to clients within the DC Metro Area. She is a licensed Real Estate Professional in Washington DC and Maryland. She incorporates a sophisticated approach, extensive area knowledge, clear and a focused mind when it comes to working with her clients. This experience has provided her with great insight into how real estate values are formed and how they interact with the dynamics of The Washington D.C. Real Estate Market. Shataa brings this experience enthusiastically to her clients, as she provides a truly in depth analysis of the market that affects their real estate needs. As a Licensed Professional, she is dedicated to the best interest of her clients. She truly values her client's time and attention when showing properties. To assure good time management, she incorporates a "Wish List" to make sure that her clients are shown properties that are of interest to them. Shataa serves clients seeking homes of all sizes, from condominiums, to cottages, to Luxury Real Estate. She has successful record of accomplishment and extensive experience working with first-time homebuyers as well as those looking to move up to their dream home. If you are considering buying or selling a home, then she invites you to contact her to learn more about how she can help you to accomplish your real estate goals.
Regardless of her client's price range, the process is the same. This process begins with an initial goal-setting meeting. Topics discussed are client's needs in a new home, timing, style & location preferences, and lifestyle & wish list of features. This initial meeting streamlines the home search process and allows Shataa to find a perfect fit for her clients. She strives to make her clients' experience enjoyable and rewarding by listening carefully to their needs from the start and always understanding their goals. Thereafter, she provides attentive service throughout the process to ensure a seamless transaction.
For her Buyer clients, her main mission is to assure that their interest is protected at all times. Another goal for her buyer clients is to seek and show the perfect property based on their Wish List. Her extensive experience and area knowledge plays a vital role when assisting her home buying clients. She always seeks to provide information to home buyer clients to make sure that they are able to make an informed decision while protecting their real estate interest. She provides her clientele with an honest, straightforward education on the intricacies of the transaction process to inspire the soundest investment decisions. Her services are coupled with strong work ethics and organization skills. She is an experienced professional that knows the community and is ready to execute her skills to help her clients meet their goals. Shataa facilitates New & First Time Home Buyer Seminars often, to make sure that she keeps her clients informed on all the latest Home Buying Programs. Shataa's vision is to provide the best real estate services that she can offer to her clients, one real estate transaction at a time.
For her seller clients, she provides current market information that keeps her clients informed. She incorporates the latest technology in her marketing plans. She anticipates the needs of her clients and develops a marketing strategy that will aim to achieve her client's goals. Her marketing strategies aim to assure that each listing receives maximum exposure. She believes in pricing the property at the right price which is very important to her strategy. Her "Lets Get It Sold" attitude is what she is best known for. This attitude is her main driving factor when working with her seller clients. She believes in working with the seller and reaching their goals. Her mission is to take her clients real estate from Selling to Sold! Her techniques and marketing strategies include effective web marketing. Shataa consistently works her area knowledge, qualified buyer contact database, and professional real estate skills to meet the goals of her clients. Shataa truly exemplifies professional real estate services and consultancy at its best. Shataa is also a Certified Distressed Property Expert (CDPE). This training has given her a good foundation of information to help distressed home owners by providing timely Preforeclosure Information & Alternatives. This education has also helped to provide Shataa with the education and training on how to professionally package short sales and help clients thru the difficult challenges that may arise while Short Selling a property.
In spite of the current challenges within the real estate industry, Shataa still envisions using her real estate skills to help at least 100 families to achieve their real estate goals this year. She enjoys helping clients experience the American Dream of homeownership. She realizes that homeownership is a good foundation to begin climbing the financial latter. She believes that this dream will become an accomplished reality, one real estate transaction at a time. Shataa is a member of the National Association of Realtors and many other local Real Estate Association Boards. She is also an experienced investor. She enjoys swimming, writing poetry, networking, and spending time with family and friends.
Home Buying Program Experience
· Assisted homebuyers using the HPAP, EHAP, Voucher, DC Bond Programs & more...
· Provide assistance to Homebuyers using the NACA, CDA, & other Maryland Home Buying Programs
Notable Achievements / Sales and Marketing Experience
· Listed among the Top 5 Realtors in the office for 2009
· Licensed DC & MD Realtor
· Manage team, sales and marketing operations (Exit Right Realty - "The Dream Team")
· Negotiate loan terms and conditions
· Submit and Negotiate offers for buyers
· Receive, Review, and Negotiate offers for sellers
· Help home sellers with short sale negotiations & Draft Contracts
· Certified Distressed Property Expert (CDPE) www.preforeclosure911.com
· Work with investors to secure properties
· Provide Full REO Services to asset managers and lawyers
· Host Home Ownership workshops (www.newhomebuyerseminars.com)
Professional Affiliations
· GCAAR Realtor Association
· Maryland Association of Realtors
· NAR - National Association of Realtors
· DC Realtor Association
Call her today for a Professional Real Estate Consultation or Market Analysis.
Her Contact information can be found below.
202-276 - 2295 - CELL DIRECT
Or Schedule an Appointment NOW!
A full property search can be conducted at http://www.dcandmarylandmls.com
Visit Shataa's Other Websites & Blogs for more information
New Home Buying Seminars Website click here...
Learn How To Avoid Foreclosure / Preforeclosure Alternatives Information - click here
Search the DC and Maryland MLS for Properties Now - click here
Blog with Shataa's Real Estate Team NOW! - click here...
Certifications
Shataa Provides Professional Real Estate Services to:
DC Real Estate Market - Living In Washington DC
Anacostia Adams Morgan; Bloomingdale; Capitol Hill; Cleveland ParkColumbia Heights; Crestwood; Dupont Circle ( Citizens Association ); Foggy BottomFoxhall Community ( Citizens Association ); Georgetown ; Glover Park; HillcrestLogan Circle; Mount Pleasant ; Petworth ; Shaw / Howard ; Greater U street CorridorSouthwest DC / New Stadium; Takoma Park ; Truxton Circle ; Woodley Park ;Ledroit Park ; Massachusetts Ave ; Mt Vernon ; Sheridian - Kalorama ; Sixteen Street ; Strivers Section ; Archeology in DC , Chinatown, Downtown,
MD Real Estate Market - Living In Maryland PG; Accokeek Md.; Adelphi; Annapolis Md.; Potomac Md; Aquasco; Baltimore County, Baltimore City Md.; Beltsville; Berwyn Heights Maryland ;Bladensburg Md.; Bowie Maryland; Calverton Md.; Campsprings Md.;Capitol Heights MD; Cheverly; Clinton; College Park Md.; Colmar; Cottage City; District Hgts.; Eagle Harbor; Edmonston Md.; Upper Marlboro, Fairmont Hgts Md; Anne Arundel County, Forestville Md; Glenarden; Glenn Dale; Greenbelt; Bethesda, Chase, Montgomery, Hyattsville Md; Indian Head; Landover Maryland; Landover Hills; Langley Park; Lanham Md; Largo Maryland; Laurel; Mitchellville; Morningside Md; Mount Rainier; New Carollton Md; North Brentwood; Seat Pleasant; Springdale; University Park; Upper Marlboro Maryland; Woodmore Md; St. Mary's County; Waldorf, Montgomery County; Waldorf; Laplata, Howard, Potomac Md.Prince Georges County
It makes no difference what you are trying to do regarding real estate, Shataa can help. Whether you are trying to determine the location of your new home, or if you want your interior upgrades and finishing's to include Hardwood Floors or Victorian style Shataa is knowledgeable. She has helped clients purchase homes with such details to include original character of woodwork and or unique features, high ceilings, fireplaces, patio, garage with automatic garage door openers, large bedrooms, rental unit with separate entrance / in-law suites, Gourmet Kitchens, stainless steel appliances, marble and granite counter tops, jet tubs, skylights, wood cabinets, landscaped yard, 2 - 4 car driveways and more we can help you find that property. Whether you are looking for a specific style of house like: Victorian Style, Tudor, Spanish, Villa, Traditional, Split Foyer, Rancher, Rambler, French Country, Farm house, Cottage Style, Craftsman, Contemporary, Colonial, Cape Cod, Cabin, Bungalow, Attached Row Home, Single Family House, Bed & Breakfast, Duplex, Hi rise, Mobile, Multifamily, Penthouse, Townhouse, Vacation Home, or Water Front I can find it for you, show it to you, and assist in the purchase of that property. What ever the amenities and styles you choose, Shataa can help you find it. If you are looking for newly constructed homes, recently renovated, recent updated amenities, total rehab renovations, or Historic Restoration / Preservation homes Shataa can assist you with locating that dream house. It does not matter if you are looking to Sell your House or Purchase a New Home, She is truly "Your Local Realty Partner" and she is ready to go to work for you!
Want to see more Renovated Homes? Click Here...
Introducing a fresh new look for your Profile.
Click the 'Edit Profile' button below to enter 'Edit Mode' and continue the tour.