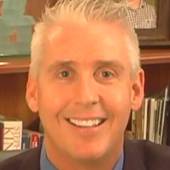 Mortgage and Lending
Tom O'Brien
Specializing in First Time Home Buyers
Nashua, NH

—

www.BestNHMortgages.com
20 Trafalgar Square, Suite 500
Nashua , New Hampshire 03063
---
Tom prides himself in offering the highest level of personalized customer service and exceptional communication skills, to set the standard on which other lenders will be judged. With skills unmat
Get to know Tom O'Brien
Tom prides himself in offering the highest level of personalized customer service and exceptional communication skills, to set the standard on which other lenders will be judged.
With skills unmatched in identifying with his client's highest needs; assisting them in selecting the optimum mortgage product, program, terms, and conditions.
Keeping open lines of Communications with all parties - not only clients, but real estate practitioners, attorneys, appraisers as well as his superior internal support staff which results in a smooth, efficient closings with no surprises, ever.
Tom works with the most educated and superior support staff in the industry, which provides valuable and important information to his clients, drawing from the vast knowledge base from colleagues here at Schaefer Mortgage, most of which have well in excess of 15 years of mortgage banking experience.
With Tom's past experience, owning his own mortgage company, he is uniquely qualified to focus his recourses of an extraordinary operations team to get the job done.  The support team here at Schaefer Mortgage Corp. is so efficient that they've become known amongst real estate professionals as the "Rescue Lender".  When the competition turns down a loan at the last minute, my team routinely closes the loan in one or two days. 
Knowledge, experience, work ethic, team support, energy, and commitment: These are just a few of the reasons why Tom has been recognized nationally as a leader in the mortgage profession. With a Consistent and positive performance that instills confidence in his clients to refer family and friends.
My commitment is to build TRUST throughout the loan process and have better educated homeowners upon closing.
"I don't make promises......I make commitments"
Certifications
Fixed Rate Mortgages The most common type of mortgage program where your monthly payments for interest and principal never change.  
Adjustable Rate Mortgages (ARM)
These loans begin with an interest rate that is lower than a comparable fixed rate mortgage, but the rate changes at specified intervals.
FHA Loans
The Department of Housing and Development (HUD), is the federal department responsible for the major housing programs in the United States.  One of these programs is the FHA (Federal Housing Administration) loan. 
NHHFA Loans
New Hampshire Housing Finance Authority (NHHFA) is a non-profit public benefit corporation established by the state legislature. The Authority operates a broad range of programs designed to assist low and moderate income persons and families to obtain decent, safe and affordable housing.
USDA Rural Housing
USDA financing can be just the right mortgage choice if you don't earn a big income right now, or you haven't saved a lot of money yet. These accommodating loans were designed to offer the extra help you may need in fixed - rate programs that are just right for you, right now.
FHA 203k Rehab Loans
Renovation loans such as the FHA 203k program are used to make improvements to an existing property.
VA Loans
A Veterans Administration (VA) loan can be used to help American servicemen or women and/or their spouses secure financing for a mortgage purchase.
Home Equity Loan
Home Equity is your home's dollar value that you own outright. It is the difference between your home's appraised value and the balance of your mortgage loan.
Construction Loans
Many people prefer to custom-design their own home, perhaps because it's too difficult to find a home that meets all their needs or because they want a brand-new home. A construction loan is a loan that finances the building of that new home.
Reverse Mortgages
A Special type of loan made to older homeowners (typically 62 +) to enable them to convert the equity in their home to cash to finance other needs.
Balloon Mortgages
Short term mortgages that have some features of a fixed rate mortgage.
Interest Rate Buydowns
The buyer would pay points above current market points in order to pay a below market interest rate during the first two years of the loan. At the end of the two years they would then pay the old market rate for the remaining term.
Jumbo Loans
When you are ready to make a purchase, you are going to be faced with unique terms such as conforming and jumbo loans. So, what is a jumbo loan?
Exclusive......Buy Down Program:
Tom offers his clients post closing benefits called.......".THE BUY DOWN PROGRAM".........Here's how it works......
Tom will consistently monitor YOUR current interest rate and loan program ......FOR THE LIFE OF YOUR LOAN........If the current mortgage rates drop 1/4% less than YOUR current rate on a no closing cost program, Tom will refinance your mortgage.....WITH NO CLOSING COSTS AND NOTHING ADDED TO THE PRINCIPAL BALANCE............FOR THE LIFE OF YOUR LOAN.
We DO NOT Make money based on the interest earned or accumulated every month......We generate our revenue based on the number of loans that we close on a weekly or monthly bases. Tom will continuously monitor his client's loan rates and programs; this is a huge part of our customer retention and one of the many reasons why Tom maintains very high percentage of repeat and referral clients. This is all based on the" CUSTOMER FOR LIFE". Philosophy.
Multiple Lending Sources
We have Access to multiple lenders... through out the United States that Local banks, credit unions and real estate companies, generally don't have...-- They rely on a couple of partner institutions for their mortgage business. As you've no doubt heard, lenders will compete for your business! Tom O'Brien and Schaefer Mortgage Corp. works with over 120 different loan programs and over 12 of the largest lending institutions to find better deals. A commitment to service... Banks generally offer mortgages to bank Customers as an ancillary service; it's not their primary focus. Often, you will be simply "passed off" to their partner after a single conversation. At Schaefer Mortgage Corp, We have a single, proven successful purpose: Mortgage Banking! Access to better rates. We are a direct lender...NOT A BROKER... Mortgage brokers claim to have access to many different loan sources and they do. However, the large national lenders that offer the best rates only offer them to mortgage bankers. For example, we sell many of our loans directly to Freddie Mac (the government-run home financing institution). Your local mortgage broker can't do that. It's the difference between paying wholesale and retail. More control over the entire lending process: As a mortgage banker, we will prepare your closing documents ourselves, locally here in Londonderry NH. And provide the funds for your closing with our own check. We are not at the mercy of a third party for these services. We approve 95% of our loans, without sending it out to a lender for review. Mortgage brokers rely on the end lender for these services, which means less control over the entire lending process.
Tom works with many experienced realtors though out New Hampshire, Mass and Maine.......Here are the top six reasons why Tom is......"The Loan Consultant of Choice" with his local realtor partners.
Approves buyers quickly and accurately Keeping ALL parties (Realtors and clients) informed throughout the process providing the straight scoop up front....No surprises Always closing  the loans ON TIME Provides assistance to his realtor partners with business development Easily accessible after hours/7 days a week
"I don't make promises......I make commitments"
Testimonials for Tom O'Brien
I found a home that I wanted to purchase on a Sunday. My Realtor suggested that I call Tom O'Brien that day. I didn't want to call on a Sunday, so I emailed Tom instead. He told me to give him a call and spent a half hour on the phone with me and had my pre-approval ready that Sunday afternoon. During the loan process if I had questions at any time I could reach Tom on his cell phone. Tom was very knowledgeable, helpful, and thorough during the entire process. He was very easy to speak with and had a good sense of humor. Tom also showed up at my closing and stayed during the entire time to make sure that everything went smoothly for me. I would highly recommend Tom and his team to anyone looking to purchase a home or refinance.

I met with Tom a week before our paperwork was to be signed. He made it a very comfortable and easy process, which eased my mind as a first-time home buyer. He and his team were there every step of the way and made the process so easy and comfortable. I would recommend him and his company to anyone looking for an easy transaction and an honest touch.


Patrica and Steve Dwyer

11/21/2014

We first met Tom O'Brien about 10 years ago when we were refinancing our mortgage. His knowledge of the mortgage industry and factors and trends that affect mortgages and interest rates has impressed my husband and I all these years. Anytime within the past ten years that we have had questions and/or concerns Tom has been quick to respond and extremely helpful. With so many distractions and worries in day to day life, Tom's positive energy and helpfulness has allowed us to be confident with our mortgage and trust advise Tom provides us when asked.
Introducing a fresh new look for your Profile.
Click the 'Edit Profile' button below to enter 'Edit Mode' and continue the tour.