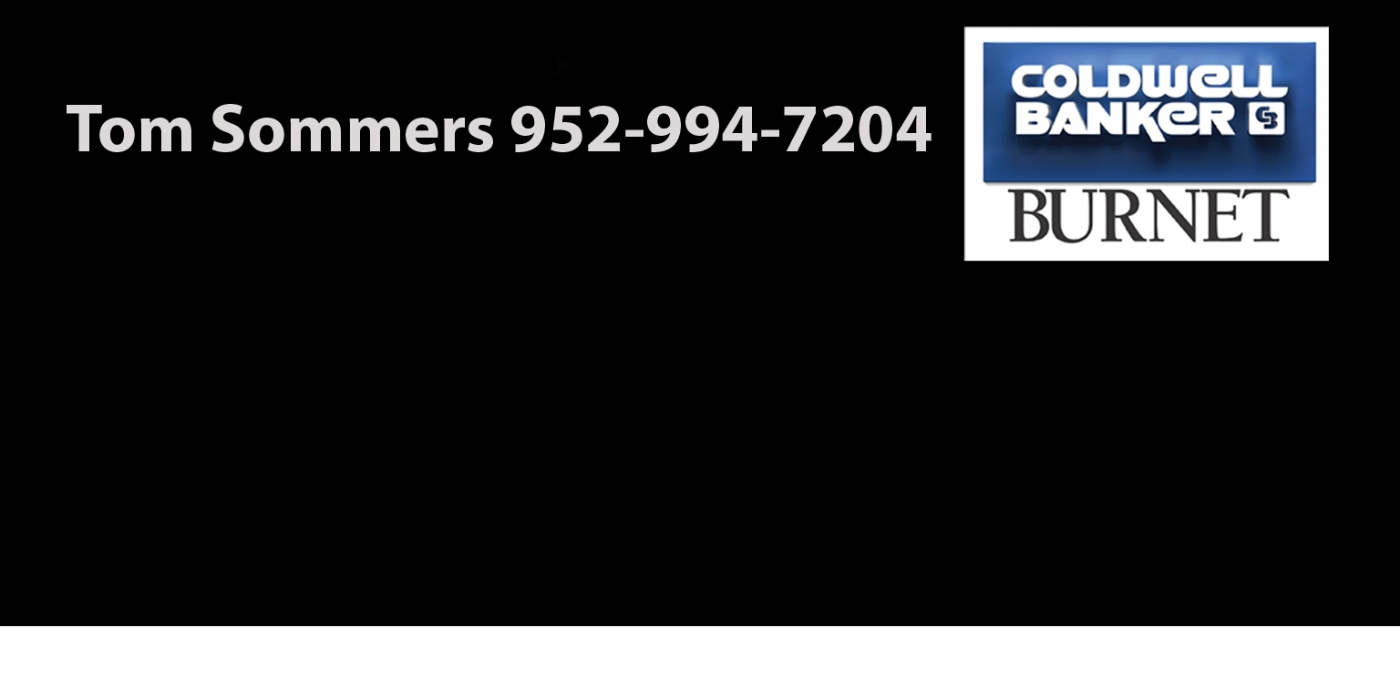 Get to Know Tom Sommers
Tom Sommers Coldwell Banker Burnet 952-994-7204
BUSINESS PHILOSOPHY: To treat each client as you would a friend or family member. Maintain a standard of excellence through honesty and integrity. It is my desire to serve you the client with the highest level of customer service possible.
FOR SELLERS: I have an average list to sale market time of 87 days, well below the average of 157 day in the Minneapolis/St. Paul area. On average I get 97.3% of the listing price for my clients. This is due to an extremely effective marketing campaign and a high level of skillful negotiation. I sell on average, 90% of my listings. Please remember the market determines the value of your home not the agent. Choose your listing agent based on the one who can sell your home in the shortest amount of time for the best possible price with the least amount of inconvenience to you and your family. Your bottom line is the most important number of all.
FOR BUYERS: With my complete buyer profile system we will be able to save you time and money. You will not spend your valuable time looking at homes that do not suit your needs. Your time will be spent looking at the best the market has to offer in the areas that you want to live, in your price range with as many amenities that match your criteria. When choosing a buyers agent, base your decision on who will best represent you throughout the transaction.
Certifications
For Buyers
To search all local listings quick and easy with no hassles click here
THINKING OF BUYING A HOME ?
Don't make the same costly mistake so many home buyers make by finding a home first then a real estate agent and mortgage company. Get your representation in place first, then allow Tom to help you find the home of your dreams. Tom are the best value in town. He work for you for free! He is compensated by the seller. So when choosing a buyers agent, base your choice on who will best represent you throughout the transaction. We think you will find our negotiating skills and customer service to be unsurpassed.
If you have any questions or comments we are available to you. Please feel free to call or email Tom at  952-994-7204 or email tom.sommers@cbburnet.com. He will be happy to address all of your real estate questions.
To visit Tom's website, click here. Please feel free to browse the site and use all of the wonderful toolsTom have set up for you. Remember he is here to service you the client. Referrals are the cornerstone of his business. If you have been referred to Tom, please make sure you let him know who referred you. Over 80% of Tom's business comes from referals from past clients.

Your home is probably the biggest purchase your family will ever make, and it involves many decisions that go beyond simply choosing one you like.
As top Minneapolis St. Paul metro area real estate agent, here is how Tom will guide you through the entire process, from viewing homes and financing, to making sure the final contract is in your best interest:
- You will have full access to ALL homes available for sale on the MLS.
- Tom's expert local knowledge of the Twin Cities area should be invaluable to you, not just in terms of real estate, but also schools, neighborhoods, the local economy, and more.
- Every local real estate market absolutely has its own trends and opportunities. This can vary greatly, even one neighborhood to the next. The Twin Cities are no different! It's his job to steer youprotect your interests.
- What is the true market value of the home you are interested in? Is it priced too high? Is it a bargain that you should jump on? We help home buyers make decisions like this every day, and Tom will make sure that YOU get the best value for your money.
- Negotiating with sellers can be stressful. He will help you negotiate, so that the final contract includes your best possible terms and conditions.
- You should know absolutely everything about the property you are buying! He will make sure to walk you through every step of the home buying process
- Have confidence when signing documents. Contracts are full of complicated terms and clauses that can greatly affect your future life in your new home. We will give you the full benefit of our real estate knowledge and experience.
Let Tom Sommers represent your best interests in your search for a new home in the Minneapolis St. Paul metro area. While you can see a million homes on the web, actually buying your home is another matter entirely.
For Sellers
To see what Tom Sommers has to offer as a listing agent please check him out here
EXPERIENCE:
Tom has owned his own business for over 27 years. Her understands the commitment level it takes to deliver exceptional customer service. Prior to becoming a licensed real estate agent, he purchased, remodeled and sold properties on his own.
You will need an agent who sees and understands the true values in the real estate market. One that also possesses the knowledge and experience to help turn your dream into a realty. We are in the top 3% of sales among all licensed agents in the Twin Cities metro area. He was voted "Super Agent 2006 & 2007" by Mpls/St. Paul Magazine. And one of the top 100 most influential real estate agents of 2016 just to name a few.
WHY HIRE TOM AS YOUR REALTOR?
When you choose him to represent you, you are hiring a team of real estate professionals. This is his chosen profession. Real estate is not our part-time job, this is Tom's business. By working together with him, you will be assured a smooth transaction from beginning to end.
His role is more of a counselor and less like a sales person. He will counsel you through the whole process. Tom's goal in working with you weather you are buying or selling is to make your experience a fun and enjoyable one. His business is built on a foundation of integrity, honesty and professionalism that is hard to find in today's real estate market.
THINKING OF SELLING YOUR HOME ?
Please consider this. The biggest mistake most sellers make is choosing an agent based on the one who says they can sell it for the highest price. The market determines the value, not the agent. So before you choose your next agent give us a call and we'll show you why we are the best choice. This will be based on the ability to get your home sold for the best price, in the least amount of time and with the smallest amount of inconvenience to you. If you are looking for excellent representation and communication, look no further. Tom Sommers will work with you as a team to get your home sold.
Selling your home is one of the most important decisions you will make in your life. How much is it REALLY worth? How long will it take to sell? How do you handle buyers making undesirable offers?
As a top real estate agent with years of experience and a proven track record, it is Tom's job to guide you through this complicated process, from beginning to end. He wants you to get the maximum value for your home, within YOUR time frame. Here are just some of the things that he will do to market and sell your home:
- Buyers want to buy your home for as little as possible! Through detailed comparisons between your home and recently sold homes, and other properties currently on the neighborhood and city market, together we can determine what your home is really worth in today's market. In the industry this is called a Comparative Market Analysis or CMA.
- Buyers have their own timelines, which might not be yours,  He make sure they don't waste your time by qualifying them as to their real ability to afford your home.
- More buyers interested in your  home means more money in your pocket when it is sold. Tom's extensive marketing of your home assures you of maximum value. For example, this web site will market your property all across the web. It will appear on realtor.com, Zillow, Trulia, Facebook and other top national sites. He can place your home on the MLS within a few minutes time!
- When He begins marketing your home, he will immediately notify all the buyers that he is helping find their ideal home. Tom will also notify all the real estate agents in this area that we work with, who quickly tell their homebuyers. It is a powerful way to jump-start the sale of your home!
- Tom will walk through your home together with a stager. They will advise you how to present your property to maximize its selling price. Some improvements are worth it, and some are not.
- Contracts are complicated, and intimidating. You don't want to go to a closing with some doubts. You will have the full benefit of his real estate experience and knowledge for a smooth and successful closing. .
You pay no up front costs for Tom's services! So you can bet that we will work hard to get your home sold, for as much as this market will possibly bear. He will also work within your time frame and your needs. For example, sometimes it can be hard to sell and move out of your current home, and buy and move into a new home, all at the same time! Tom can help smooth this out.
Ask for a free In-Home Presentation. Tom will present you a plan that details exactly how he will market your home.
format_quote
I work with home sellers and buyers to serve all of their real estate needs. Call me today 952-994-7204